NYC DOT operates the Staten Island Ferry, providing free service between Staten Island and Lower Manhattan every day of the week, year-round.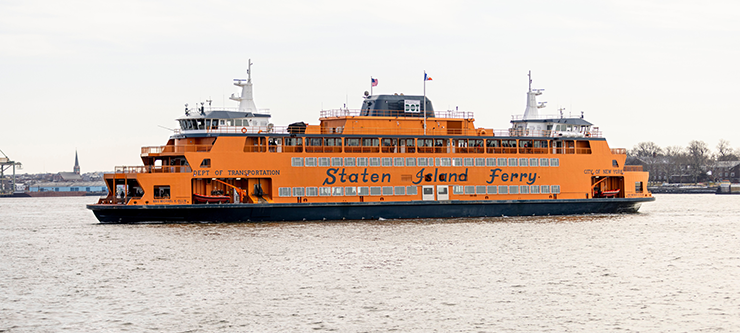 Staten Island Ferry Links:
Contact Us
Call the Passenger Service Office at 212.839.3061
Reasonable Accommodation Requests from the Public
NYC DOT's policy is to comply with all applicable laws. This includes, but is not limited to, the American's with Disabilities Act (ADA) and the Rehabilitation Act.
Please submit your request online if you need assistance to take part in our programs or services. You may also reach out to the ADA Coordinator/Disability Service Facilitator:
By mail:
Edmund Asiedu, ADA Coordinator & Disability Service Facilitator
NYC Department of Transportation
55 Water Street, 9th Floor
New York, NY 10041
Tel: 929-441-9658
Email: accessibility@dot.nyc.gov
Title VI, Civil Rights, Discrimination Complaints
NYC DOT is committed to compliance with all Civil Rights regulations. Persons who believe they have been discriminated against (i.e. excluded from participation in, denied the benefits of, or access to, NYC DOT programs or services) on the basis of race, color, national origin, sex, age, disability, or income status have the right to file a complaint. Discrimination complaints can be filed online or by mail. You may also contact 311. Your complaint must be submitted within 180 days of the alleged discrimination.
To file a complaint by mail:
NYC Department of Transportation
Office of the Commissioner
Attn: Customer Complaint Representative
1 Ferry Terminal Drive
Staten Island, NY 10301
Download the Title VI notice: