Staten Island Ferry Schedule
The Staten Island Ferry provides service every day, year-round. It is free to ride the ferry. Travel time in either direction between St. George and Whitehall is approximately 25 minutes.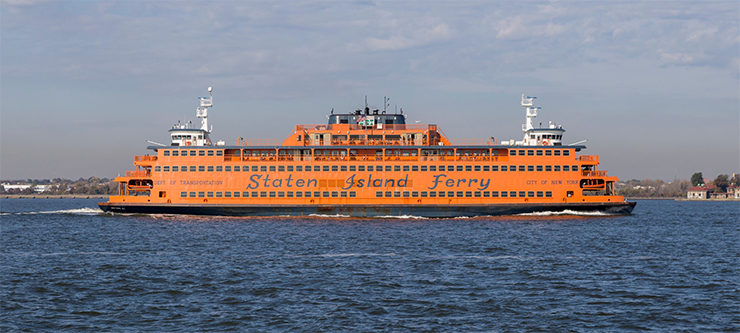 Staten Island Ferry Links:
Holidays: The ferry operates on the weekend schedule in observance of the following holidays: New Year's Day, Martin Luther King, Jr. Day, Presidents' Day, Memorial Day, Juneteenth, Independence Day, Labor Day, Thanksgiving Day, and Christmas Day.
Please note: All schedules are subject to change without notice.
For service updates:
Departing St. George Terminal (Staten Island)
Weekdays
Weekends
AM
PM
AM
PM
12:00
12:00
12:00
12:00
12:30
12:30
12:30
12:30
1:00
1:00
1:00
1:00
1:30
1:30
1:30
1:30
2:00
2:00
2:00
2:00
2:30
2:30
2:30
2:30
3:00
3:00
3:00
3:00
3:30
3:30
3:30
3:30
4:00
3:50
4:00
4:00
4:30
4:10
4:30
4:30
5:00
4:30
5:00
5:00
5:30
4:50
5:30
5:30
6:00
5:10
6:00
6:00
6:20
5:30
6:30
6:30
6:40
5:45
7:00
7:00
7:00
6:00
7:30
7:30
7:15
6:15
8:00
8:00
7:30
6:30
8:30
8:30
7:45
6:45
9:00
9:00
8:00
7:00
9:30
9:30
8:15
7:30
10:00
10:00
8:30
8:00
10:30
10:30
8:45
8:30
11:00
11:00
9:00
9:00
11:30
11:30
9:30
9:30
10:00
10:00
10:30
10:30
11:00
11:00
11:30
11:30
Departing Whitehall Terminal (Manhattan)
Weekdays
Weekends
AM
PM
AM
PM
12:00
12:00
12:00
12:00
12:30
12:30
12:30
12:30
1:00
1:00
1:00
1:00
1:30
1:30
1:30
1:30
2:00
2:00
2:00
2:00
2:30
2:30
2:30
2:30
3:00
3:00
3:00
3:00
3:30
3:30
3:30
3:30
4:00
4:00
4:00
4:00
4:30
4:20
4:30
4:30
5:00
4:40
5:00
5:00
5:30
5:00
5:30
5:30
6:00
5:15
6:00
6:00
6:30
5:30
6:30
6:30
6:50
5:45
7:00
7:00
7:10
6:00
7:30
7:30
7:30
6:15
8:00
8:00
7:45
6:30
8:30
8:30
8:00
6:45
9:00
9:00
8:15
7:00
9:30
9:30
8:30
7:20
10:00
10:00
8:45
7:40
10:30
10:30
9:00
8:00
11:00
11:00
9:15
8:30
11:30
11:30
9:30
9:00
10:00
9:30
10:30
10:00
11:00
10:30
11:30
11:00
11:30
Download the Staten Island Ferry Schedule