Employment Opportunities with NYC DOT
NYC DOT is a vital component of one of the largest and most complex cities in the world. From operating ferries to repairing potholes, issuing construction permits to building and restoring bridges, keeping traffic moving to creating new public spaces, our employees play a crucial role maintaining the City's transportation infrastructure.
Working at NYC DOT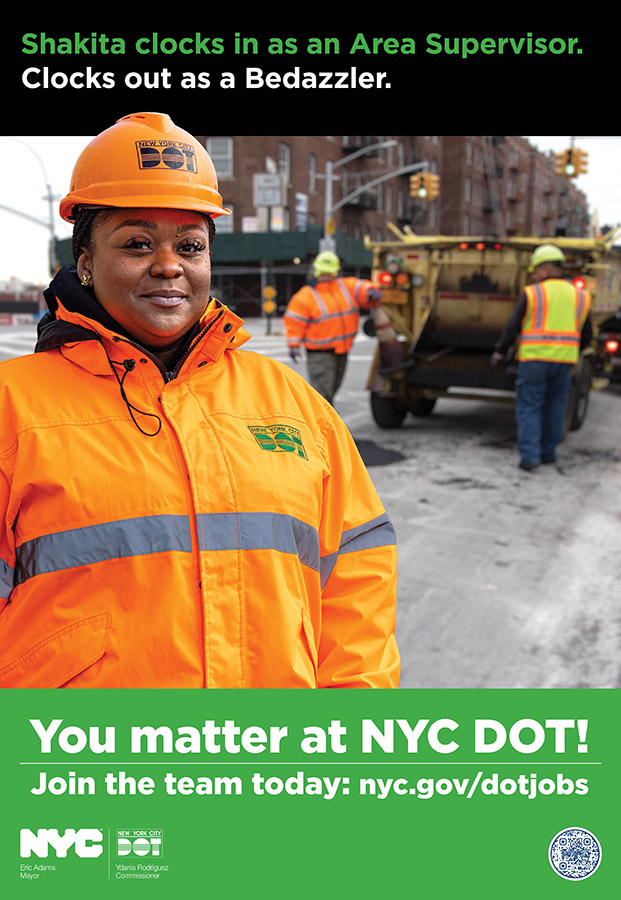 We recently launched our "Working at DOT" campaign to showcase the various roles available at the agency, as well as the talented and unique individuals currently working here.
"When I got my supervisor title, I was so proud because it is my hard work and dedication that brought me to where I am, today." - Shakita
Join our team by applying for a job today! Check out the list of Current Career Opportunities below.
Diversity & Inclusivity
The agency is strongly committed to building a diverse workforce and cultivating an equitable and inclusive workplace.
NYC DOT has Employee Resource Groups (ERGs) connecting staff across the City. These groups get together regularly to celebrate, promote, and advocate for professional development, cultural connections, diversity, equity, and inclusion. These groups also enhance engagement and morale in the workplace.
Employee Benefits
Are you looking for a challenging and rewarding career in transportation? NYC DOT offers excellent benefits packages, competitive salaries, and opportunities for advancement.
Learn more about engineering careers at NYC DOT (pdf)
Learn about upcoming civil service exams from the Department of Citywide Administrative Services (DCAS)
Current Career Opportunities
All openings at NYC DOT are available at nyc.gov/jobs.
Current City Employees:
External Applicants:
*Position listed under various Job IDs and Civil Service Titles, visit nyc.gov/jobs for additional information.
Internships
Interested in an internship or college aide position at NYC DOT? Please email NYC DOT's Human Resources team at internships@dot.nyc.gov.
Connect with Us
Follow NYC DOT on LinkedIn.