NYC DOT manages parking meters on streets and in municipal parking facilities. Parking meters support an efficient curb by:
Encouraging turnover and increasing parking availability in high demand areas
Promoting shorter parking sessions and allowing more people to park during the day for shopping, deliveries, etc.
Reducing double parking and making streets safer and less congested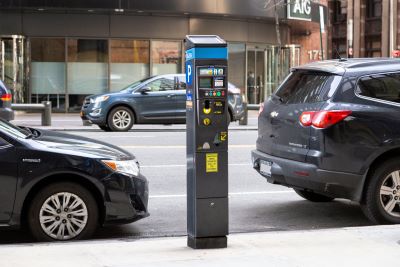 Parking meter rates vary citywide by zone. Pricing for each zone is based on local parking conditions, including land use, density, duration of parking, and parking demand.
Parking rates and rules are different for commercial vehicles.
Drivers are advised to always follow posted regulations before parking.
Metered regulations are not in effect on Sundays nor major legal holidays (New Year's Day, Memorial Day, Independence Day, Labor Day, Thanksgiving Day, and Christmas Day).
On this Page:
Meter Rates
Rates are posted on parking meters and are limited to the duration on the posted sign on that block.
The maximum time for a metered parking session varies by type of vehicle and ranges from one to 15 hours. Vehicle type, rates, and durations may vary throughout the day.
There are exceptions: always check posted signage and meters to confirm regulations and price.
Charter bus spaces are $20 per hour and allow a three-hour maximum stay.
Metered Parking Map
Parking zones are shown on the NYC Metered Parking Map.
Parking Meter – Citywide Rate Zones on NYC Open Data
Parking Meter Rates
Always check posted signage and meters to confirm current regulations and price.
Zones M1 and M2 have different rates for "Commercial Vehicles Only" meters.
Location
All Vehicles Meters
Commercial Vehicles Only Meters
1st
Hour
2nd
Hour
1st
Hour
2nd
Hour
3rd
Hour
Zone M1 – Midtown Core and Lower Manhattan
$5.50
$9.00
$7.00
$10.00
$13.00
Zone M2 – Manhattan South of 96th Street**
$5.00
$8.25
$6.00
$9.00
$12.00
Zone M3 – Manhattan 96th Street to 110th Street**
$3.00
$5.00
Zone 1 – Business Districts outside of Manhattan (e.g., Downtown Brooklyn, Downtown Flushing, and Jamaica; Manhattan 125th Street)
$2.50
$5.00
Zone 2 – Neighborhood Retail Districts
$2.00
$3.00
Zone 3 – All Other Metered Locations
$1.50
$2.50
**Portions of Madison Avenue and Fifth Avenue north of East 96th Street, and Columbus Avenue and Broadway north of West 96 Street are within the Manhattan South of 96th Street rate area. Please refer to NYC DOT Parking Rate Map or the meter for details.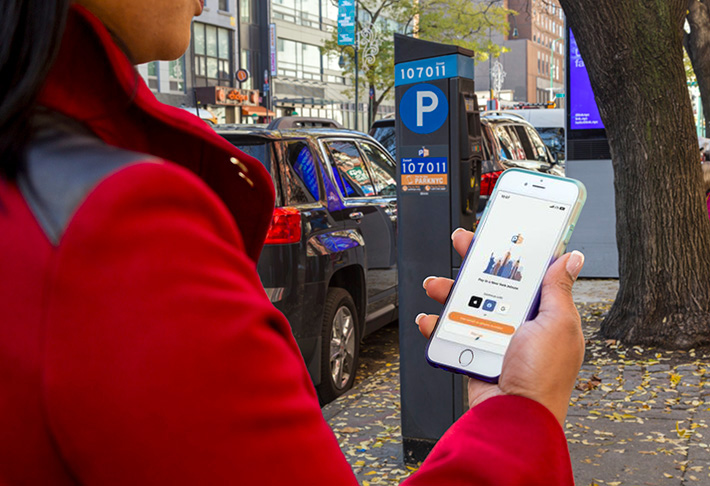 How to Pay the Meter in NYC
There are two ways to pay for metered parking in NYC:
Use ParkNYC app for seamless and quick transactions from your phone
Pay at on-street parking meters which accept credit cards, coins, and the NYC Parking Card
Paying with ParkNYC

Use the ParkNYC app to pay for on-street parking in all five boroughs.
Create an account using the free ParkNYC app
Choose your preferred payment method – use an e-wallet or pay per transaction
Start parking – no need to display anything on your dashboard
How to Use Meters
Download a printable version of these instructions (pdf) Remember, you can pay for parking using the ParkNYC app
1. Pay
Pay by Coins
If paying with coins, drivers must use exact change.


Insert quarters or dollar coins to add time automatically
Pay by Cards


Credit cards: Dip and remove



NYC Parking Card: Insert and leave in
2. Add Time

Press the blue button to add time



Or, press the orange button to select the maximum time allowed
3. Print Receipt


Press green button to print receipt
4. Display Receipt


Place receipt on driver's side dashboard with printed side facing up
Malfunctioning Meters
To report a broken meter, visit NYC311 Online. If you are parked on a street with a broken meter, please use another meter to obtain your receipt or pay via the mobile app.
Tips for Paying with Coins
Customers have approximately 40 seconds to deposit coins. If no coins are deposited within this time and the green button is not pushed, the transaction will be cancelled and coins returned.
Tips for Using a Parking Card at a Meter
Do not remove the Parking Card until the transaction is over
The display will show the balance on the card
Press the green button to confirm the transaction
You can cancel the transaction at any time by pressing the red button
Parking Card payments can be combined with coins – this is helpful when Parking Cards have a very low value remaining
Learn more about paying with both a Parking Card and coins
Parking a Motorcycle at a Meter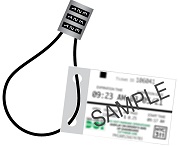 Like other motorists, motorcyclists may pay for parking using the free ParkNYC app or at the meter.
If paying at the meter, the receipt must be displayed on the vehicle. To prevent theft or damage to the receipt, NYC DOT recommends using clear plastic holders attached to the motorcycle with a lock or other mechanism. Devices made especially for this purpose can be found in specialty stores.