Ridership Statistics and Reports
Network Growth
NYC DOT's goal is to accelerate the growth of safe cycling by providing a system of bicycle routes that traverse and connect all five boroughs, while also creating a dense, fine-grained network of bike lanes in communities where cycling is already a popular mode of transportation. Learn about current or past bicycle projects, or download the list by borough and project type View the current (2020-Present) or past (2014-2018) report on Protected Bike Lanes in NYC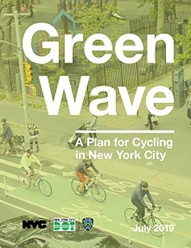 Green Wave: A Plan for Cycling in New York City
The Green Wave Plan presents a long-term citywide vision for improving cycling safety and the riding experience for cyclists. This is a comprehensive, multi-agency approach to curtail bike fatalities and injuries. As cycling continues to grow dramatically, the plan combines design, enforcement, legislation, policy and education to make the City's streets safer for cyclists - and all street users.
The City continues to expand its bike network and added over 63 bike lane miles in 2020, including over 28 protected bike lane miles. Citi Bike, the nation's largest bike share system, continues to expand in NYC.
Green Wave: A Plan for Cycling in New York City report (pdf) Download the 2019 Green Wave Progress Report (pdf) Download the 2021 Green Wave Progress Report (pdf)
Bicycle Ridership and Safety
Safer Cycling is a comprehensive study that analyzes growth of cycling and NYC's bicycle network, noting that as the number of regular bicyclists has increased, cycling has grown dramatically safer. Created in cooperation with agency partners at the New York City Police Department (NYPD) and the Department of Health and Mental Hygiene (NYC DOHMH), the study describes the progress New York City has made in improving cyclist safety, presents a detailed analysis of the factors that contribute to serious crashes involving cyclists, and lays out a comprehensive action plan to further improve cycling safety. Cyclist fatalities and severe injuries resulting from crashes with motor vehicles were analyzed, employing cyclist fatality data from 1996 through 2016 and cyclist killed and severely injured (KSI) data from 1996 through 2014. Learn about Safer Cycling
Ridership Statistics
Cycling in the City, is an update on cycling trends in New York City. Historically, evaluation of cyclist activity in New York City has centered on counting the number of bicycles entering and exiting the Manhattan core. This brief takes a more holistic approach by examining new data from survey questions developed by NYC DOT and the NYC Department of Health and Mental Hygiene, in combination with data from national surveys, on-going bike counts, and Citi Bike to assess how frequently New Yorkers are using cycling as a mode of transportation and how that frequency is changing over time. Learn about Cycling in the City Learn more about Bicycle Counts






New York Cycling Risk
New York City Cycling Risk describes changes in cyclist safety over the past decade while accounting for the increase in bicycle use in New York City. The decrease in the Cycling Risk from a high of 83.7 KSI per 10 Million Trips in 2000 to 17.1 in 2018 represents an 80 percent decrease in the average risk of a serious injury experienced by cyclists in New York City. Learn more about the Cycling Risk Indicator (pdf)
Bicycle Crash Data
As required by Local Law 13 of 2011, DOT compiles the total number of bicycle crashes reported by city agencies. The Bicycle Crash Data report contains information on crashes involving only bicycles, between bicycles and motorized vehicles, and between bicycles and pedestrians. This data includes the number of injuries resulting from such crashes and is grouped by borough and by police precinct. Download the 2018 Bicycle Crash Data report (pdf) Download the 2017 Bicycle Crash Data report (pdf) Download the 2016 Bicycle Crash Data report (pdf) Download the 2015 Bicycle Crash Data report (pdf) Download the 2014 Bicycle Crash Data report (pdf) Download the 2013 Bicycle Crash Data report (pdf) Download the 2012 Bicycle Crash Data report (pdf) Download the 2011 Bicycle Crash Data report (pdf), covering October 1, 2011 through December 31, 2011 Download statistics for pedestrian traffic fatalities broken down by crash type (pdf)
Bike Share Trip Histories
Below are links to downloadable files of Citi Bike trip data. Each dataset includes:
Trip duration (seconds)
Start and end date and time
Start and end station name, ID, latitude, longitude
Bike ID
User type ("Customer" = 24-hour or 7-day pass user; "Subscriber" = annual member)
Gender (0=unknown; 1=male; 2=female)
Year of birth
Datasets include only trips taken by customers from publicly available stations that are longer than 60 seconds in duration.
| 2020 | 2019 | 2018 | 2017 | 2016 | 2015 | 2014 | 2013 |
| --- | --- | --- | --- | --- | --- | --- | --- |
| | | | | | | | |
| | | | | | | | |
| | | | | | | | |
| | | | | | | | |
| | | | | | | | |
| | | | | | | | |
| | | | | | | | |
| | | | | | | | |
| | | | | | | | |
| | | | | | | | |
| | | | | | | | |
| | | | | | | | |