Sidewalk Maintenance and Repair
DOT's goal is to make the City's 12,750 miles of sidewalks safe for pedestrians and help prevent injuries caused by defective sidewalks. DOT replaces more than 2 million square feet of sidewalk a year, mostly on City-owned property and in residential neighborhoods. Despite the large scale of repairs, this amounts to less than 1% of the City's total sidewalk area each year. DOT relies on property owners to maintain the rest of the sidewalks.
Remove a Lien Due to City Tree Damage
The City will no longer issue violations or impose liens on 1-, 2-, and 3-family properties that have sidewalk damage caused exclusively by City trees.
By the end of 2020, the Department of Transportation (DOT) will review existing notices of violation to determine which were caused solely by City street trees and cancel the lien for any that meet the criteria.
If you are a property owner who is selling or refinancing your home, the City will expedite this re-evaluation. You must provide proof that the property is in contract to be sold or refinanced.
You can request a removal online or by mail.
You must include:
Your name
Property address
Description of whether you are selling or refinancing your property
Online
Submit your request for removal online.
By Mail
Mail your request to:
Department of Transportation Commissioner
55 Water Street, 9th Floor
New York, NY 10041
Follow the life cycle of a sidewalk: Entérate del ciclo de vida de las aceras en NYC
Under Section 19-152 of New York's Administrative Code, property owners are responsible for installing, repairing and maintaining sidewalks adjoining their properties. DOT staff inspect sidewalks and notify the property owner of needed repairs. In the event timely repairs are not made by the property owner, the City may hire private construction firms to make the repairs. When this happens, the City bills the property owner for the costs of the repairs. Property owners must also keep their sidewalks clean and are responsible for snow removal. Download the instructions and guidelines for sidewalk design
Learn more about sidewalk repair, your responsibilities and the notice of violation process from this short video:
Expedited Sidewalk Repair
If you have received a notice of violation for a defective sidewalk, you may be able to take advantage of DOT's Expedited Sidewalk Repair program. With an expedited repair, DOT fixes the defect and the City sends you a bill for the cost of the work. No further inspection is required.
Some properties aren't eligible for expedited repair, these include properties scheduled for capital reconstruction, commercial properties, with four or more residential units, with vaulted sidewalks, or with distinctive sidewalk treatments. Download a brochure about the program in the Bronx (pdf) Download a brochure about the program in Brooklyn (pdf) Download a brochure about the program in Manhattan (pdf) Download a brochure about the program in Queens (pdf) Download a brochure about the program in Staten island (pdf)
Picking a Contractor
Before you pick a contractor, take a minute to read these quick tips on hiring home improvement contractors, or a more detailed consumer's guide to home improvement (pdf), both from the Department of Consumer Affairs. Download a checklist for repairing your sidewalk (pdf)
Commonly Observed Sidewalk Defects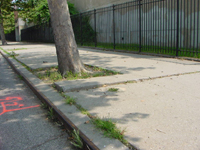 Questions about Sidewalks
If you have a question about sidewalks in New York City, or would like to comment on the services of DOT's sidewalk inspectors or private contractors, please click here to submit your inquiries or concerns. You can also visit 311 Online or write to:
Sidewalk Program
New York City Department of Transportation
55 Water Street, 4th Floor
New York, NY 10041