Accessibility
NYC DOT Initiatives for People with Disabilities
NYC DOT implements programs to help make New York City's streets more accessible. The main goal of NYC DOT's projects is always to enhance safety for all New Yorkers. This includes people with low vision, hearing or cognitive disabilities, or limited mobility.
NYC DOT's policy is to comply with all applicable laws, including but not limited to, the American's with Disabilities Act (ADA) and the Rehabilitation Act.
Contact
Please submit your request online if you need assistance to take part in our programs or services. You may also reach out to the ADA Coordinator/Disability Service Facilitator:
By mail:
Edmund Asiedu, ADA Coordinator & Disability Service Facilitator
NYC Department of Transportation
55 Water Street, 9th Floor
New York, NY 10041
Tel: 929-441-9658
Email: accessibility@dot.nyc.gov
For inquiries about parking permits please visit NYC PPPD. Parking Permits Customer Service Representatives are available at 718-433-3100, Monday through Friday, 8am to 5pm.
For requests related to a scheduled program or activity, please submit at least three (3) business days before the event.
You may also submit requests by calling 311 or by writing a comment or complaint at:
https://portal.311.nyc.gov/.
NYC DOT does not discriminate on the basis of disability in the operation of its programs, services, and activities. Learn about our Grievance Procedure (pdf) Learn about New York City's nondiscrimination policy (pdf)
New York City issues two types of permits for citizens with disabilities - a New York State permit and a New York City permit. There are different eligibility requirements and different uses for these permits.
Learn more about New York State Permits
Learn more about New York City Permits
Apply for or renew either permit online
Using the Permits with Multiple Vehicles
Missing, Lost or Stolen Permits
Contact NYC DOT's Parking Permits Call Center at 718-433-3100 with any questions, Monday through Friday, 8am to 5pm.
Pedestrian Ramps
Pedestrian ramps are a critical component in enhancing the pedestrian experience, as they provide safe access on and off our streets and sidewalks. NYC DOT is committed to making our pedestrian space safe and accessible for all users.
For more information regarding the Pedestrian Ramp Program at NYC DOT, please visit nycpedramps.info.
NYC Streets & Cyclists
Cycling is booming in New York City. While we continue to promote cycling as a means of transportation, we also want to help cyclists identify our 175,000+ low vision or blind pedestrians, from whom we constantly hear about near misses or close encounters with cyclist on the road.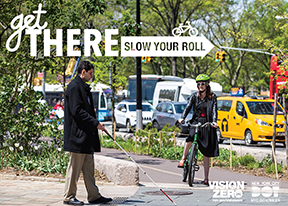 Safe cycling tips are available for riders on our Bike Safety webpage, which includes our Slow Your Roll (PDF) outreach to cyclists and Cycle Eyes video [Audio described Cycle Eyes video available].
Bike lanes make streets safer for all street users, but it is important for those who are blind or have low vision to be aware of the location of lanes. Review upcoming and current bike network projects NYC Bike Map
Pedestrian Plazas
Through this program, NYC DOT creates more public open space by reclaiming underutilized street space and transforming it into pedestrian plazas, where New Yorkers can sit, rest, socialize, and to enjoy public life. Learn more about pedestrian plazas
Accessible Pedestrian Signals
Accessible pedestrian signals improve safety for pedestrians who are blind or who have low vision by assisting them in crossing the streets with short recorded messages and sounds. Visit a list of accessible pedestrian signals
Leading Pedestrian Intervals
These traffic signals give pedestrians a walk sign before showing a green light to car traffic. This gives pedestrians a chance to begin crossing the street before cars make turns across the crosswalk. Visit a list of leading pedestrian intervals
Exclusive Pedestrian Intervals
Some crossings have traffic signals that include a phase giving pedestrians time to cross the street while vehicle traffic is stopped in all directions. Visit a list of exclusive pedestrian intervals
Safe Streets for Seniors
Safe Streets for Seniors is a major pedestrian safety initiative for older New Yorkers. DOT engineers evaluate pedestrian conditions in targeted neighborhoods citywide from a senior's perspective and make safety improvements. Learn more about Safe Streets for Seniors
CityBench
NYC DOT installs attractive and durable benches around the City, particularly at bus stops, retail corridors, and in areas with high concentrations of senior citizens. These benches make streets more comfortable for transit riders and pedestrians, especially for those who are older and disabled. Learn more about CityBench