Cycling is one of the best ways to travel around New York City. It's efficient, affordable, accessible, healthy, and environmentally friendly.
We are working every day to build safe infrastructure to encourage more New Yorkers to travel by bike.
We also host free bike events and provide safe cycling tips for new and experienced cyclists.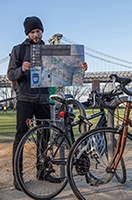 Bike Map
Want help navigating the city by bike? The official NYC Bike Map is published each year. Plan your route or find a bike shop in your neighborhood. Download or request a free copy of the NYC Bike Map Self-guided bike rides in NYC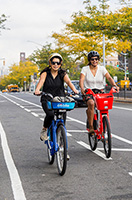 Bike & Scooter Share
Shared mobility gives New Yorkers a fun, easy, and efficient way to get around the city without having to worry about storage or maintenance. Find out how to unlock a bike or scooter and get riding today. Learn more about bike share and find a station near you Sign up to become a Citi Bike member Shared E-Scooter Program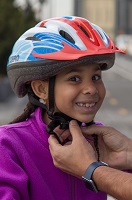 Bike Safety
Cycling is booming in New York City. NYC DOT provides helpful information to make your ride safer and easier, and gives away free bicycle helmet at events throughout the city. Safety tips for cyclists Helmet fittings and giveaways Bike events with NYC DOT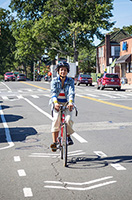 Building Bike Lanes
New York City is home to the largest bicycle network in North America, with over 1,375 miles of bike routes. To accelerate the growth of safe cycling, NYC DOT is building a system of bicycle routes that traverse and connect all five boroughs. Learn more about current bicycle route projects Greenways in NYC Green Wave: A Plan for Cycling in New York City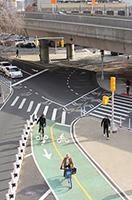 Ridership Statistics and Reports
NYC DOT evaluates how bicycle lanes impact safety, mobility, and economic vitality in New York City through studies, pilot programs, and bicycle counts. Explore current bicycling trends and download available NYC DOT cycling datasets. View bicycle counts Review network and safety statistics Review annual reports and studies Cycling in the City Report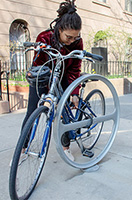 Bike Parking
NYC DOT provides free bicycle parking racks throughout the five boroughs. Learn more about NYC DOT's requirements and suggest new locations for street furniture. Learn more about bicycle parking
More Resources for Riders & Residents
NYC Bike Laws
Cyclists have all the rights and are subject to all of the duties and regulations applicable to drivers of motor vehicles. Download a complete list of New York City bicycle rules (pdf)
Commercial and Delivery Cyclists
Bikes are an inexpensive, fast, and efficient way to deliver goods. In addition to the biking laws, the city has laws and rules that to help make commercial cycling safer. Get more tips for commercial cyclists and businesses
Bikes on Transit
Did you know bikes are allowed on New York City subways at all times? Learn more about bike policies on the subway and get tips for a smoother ride
Bikes in Buildings
The Bikes in Buildings Program aims to increase bicycle commuting by providing cyclists with secure parking during the workday. Learn more about the Bicycle Access to Office Buildings law and program requirements
Subscribe to NYCycles
Receive information about cycling events, workshops and new bicycle projects. Subscribe to NYCycles NYC NYC DOT's monthly cycling email newsletter NYCycles newsletter archive