Staten Island Ferry Facts
An overview of Staten Island Ferry service stats and our ferry fleet.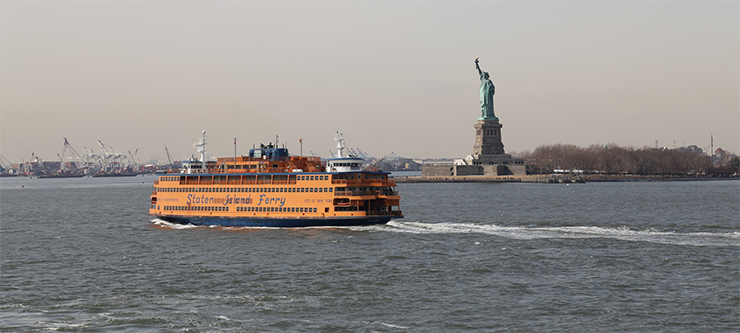 Staten Island Ferry Links:
The City has operated the Staten Island Ferry since 1905. The Ferry carries over 12 million passengers annually on a 5.2-mile run between the St. George Terminal in Staten Island and the Whitehall Terminal in Lower Manhattan. The Ferry runs 24 hours a day, 365 days a year. In 2022, the Staten Island Ferry's annual on-time performance was 94%.
On a typical weekday, five boats make 117 trips, carrying approximately 35,000 passengers. During rush hours, the ferry runs on a four-boat schedule, with 15 minutes between departures. Between rush hours, boats are regularly fueled and maintenance work is performed. Terminals are cleaned around the clock and routine terminal maintenance is performed on the day shift. On weekends, three boats are used to make 96 trips across the harbor each day. The boats make over 40,000 trips annually. Ferry terminal supervisors, assigned around the clock at both Whitehall and St. George, are responsible for ensuring that the ferry operates according to its published schedule.
Ferry fleet
Ollis Class Boats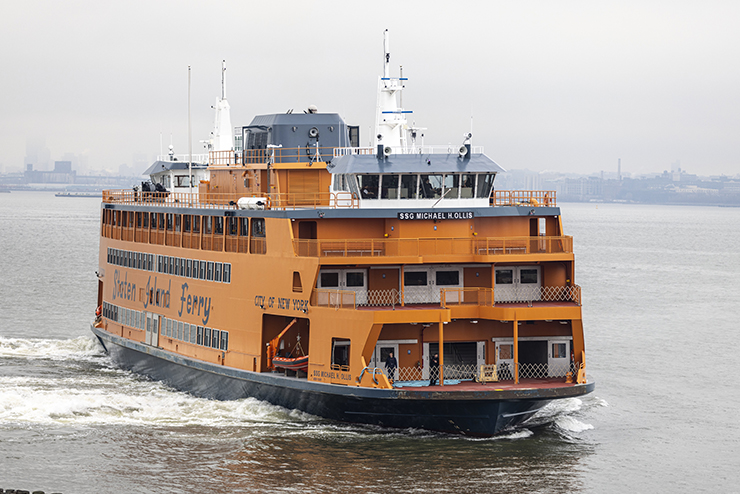 The Ollis Class includes three, 4,500-passenger ferries, commissioned in 2014. The City's newest ferries are larger, more modern, and include enhanced features for safety in extreme weather. They feature popular design elements, including phone-charging outlets and comfortable seating. They also have an oval upper-deck promenade that will serve as an outdoor "walking track" for riders. The first two ferries, the Staff Sergeant Michael H. Ollis and the Sandy Ground, began serving passengers in early 2022. The third ferry, the Dorothy Day, went into service in early 2023.
Staff Sergeant Michael H. Ollis
Staff Sergeant Michael H. Ollis honors Michael H. Ollis, a New Dorp resident who was killed in Afghanistan saving the life of a Polish soldier in 2013. Ollis was assigned to the U.S Army's 2D Battalion, 22nd Infantry Regiment, 1st Brigade Combat Team and the 10th Mountain Division. He was the recipient of the Distinguished Service Cross, Silver Star, Bronze Star, Purple Heart, Polish Army Medal of Honor and Afghan Star.
Sandy Ground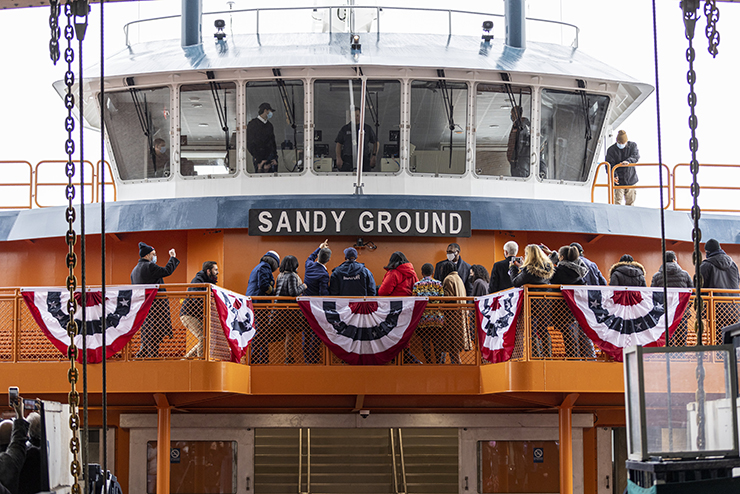 Sandy Ground is the first Staten Island Ferry boat named to honor the rich history of Black New Yorkers living on Staten Island. Sandy Ground's history as a free Black community dates back nearly 200 years to 1828, when ferry boat operator Captain John Jackson became the first Black person to own property on Staten Island, buying in what is now the South Shore community of Rossville. Over time, Sandy Ground was settled by Black oystermen who fled Maryland's more restrictive laws. New York's booming oyster trade allowed residents there to own their own property, boats, and businesses.
Dorothy Day
Dorothy Day is named for Dorothy Day (1897-1980), the legendary 20th-century Catholic peace activist who lived and worked on Staten Island. Day was a convert to Catholicism who led the Catholic Worker movement. Day has been submitted to the Vatican as a candidate for canonization by the U.S. Conference of Catholic Bishops.
Molinari Class Boats
There are three sister ships, Guy V. Molinari, Sen. John J. Marchi, and Spirit of America in this class. Each boat carries 4,427 passengers with a crew of 16. The boats are 310 feet long, 70 feet wide, with a draft of 13 feet 10 inches, 2,794 gross tonnage, service speed of 16 knots, and 9,000 horsepower.
Guy V. Molinari
Guy V. Molinari honors Staten Island's three-term Borough President of Staten Island, from 1990 to 2001. Prior to that, Mr. Molinari was a member of the United States House of Representatives, a State Assemblyman, and a successful attorney with a private practice on Staten Island. The Molinari began carrying passengers on January 26, 2005
John J. Marchi
John J. Marchi is named for the New York State Senator who served in a variety of Senate and other community leadership roles. Senator Marchi was born in Staten Island, and received high honors from numerous academic, political and community oriented organizations and committees. Marchi entered service on May 20, 2005.
Spirit of America
Spirit of America entered service on April 4, 2006.
Barberi Class Boats
There are two ships in this class, Andrew J. Barberi and the Samuel I. Newhouse. The Barberi entered service in 1981 and the Newhouse in 1982. Each boat carries 5,200 passengers, with a crew of 15. The boats are 310 feet long, 69 feet 10 inches wide, with a draft of 13 feet 6 inches, 3,335 gross tonnage, service speed of 16 knots, and 7,000 horsepower.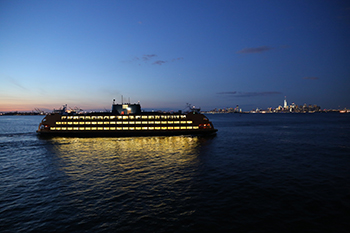 Austen Class Boats
There are two sister ships, Alice Austen and John A. Noble, in this class, which began service in 1986. Each boat carries 1,107 passengers, with a crew of 9. The boats are 207 feet long, 40 feet wide, with a draft of 8 feet, 6 inches, 499 gross tonnage, service speed of 16 knots, and 3,200 horsepower.
Emergency Response
The American Legion is a high speed utility boat that was purchased with $1 million donated by the NASDAQ Disaster Relief Fund to enable NYC DOT to respond to emergency situations in and around lower Manhattan. Gladding-Hearn Shipbuilding in Somerset, Massachusetts built the vessel, which was delivered in March 2007. The boat can hold 12 passengers in addition to its crew and has a top speed of 30 knots. In situations where a ferry may require assistance in mid-harbor, the utility boat will be used to shuttle maintenance staff quickly from the terminals to the boat. The boat will also be used to deliver NYC DOT staff and equipment to the private ferry landings around Manhattan during an emergency.
Ferries and the Environment
NYC DOT works to ensure compliance with National Pollutant Discharge Elimination System (NPDES) permit requirements as part of the Clean Water Act. This includes identifying operational discharges that are applicable to the vessel; continual implementation of related safety management system requirements; utilizing additional best management practices to reduce operational discharges; performing periodic onboard inspections; documenting instances of noncompliance or violation with permit requirements and to ensure corrective action.
Passengers on board the Staten Island Ferry can do their part for the environment and assist NYC DOT's compliance with these environmental regulations.
Make a conscious effort to minimize wastewater when using sinks and toilets. Notify vessel crewmembers if sinks, faucets or toilets are observed to be running or leaking.
Use the trash cans that are provided onboard vessels and in terminals. Improperly discarded trash and waste can be washed or blown overboard, polluting the waters of New York Harbor.
Do not throw anything overboard while riding the Ferry.