New York City Bike Map 2021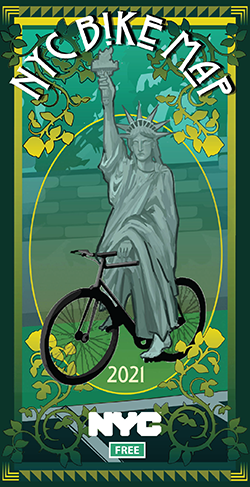 Download the NYC Bike Map 2021 (pdf) (12 MB)
Bicycle Route Layer on Open Data Portal (shapefile)
Request NYC Bike Maps or Bike Smart Guides
Looking for a copy of the NYC Bike Map? Visit a local NYC bicycle shop! Free copies are available at most shops, citywide, as well as at many libraries and community centers.
Printed copies of the 2021 NYC Bike Map will be available in late Spring.
For fastest service for small requests (25 or fewer) of NYC Bike Maps or Bike Smart Guides, please call 311. For larger requests, please use the online order form.
The NYC Bike Map is updated annually in the spring.
NYC Bike Map Archive
2020 Bike Map
2019 Bike Map
2018 Bike Map
2017 Bike Map
2016 Bike Map
2015 Bike Map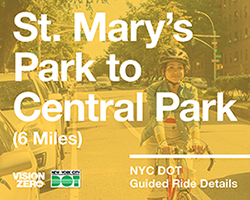 Bike Rides
Self-Guided Bike Rides in NYC
Three-Borough Bike Tour - 10.8 miles (pdf)
DOT Art Projects Self-Guided Bike Tour – 10.8 miles (pdf)
St. Mary's Park to Central Park Bike Tour – 6 miles (pdf)
Prospect Park to Shirley Chisholm Park Bike Tour – 6 miles (pdf)
Astoria to Jackson Heights Bike Tour – 7.02 miles (pdf)
Maps of Greenways and Mountain Bike Trails
Find out more about the Department of Parks and Recreation's
bicycling initiatives
.
Building the Bike Network
Find out more about the NYC DOT's
current bike route projects
.