Staten Island Ferry Traveler Information
Welcome aboard the Staten Island Ferry! Here's what you need to know to enjoy the free service between Lower Manhattan and Staten Island.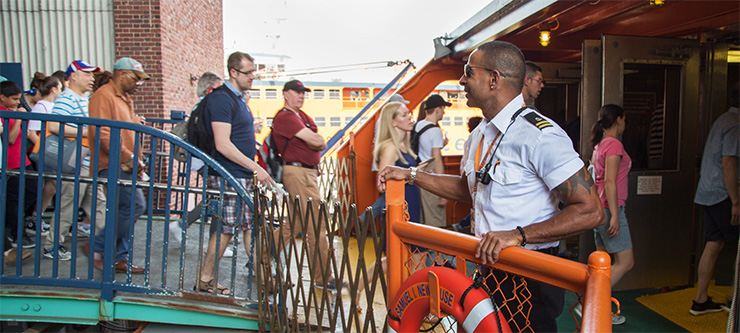 Staten Island Ferry Links:
Riding the Staten Island Ferry
Route Information
The Ferry operates between the St. George Terminal on Staten Island and the Whitehall Terminal in Lower Manhattan. The trip is about 25 minutes. The Ferry ride is free.
St. George Terminal is located at 1 Bay Street, Staten Island Whitehall Terminal is located at 4 South Street, Manhattan
All passengers are required to comply with applicable U.S. Coast Guard Security Regulations regardless of which level they board from.
The Staten Island Ferry does not carry cars.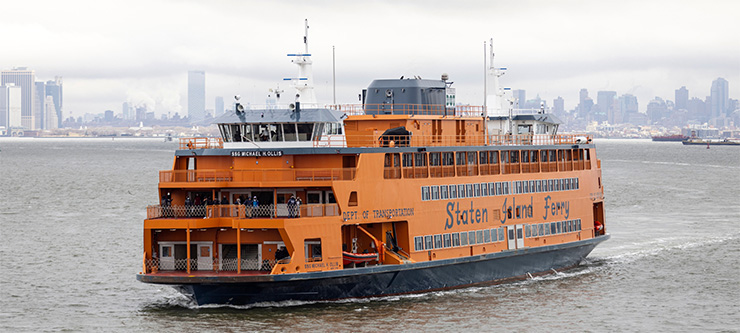 Passenger Safety
During docking, stay off the stairs, ramps, and landings until the ferry has come to a complete stop at the dock. Failure to do so may result in personal injury.
In case of emergency, listen for announcements and instructions from the crew.
Please familiarize yourself with the location of life jackets on the ferry. They are located under the seats, in cabinets along the wall, or in overhead racks. See instructions for their use which are posted in red frames throughout the ferry.
For assistance, see crew members located on each deck.
Staten Island Ferry Safety Advisory
Staten Island Ferry Safety & Environmental Protection Policy
Staten Island Ferry Rules of Conduct
Staten Island Ferry Rules of Conduct for Bicyclists
E-Transportation Devices
Riders may NOT board the Staten Island Ferry with electric mopeds (electric motorcycles)
Riders may transport e-bikes with pedals, but may NOT charge any e-transportation devices
Charging of any e-bike or other mobility device (lithium) battery is prohibited onboard the ferry
E-Bikes and Mobility Devices Allowed on the Staten Island Ferry
Accessibility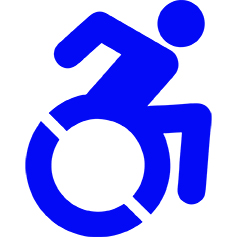 Both terminals are equipped with escalators and elevators and operate within ADA guidelines.
Passengers who use wheelchairs or other mobility devices must board on the lower level, and do not need prior documentation.
For those passengers not using wheelchairs or other mobility devices, authorization to board on the lower level will only be issued with proper supporting documentation. For further information, please contact NYC311. You may also email your request and documentation to ferryaccessrequest@dot.nyc.gov. Please allow three to five business days for processing.
As with other aspects of our operation, lower level boarding is subject to compliance with US Coast Guard Combined Security Plan. This requires security screening and mandates that embarking and disembarking passengers be kept separate at all times.
If you would like to file an American with Disabilities Act complaint alleging disability discrimination, visit NYC311 Online or file by mail:
To file a complaint by mail:
NYC Department of Transportation
Office of the Commissioner
Attn: Customer Complaint Representative
1 Ferry Terminal Drive
Staten Island, NY 10301
Pets
Pets, other than service animals as defined by the Americans with Disabilities Act, are not allowed in the facilities and/or onboard the ferry boats, unless they are in a cage, carrier or muzzled.
Late Notes
A Staten Island Ferry is considered late if it departs more than five minutes past the posted departure time.
Request a late note by contacting NYC311 or by emailing ferrylatenotes@dot.nyc.gov. Please include the date and time that you traveled, the terminal you departed from, your name, and email address. Responses will be emailed within five business days.
Lost and found
Please contact NYC311 to report a lost item. Please call 212.839.3061 or email ferrycustomerservice@dot.nyc.gov to inquire about a lost item or to a pickup time.
Ferry Terminals
Whitehall Terminal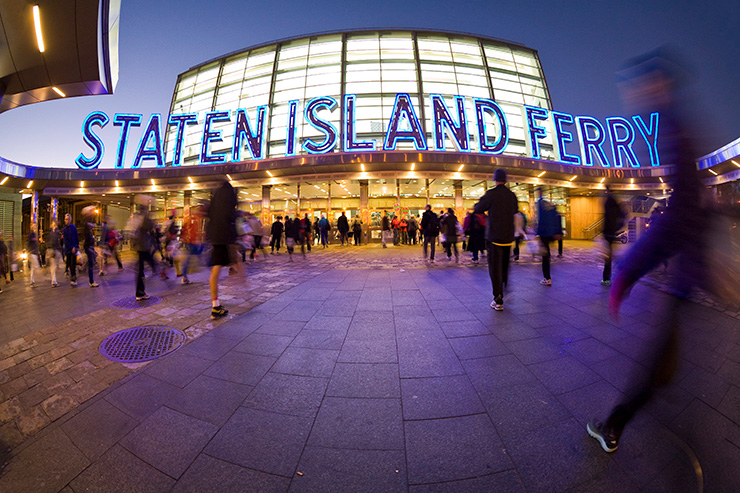 The Whitehall Terminal opened in 2005. The heart of the terminal is a 75-foot-high entry hall with panoramic views of the downtown Manhattan skyline and the harbor. The building has a state-of-the-art heating and air conditioning system, which is partially powered by solar panels. The terminal encompasses a total floor area of 200,000 square feet, including, a 19,000-square-foot waiting room (6,500 square feet larger than the previous one), 6,000 square feet of retail, 10,000 square feet of office space, and 10,000 square feet of ancillary support and ferry operation rooms. Percent for Art installed 28 granite benches designed by artist Ming Fay. Titled Whitehall Crossing they mimic Native American canoes crossing New York Bay.
Neighboring Peter Minuit Plaza falls under the jurisdiction of the New York City Department of Parks and Recreation.
St. George Terminal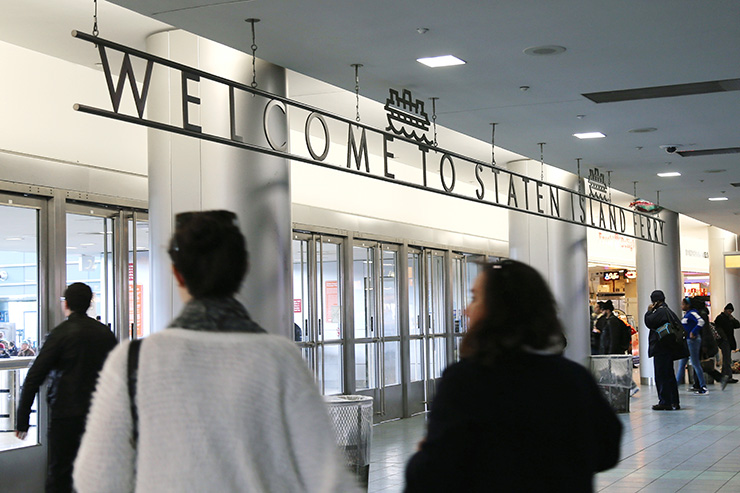 The St. George Terminal was originally built in 1950. In 2005, the terminal reopened after extensive renovations. The renovated terminal's steel and glass design provides natural lighting and views of the harbor from floor-to-ceiling windows. The transparent waiting room is secured by ornamental rails. The renovation also brought the terminal to ADA-compliance, added 20,000 square feet of retail space, and added walkways to Richmond Terrace and the ballpark. The redesign also added green features, including a photovoltaic louver system that will save 25% of the energy needed to operate the facility, an 18,000 square foot garden of local plants on the roof, which will be irrigated by rainwater.
Ferry Terminal Late Night Closures
Ferry Terminal waiting rooms will be intermittently closed between the hours of 1 am and 4:30 am in order to comply with federally mandated security procedures. During such times, passengers will be requested to wait inside the terminal in a designated location. Upon completion of the sweep, passengers will have the ability to reenter the waiting room in order to board their intended boat. Thank you for your cooperation.
Parking
In addition to privately operated lots, there is a NYC DOT Municipal parking lot at St. George Ferry Terminal. The hourly parking rate is $1.50. The daily parking rate is $12.00. There is an 18 hour limit. Parking in the nearby municipal garage and lot at St. George Courthouse Garage costs $70 per month.
The upper South Lobby Kiss & Ride at the St. George Ferry Terminal is open for passenger pick-ups and drop-offs. Passengers should take the South Lobby elevator on the main concourse level to the third floor. Drivers can access this area by taking the bus ramp from Richmond Terrace, using the outermost right lane.
Security
All passengers are subject to random screening by NYPD and K9 personnel. Passengers refusing to random screenings will not be allowed to board the vessel and will be asked to leave the terminal. Staten Island Ferry terminals are under 24/7 CCTV surveillance.
Please note: NYPD is present on all Staten Island Ferry vessels and stationed in both terminals.
Transit Connections
The St. George Terminal is served by the Staten Island Railway and the S40, S42, S44, S46, S48, S51, S52, S61, S62, S66, S74, S76, S78, S81, S84, S86, S90, S91, S92, S94, S96 and S98 bus routes.
The Whitehall Terminal is accessible by the M5, M15, M15 SBS and M20 bus routes and by NYC Subway at the following stations:
South Ferry – 1 train
Whitehall Street South Ferry – R & W trains
Bowling Green – 4 & 5 trains
Broad Street – J & Z trains