On MTA Subway & Buses
Visit the MTA's Bikes website for information about bringing bikes on MTA buses and trains. Bikes are allowed on NYC subways at all times. Bikes are not allowed on most NYC buses. However, S53 and S93 buses are equipped with bike racks going between Bay Ridge, Brooklyn and Staten Island and Q50 and Bx23 buses equipped with bike racks going between Flushing, Queens and Co-op City in the Bronx.
Ferries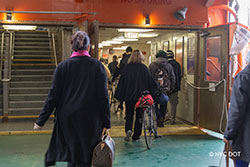 Bikes are allowed on the Staten Island Ferry at no charge, and must abide by the Staten Island Ferry rules of conduct for all passengers, and these rules for bicyclists:
Bicyclists must board on the lower level at both the St. George and Whitehall Ferry Terminals.
Bicyclists must dismount and walk their bicycles to the waiting area and when boarding and departing the boat. Stay clear of pedestrians.
All bicycles must be stored in the designated bicycle storage area on the lower level of each vessel.
All passengers are subject to screening upon arrival at the ferry terminals.
Bicycles may not be left on racks on vessels for more than one trip
Bicycles left on outdoor racks for more than 24 hours will be removed.
NYC DOT is not responsible for stolen or damaged bicycles.
Effective November 1, 2021:
Riders may NOT board the Staten Island Ferry with electric mopeds (electric motorcycles).
Riders may transport e-bikes with pedals, but may NOT charge any e-transportation devices.
E-Bikes and Mobility Devices Allowed on the Staten Island Ferry (pdf)
Other ferries in the region:
Bikes are allowed on all private ferries in the region, but may be subject to fees or surcharges in addition to standard passenger ticket prices. Please check with the ferry operator in question for more information.
Commuter & Regional Rail
The bicycle policies on railroads in the region vary. Bikes may be restricted to specific cars, and generally a limited number of bikes are allowed in each car. Contact these service providers for more information:
LIRR & Metro-North
As of September 7, 2021, permits are no longer required for bikes on commuter rail. Bikes generally allowed, except at rush hour in the peak direction and on holidays. Learn more from the MTA
Staten Island Railway
Bikes allowed at all times, except for weekdays in the peak direction. Learn more from the MTA
NJ Transit
Folding bikes allowed at all times. Standard bikes generally allowed, except at rush hour in the peak direction, and on holidays. Learn more from NJ Transit
PATH
Bikes allowed at all times except rush hours. Learn more from PATH
Amtrak
Folding bikes can be brought aboard. Standard bikes generally can't be, but rules vary by train and station. Learn more from Amtrak