Carshare provides on-demand access to a vehicle for short-term use – usually by the hour, or day – at a cost that includes maintenance.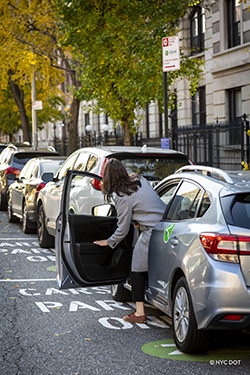 Carshare benefits the environment and residents by:
Improving local air quality
Reducing congestion
Lowering household transportation costs
Improving mobility options for New Yorkers
How Carshare Works
NYC DOT's Carshare program designates dedicated parking spaces for the use of eligible carshare organizations (CSOs). These parking spaces are located at curbside locations and in municipal parking facilities citywide.
Carshare members may reserve a vehicle, walk up to the car at their reservation time, and drive away, returning later to the same reserved spot.
Carshare Membership
Three companies participate in NYC's Carshare program:
New Yorkers must apply directly to a company for Carshare membership and provide information such as a driver license and form of payment.
All companies are required to provide a vehicle with professionally installed hand controls to any Carshare member within 48 hours of the request.
Each participating company will be offering various discounts and first-time driver credits including discounts for NYCHA residents and SNAP Program participants. Please visit each company's website for more information.
Locations
NYC is expanding on-street Carshare spaces in the Bronx, Brooklyn, Manhattan and Queens. A map of Carshare parking locations will be available once all sites have been installed. List of new and existing Carshare locations List of installed off-street Carshare locations
Curb Regulations
On-street Carshare spaces have signage to designate the parking spaces to a specific Carshare company. Carshare parking spaces are in pairs at the corners of residential, unmetered blocks.
The curb regulation OTHERS NO STANDING means that non-carshare vehicles may not stand at this location. Any vehicle other than the designated Carshare vehicle may not wait or stop to load or unload packages or merchandise at the curb, although a driver may stop to expeditiously drop off or pick up passengers.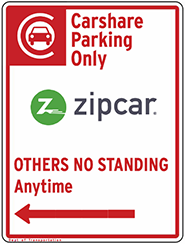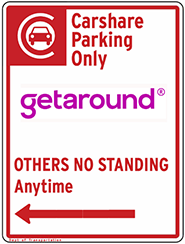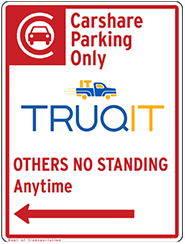 Enforcement
If non-carshare vehicles are found in Carshare parking spaces, NYPD is authorized to ticket and tow illegally parked vehicles. Carshare companies are also authorized to relocate illegally parked vehicles to the nearest legal curbside space (at no charge to the car owner).
Street Cleaning
Alternate side parking regulations will not be applied to Carshare parking spaces. Carshare companies are required to clean and maintain the space to the same frequency of adjacent alternate side parking regulations.
How to Become a Carshare Organization
CSOs wishing to take part in the Carshare program must register with NYC DOT to become a qualified operator.
Registration is open year-round.
CSO Registration
To register, CSOs must provide the following information:
Legal name of the CSO and its "Doing Business As" (DBA) certificate
A certified copy of the Certificate of Incorporation and proof of registration with the New York State Department of State
Company address, contact name, contact telephone number, and contact e-mail address
Information about the CSO's New York City-specific operations, including the CSO's total carshare vehicle fleet size in New York City, the number and location of private garages and carshare parking sites from which it currently operates, and the number of equity carshare parking sites; and
Information about the CSO's rates, including any geography or time-based differences.
Register to become a qualified operator via the Carshare Program Registration Webform
Registered CSOs will receive a unique ID from NYC DOT to use when applying for specific operational sites.
Webform submissions are strongly preferred.
If online submission is not an option, please send a request to Carsharenyc@dot.nyc.gov.
Program Details for CSOs
The Carshare Program Package will outline program details, responsibilities of permit holders, data reporting requirements and provides permit application forms for CSOs to complete, sign, and submit. Carshare Program Package
Application Process
Registration (Open year round)

CSOs must register with NYC DOT
CSOs will receive a unique ID from NYC DOT

CSOs submit applications for new sites and renewals

CSOs must complete Carshare Application package during application period

Internal NYC DOT Review

Review Carshare Application Package
Review requested sites to ensure siting criteria requirements
CSOs will be notified of preliminary approved sites

Outreach by CSOs

CSOs must provide NYC DOT with a Community Outreach Plan and an Equity Plan with application
CSOs must engage in outreach to Community Boards, Community Organizations, etc., sharing informational materials on requested sites, Carshare Process, and Company profiles.

Permit Approval

CSOs will receive permits for approved sites

Begin Operation

CSOs will mark their sites
CSOs will deploy cars and begin carshare operations
Siting Criteria & Fees
On-Street Curbside Sites
The Carshare program is open to both round trip and one-way carshare services. CSOs interested in dedicated curb space can request sites throughout New York City that meet the siting criteria below. CSOs seeking dedicated parking spaces must annually apply for permits for each new site and/or for renewal of existing sites. There is an annual site permit fee of $475 for new and existing sites.
CSOs using regular parking spaces for point-to-point trips do not need a permit. Vehicles using regular parking spaces must adhere to standard parking rules.
Specifications for On-Street Curbside Sites
Carshare parking spaces are sited in pairs at the corners of residential, unmetered blocks.

Spaces will both be sited on the same blockface in the first 40' before or after an intersection.
Spaces must be sited at non-metered, non-truck loading locations with Alternate Side Parking (ASP) and street cleaning no more than two times per week.
Back in angle parking locations are not allowed
Spaces must be sited in a permanent parking lane (cannot convert to a moving lane)

At least 20% of on-street parking spaces must be located in Equity Zone Areas, defined as Tier 1 Priority Investment Areas (PIAs) in the New York City Streets Plan
Spaces must maintain minimum distance requirements set forth by NYC DOT
NYC DOT will be using NYC Open Data and ArcGIS to review all sites.
Municipal Parking Facility Sites
NYC DOT operates two types of facilities: parking fields, which are outdoor, unattended, metered lots; and parking garages. 10% or 10 spaces (whichever is less) of parking spaces in pre-selected NYC DOT municipal parking facilities will be available for the Carshare program. NYC DOT will assign spaces in pairs within each facility to eligible CSOs.
CSOs interested in stationing electric vehicles (EVs) at NYC DOT parking garages with level two EV chargers should note it in their application. Learn more about NYC DOT's initiatives around EV charging
Registered CSOs will need to request new and/or renewed carshare parking permits for each municipal parking space they wish to occupy. After the program's first year, NYC DOT will issue spaces to CSOs within each facility on a first come first serve basis, prioritizing renewal applications.
Existing municipal parking permit rates at each facility determine the annual fee for carshare parking spaces.
Permit Fees
There will be an annual fee of $475 per on-street curbside parking sites (2 spaces).
CSOs operating in a municipal parking facility, will pay the existing permit fee charged at that particular municipal parking facility.
Pilot Program
Starting in 2018, NYC hosted a citywide pilot program, designating over 280 parking spaces for carshare vehicles. Parking spaces were located in municipal parking lots and on streets in select neighborhoods.
Reports
NYC Carshare Pilot Report Roundtrip Carsharing in New York City: An Evaluation of a Pilot Program and System Impacts by Berkley Institute of Transportation Services NYC Carshare Pilot First Year Progress Report
Contact Us
Contact NYC DOT online with questions about the Carshare program.