IMMEDIATE RELEASE
March 29, 2023
Contact: (212) 839-4850, press@dot.nyc.gov
DOT Launches Next Phase of On-Street Carshare Program That Will Double the Number of Available Parking Spaces
Installation of 270 new curbside carshare parking spaces begins this week, with new locations in Manhattan, Brooklyn, Queens, and the Bronx
Expansion follows successful pilot that reduced car ownership while cutting greenhouse gas emissions 7% and vehicle miles traveled by 6%
NEW YORK – Today, New York City Department of Transportation Commissioner Ydanis Rodriguez announced the next phase of a major expansion of the citywide curbside carshare program, adding an additional 270 new parking spaces, more than doubling the number of curbside spaces dedicated to the program. The expansion follows a successful 230-space pilot that reduced car ownership and cut greenhouse gas emissions by 7% and vehicle miles traveled by 6%. Data from the pilot shows that for every one car share vehicle added, four personal vehicles were either not purchased or sold. New carshare locations will be installed in the Bronx, Brooklyn, Queens, and Manhattan. The installations began this week and will continue into next week, bringing the total number of curbside spaces dedicated to carshare to 552. Future sites will be identified and installed throughout 2023.
"The city's carshare program has a proven track record of cutting greenhouse gas emissions and offering New Yorkers an alternative to owning a car as they move around our city," said New York City Mayor Eric Adams. "That's why we expanded this program in February and why we are doing it again — this time for neighborhoods in Manhattan, Brooklyn, Queens, and the Bronx. This program has been studied thoroughly with extensive community feedback, and the results are clear: Car-sharing is making New York City safer, cleaner, and healthier."
"Convenient access to carshare is a proven way to reduce greenhouse gas emissions and remove more vehicles from our streets," said DOT Commissioner Ydanis Rodriguez. "Doubling the size of this program will make curbside carshare accessible in more neighborhoods, save people money, and build upon the success of our successful pilot program."
"Getaround is pleased to participate with the DOT on the next phase in this major expansion of the NYC carshare program. New York City continuously increases transportation choice for residents and visitors and we are proud to be added to the growing roster of mobility companies that are improving the city's transportation network and making New York a more equitable city for all," said Sy Fahimi, Chief Operating Officer for Getaround. "Getaround empowers residents and visitors to shift away from car ownership through instant and convenient access to desirable, safe, and affordable cars and our connected and contactless platform will not only deliver a convenient and affordable transportation option but will also complement other modes of transportation in the city."
"From the very beginning of our collaboration with the Department of Transportation (DOT), we've been filled with excitement as we've witnessed their unwavering dedication to making car-sharing programs more equitable and accessible for every New Yorker," said Sohail Suleman, CEO of Truqit The expansion of parking spaces for car-sharing is a powerful demonstration of this dedication, and it clearly underscores New York's determination to create better and more inclusive transportation options. At TRUQIT, we're truly excited about the opportunity to continue our growth in this dynamic region, and we're fully committed to working closely with DOT and the people of New York to build a more sustainable future for everyone."
"At Zipcar, we are driven by a mission to enable simple and responsible urban living by reducing personal car ownership," said Angelo Adams, head of Zipcar. "New York City is paving the way for the future of cities by providing sustainable and equitable transportation to its communities. As this successful on-street car-sharing program grows, we know more New Yorkers will save time and money by accessing a shared vehicle when they need one. Zipcar will make a genuine environmental impact by reducing carbon emissions through the expansion of the car share program and adding more electric vehicles."
The 270 new curbside locations will bring the carshare program to new neighborhoods across the city while also expanding the number of locations in the initial pilot areas as well. Working with three carshare companies – Zipcar, Getaround, and Truqit – spaces are being installed in new neighborhoods such as the West Village in Manhattan, Kew Gardens Hills in Queens, and Bedford Park in the Bronx. DOT is also improving access to carshare with additional spaces in neighborhoods with existing service, such as East Harlem in Manhattan; Jackson Heights in Queens; Williamsburg and East Williamsburg, in Brooklyn; and Parkchester, in the Bronx.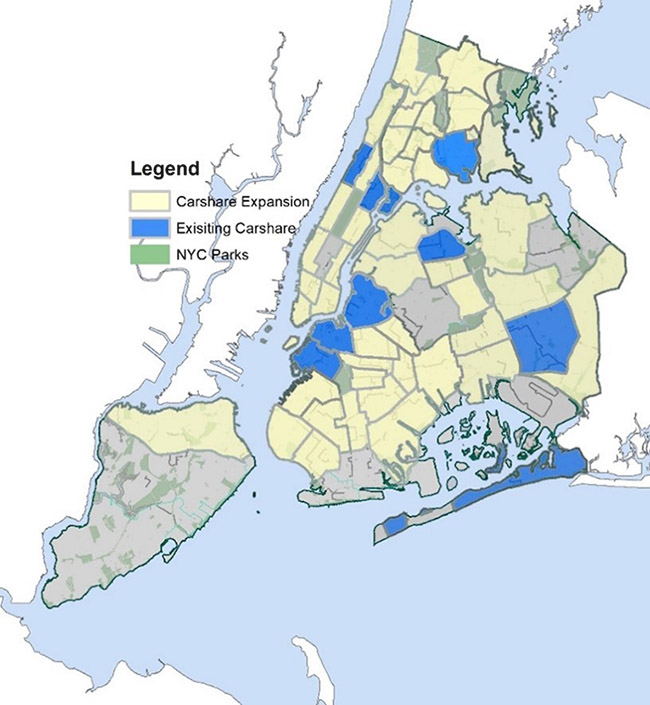 DOT has undertaken extensive outreach before installing new locations and will continue to do so throughout the implementation phase, taking feedback from community boards, residents, and other stakeholders, and will make adjustments where applicable. Once all sites are installed, an up-to-date map of locations will be available at nyc.gov/carshare
Carshare companies have identified locations for expansion based on customer demand and other data. Locations must also conform with criteria set forth by the NYC DOT to ensure the program reaches underserved New Yorkers in Equity Zone Areas, defined as Tier 1 Priority Investment Areas (PIAs) in the New York City Streets Plan.
The expansion builds on the success of DOT's on-street carshare pilot, begun in 2018 with 14 zones in Brooklyn, the Bronx, Queens, and Manhattan. The pilot delivered significant, promising results, including:
Carshare users took about 160,000 trips total during the pilot, with an average of 24 trips per month per space. Each month, an average of 17 unique carshare members used vehicles in each space.
Using detailed customer surveys, researchers concluded that for every car shared within the city, four personal vehicles were either not purchased or sold; In the pilot, about 1,140 users, or 7% of program participants, either sold their cars or opted not to purchase a new one.
Annual vehicles miles traveled (VMT) were reduced by about 38.7 million miles and produced an annual net reduction of 12,000 metric tons in greenhouse gases per year.
Comparing their pre-carshare behavior, carshare users in the pilot drove fewer miles (7% reduction) and reduced greenhouse gas emissions (6% reduction).
The pilot dramatically increased diversity of carshare users: Black/Latino membership doubled to about 30% of total carshare users.
After the first year of the pilot, unauthorized use of on-street carshare parking spaces declined dramatically after DOT allowed carshare companies to use paint to clearly mark their spaces with "Carshare Parking Only," making the program much more reliable for customers.
The program brought carshare to 14 neighborhoods citywide with low- and moderate-incomes, including Inwood, Washington Heights, Harlem, Parkchester, Red Hook, Jamaica, and the Rockaways. Many of these neighborhoods saw the highest rates of overall use during the pilot.
"We are excited over plans by the New York City Department of Transportation to prioritize clean air and sustainability through the expansion of their citywide curbside carshare program introduced in 2018," said Bronx Borough President Vanessa L. Gibson. "Now in its fifth year of securing over 200 parking spaces in neighborhoods including Soundview and Bedford Park, plans to expand this program means more Bronx neighborhoods can look forward to reductions in greenhouse gases and transportation accessibility. I want to thank Mayor Adams, Commissioner Rodriguez, and their entire team for demonstrating their commitment to improving air quality and transportation equity for all New Yorkers."
"With climate change continuing to loom over our city, it has never been more imperative to employ innovative solutions to reduce our reliance on fossil fuels. The DOT's curbside carshare program has shown progress in cutting greenhouse gas emissions and vehicle miles traveled, and I'm excited to see the initiative expand across Queens," said Queens Borough President Donovan Richards Jr. "I look forward to working with the DOT to ensure the continued success of this program, specifically through an exhaustive and ongoing community engagement process, while supporting the health and wellness of The World's Borough and its families in the process."
"Carshare access provides New Yorkers an additional option as they decide how to get to where they need to go," said Council Majority Whip Selvena N. Brooks-Powers, Chair of the Committee on Transportation and Infrastructure. "I continue to support New York City Department of Transportation's efforts to expand this program, which reduces emissions and vehicle miles traveled. I look forward to further investment in multi-modal transportation options for New Yorkers, especially in the City's transit deserts."
"The Citywide curbside car share program has allowed for our transit deserts around the city to be more accessible and less reliant on purchasing a car," said Council Member Amanda Farías. "In my district in the Bronx the data has shown that the majority of those using carshare are using them for shorter distances, making school pick up, groceries, laundry, and more easier for families and individuals who are not able to buy a car. I am excited to see that there will be more opportunities for this in Parkchester and citywide."
"Happy to hear about the new expansion of NYCDOT's curbside car share program, which will bring additional parking spaces and expand access to carshare services across the city," said Council Member Nantasha Williams. "The success of the pilot program has shown that carshare is a valuable tool in reducing personal vehicle ownership and vehicle miles traveled. I look forward to the continued work towards a more sustainable and equitable transportation system throughout Queens and hope that it can be implemented within my District in the near future."
"The New York League of Conservation Voters is thrilled with the success of the New York City Department of Transportation's curbside carshare program and we applaud Commissioner Rodriguez for expanding this environmentally friendly program even further," said Julie Tighe, President of the New York League of Conservation Voters. "Curbside parking spaces for carshare service have resulted in fewer single-use private cars on the road and less fossil fuel emissions pouring into our air, and with the DOT now dedicating an additional 270 streetside parking spaces to car share rides, it's a win for the environment and for equitable access to transportation."
"The expanded curbside car share program for NYC is a win-win-win," said Felicia Park-Rogers, Director of Regional Infrastructure Projects, Tri-State Transportation Campaign. "This program equitably expands access to New Yorkers for the occasional use of a car for necessary trips while reducing the environmentally critical number of vehicle miles traveled and reducing total car ownership. These results were shown to be true in programs across the country as well as in NYC in this Hunter College report. Curbside carshare is a proven improvement of use of the valuable curb space."

###