IMMEDIATE RELEASE
February 7, 2023
Contact: (212) 839-4850, press@dot.nyc.gov
NYC DOT Begins Major Expansion of On-Street Carshare After Successful Pilot
First 80 of hundreds of new curbside parking spaces reserved for carshare vehicles will be installed starting today in Brooklyn, Queens, and the Bronx, with a focus on equitable distribution
DOT's carshare pilot had encouraging results: greenhouse gas emissions and vehicle miles traveled declined 7% and 6%, respectively; for every one car shared vehicle, four personal vehicles were either not purchased or sold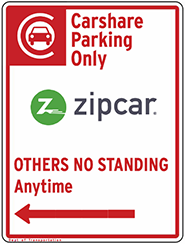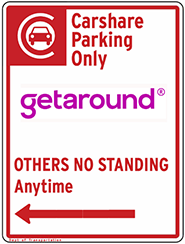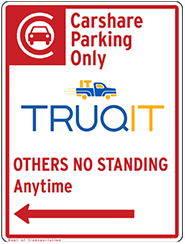 New York – New York City Department of Transportation Commissioner Ydanis Rodriguez today announced the expansion of its citywide curbside carshare program to increase access to convenient carshare, after a successful 5-year pilot has proven to reduce greenhouse gas emissions and personal car ownership. Over the next two weeks, DOT will install new signage to demarcate the first 80 new, dedicated curbside parking spaces for carshare service across Brooklyn, the Bronx and Queens, with an explicit focus on equitable access.
DOT's ambitious program goal for 2023 is to supplement the current 230 on-street parking spaces with several hundred more, working with the three carshare companies – Zipcar, Getaround, and Truqit – to deploy their shared vehicles at new locations.
"We now have the proof that convenient access to carshare frees New Yorkers from the burden of car ownership – while helping to fight climate change. Soon more New Yorkers will have access to a vehicle when required – no need to sign an expensive lease or to fret about finding a parking space," said DOT Commissioner Rodriguez. "With thanks to the Mayor for his support, we are excited to build on the successes of our pilot, cutting down greenhouse gas emissions and vehicle miles traveled, while supporting efficient use of space at the curb. We encourage New Yorkers to give this great program a try!"
"Getaround and the New York City DOT have a mutual goal of reducing traffic congestion, improving air quality, and providing equitable transportation options for community members. Our participation in the carshare program will provide instant access to on-demand and affordable cars that will serve as a complement to other transportation modes in the city," said Sy Fahimi, COO of Getaround. "We look forward to expanding access to shared mobility, as Getaround continues its mission to empower people to carshare everywhere."
"Truqit is proud to join forces with New York City in building a better future for all its residents. Our goal is to give New Yorkers access to convenient and sustainable transportation options, without the hassles of car ownership," said Sohail Suleman, CEO of Truqit. "With cutting-edge technology and a strong partnership with the city, Truqit, now headquartered and operating in NYC, is poised to bring about a brighter, greener future for all."
"We are grateful to work with the New York City Department of Transportation and the communities it serves to provide more New Yorkers with access to Zipcar's professionally maintained fleet of shared vehicles," said Angelo Adams, Head of Zipcar. "From our pilot data and more than two decades of serving New York City, we know there is a genuine need to provide more on-demand access to vehicles, given the high cost and hassle of owning one in the city. Together with the NYC DOT, Zipcar is dedicated to decreasing congestion and carbon emissions while providing convenient, equitable transportation options to New Yorkers, including with more hybrid and electric vehicles
Carsharing is a service that gives members access to an automobile for short-term use – usually by the hour, or day – at a cost that includes maintenance. With cars parked in publicly accessible neighborhood locations across the city, members can reserve vehicles entirely via smartphone, and then just walk up to a car and drive away, returning later to the same reserved spot.
PROGRAM EXPANSION
DOT's original pilot program, mandated by Local Laws 47 & 50 of 2017, was launched in 2018, with a goal of 300 spaces in on-street parking spaces and in DOT-managed public lots.
As part of its initial citywide expansion, DOT and Carshare Companies have identified 80 curbside carshare spaces in the Pelham Bay and Westchester Square sections of The Bronx; Bay Ridge, Bushwick, Brownsville, and Sunset Park, in Brooklyn; and Ozone Park, South Ozone Park, Long Island City, and Woodside, in Queens. Spaces will be installed in Brooklyn and the Bronx starting today, with site installations in Queens taking place next week.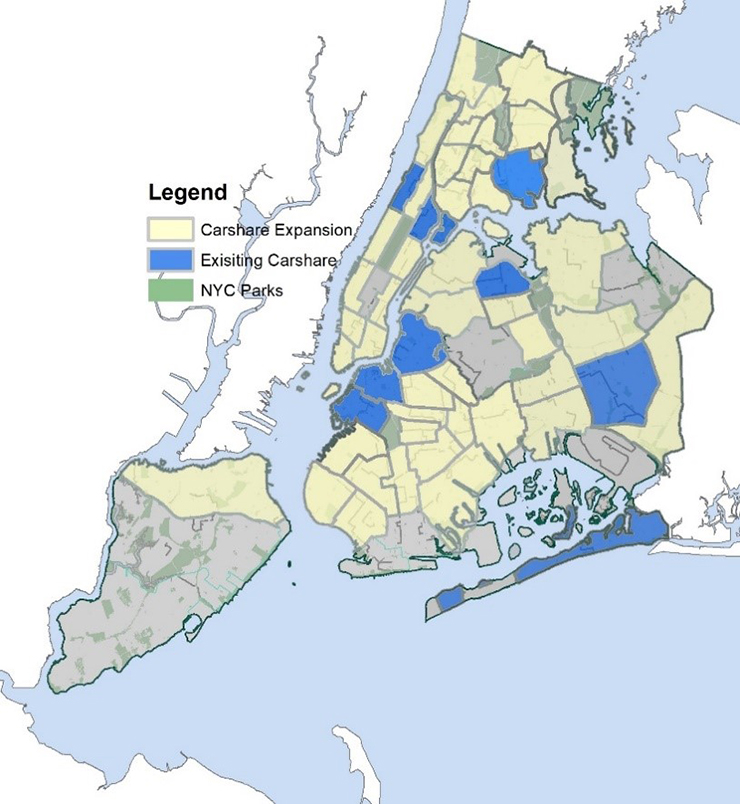 Information on precise site locations being installed this month can be found on the DOT's website. DOT is conducting extensive outreach, taking feedback from community boards and making adjustments where applicable. Once all sites are installed, an up-to-date map of locations will be available here: nyc.gov/carshare
New locations are being selected by participating carshare companies based upon knowledge of customer demand and household demographic data. Locations must also conform with criteria set forth by the NYC DOT to ensure the program reaches underserved New Yorkers in Equity Zone Areas, defined as Tier 1 Priority Investment Areas (PIAs) in the New York City Streets Plan. DOT engaged all community boards covered by the initial expansion and incorporated feedback where possible.
The expansion builds on the success of DOT's on-street carshare pilot, begun in 2018 with 14 zones in Brooklyn, the Bronx, Queens, and Manhattan. The pilot delivered significant, promising results, including:
Carshare users took about 160,000 trips total during the pilot, with an average of 24 trips per month per space. Each month, an average of 17 unique carshare members used vehicles in each space.
Using detailed customer surveys, researchers concluded that for every car shared within the city, four personal vehicles were either not purchased or sold; In the pilot, about 1,140 users, or 7% of program participants, either sold their cars or opted not to purchase a new one
Annual Vehicles Miles Traveled (VMT) were reduced by about 38.7 million miles and produced an annual net reduction of ~12,000 metric tons in greenhouse gases per year.
Comparing their pre-carshare behavior, carshare users in the pilot drove fewer miles (7% reduction) and reduced greenhouse gas emissions (6% reduction)
The pilot dramatically increased diversity: Black/Latino membership doubled to about 30% of total carshare users.
After the first year of the pilot, unauthorized use of on-street carshare parking spaces declined dramatically after DOT allowed carshare companies to use paint to clearly mark their spaces with "Carshare Parking Only," making the program much more reliable for customers.
The program brought carshare to 14 neighborhoods citywide with low- and moderate-incomes, including Inwood, Washington Heights, Harlem, Parkchester, Red Hook, Jamaica, and the Rockaways. Many of these neighborhoods saw the highest rates of overall use during the pilot.
"Less cars on the street is always a good thing, but we have to keep pushing for a city that puts people first and prioritizes strong, reliable public transportation," said Brooklyn Borough President Antonio Reynoso. "This is a step in the right direction, and I look forward to continuing to work with DOT Commissioner Rodriguez toward a truly safe, sustainable, and healthy New York."
"The global warming problem cries out for innovative solutions that can help us reduce greenhouse gas emissions, and the City's curbside carshare program is one of those solutions," said Queens Borough President Donovan Richards Jr. "I am heartened by the success of the initial pilot project and am very pleased the program is being expanded to add several hundred more spaces across the City, including many in Queens. Initiatives like this one give me hope that we can effectively address climate change, if we have the will to do so."
"The expansion of carshare will be liberating to my constituents in Ozone Park and South Ozone Park. In our transit desert, we rely on cars for work, medical appointments, and visiting loved ones. The DOT's carshare program will equip us with the mobility we need while freeing us of the financial and logistical burdens of car ownership," said Assembly Member Jenifer Rajkumar. The benefit will expand well beyond the program's users: studies show that one carshare vehicle takes as many as 15 cars off the road—lowering greenhouse gas emissions, reducing traffic congestion, and freeing up precious parking space. Thank you to Commissioner Ydanis Rodriguez for once again advancing transit policies that address the needs of the people."
"Carshare options provide New Yorkers another degree of flexibility to meet their needs and get where they to go," said City Council Majority Whip Selvena N. Brooks-Powers, Chair of the Committee on Transportation and Infrastructure. "Short-term carshare access can reduce emissions and vehicle miles traveled citywide. I support New York City Department of Transportation's efforts to expand this program, and I look forward to further investment in multi-modal transportation options for New Yorkers, especially in the City's transit deserts."
"It is great to see the success of the New York City Department of Transportation's carshare pilot and we applaud Commissioner Rodriguez for expanding this environmentally friendly program even further." said Julie Tighe, President of the New York League of Conservation Voters. "When we first advocated for the city to dedicate curbside parking spaces for carshare service, we knew it would result in fewer single-use private cars on the road and less fossil fuel emissions pouring into our air, and that is exactly what has borne out. With the DOT now dedicating an additional 80 streetside parking spaces to car share rides, it's a win for the environment and a win for equitable access to transportation."
###