IMMEDIATE RELEASE
May 22, 2023
Contact: (212) 839-4850, press@dot.nyc.gov
NYC DOT Launches Series of Themed Self-Guided Bike Route Maps to Encourage Cycling
The first themed ride, developed with Women's Empowerment Through Bicycles (WE Bike) and the New York City Chapter of Young Professionals in Transportation, focuses on safe cycling infrastructure
Guided rides to be shared each month through Biketober to promote cycling as a fun, fast, and healthy way to travel
New York – New York City Department of Transportation (NYC DOT) Commissioner Ydanis Rodriguez today announced the publication of the first of six self-guided cycling routes to encourage the continued growth of cycling in the city and promote the mode as a fun, fast, and healthy way to get around. The first route is based on a successful guided ride NYC DOT co-hosted with Women's Empowerment Through Bicycles (WE Bike NYC), which also serves the gender nonconforming and nonbinary community, and the New York City chapter of Young Professionals in Transportation (YPT) to encourage cycling among women. With studies showing more safe cycling infrastructure can lead to more ridership among cyclists identifying as women, NYC DOT, WE Bike NYC, and YPT developed the first of the 2023 self-guided routes to highlight newer, innovative pedestrian and cycling treatments the agency has begun installing, including Better Barriers, super sidewalks, Shared Streets, and double bike lanes. The agency plans to publish five additional self-guided rides every month until Biketober. These rides will touch upon different themes, including LGBTQIA+ landmarks for Pride Month in June.
"The continued rise in cycling is a true point of pride for our city and we must continue to encourage this growth to create a safer, healthier, and for every person from every corner of New York City," said NYC DOT Commissioner Ydanis Rodriguez. "These self-guided rides will promote positive well-being for cyclists across the city, showcasing the excitement of our streets and the joy of our city from the seat of a bicycle. I encourage all New Yorkers to get on their bikes and give them a try!"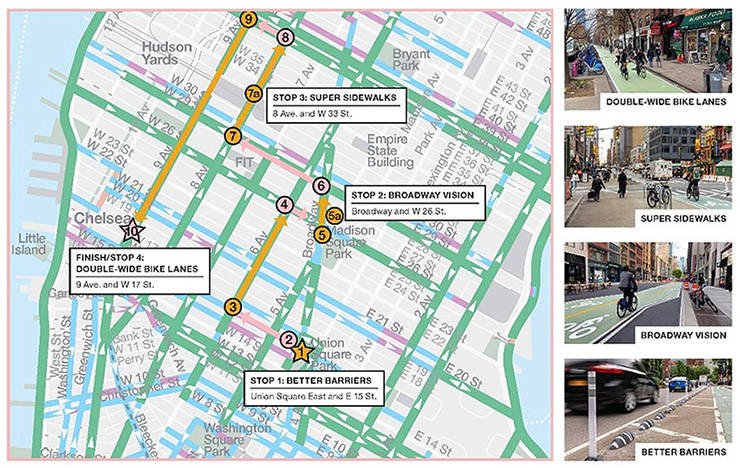 The first self-guided route is a 3.4-mile ride through new treatments DOT has installed in Manhattan.
NYC DOT will unveil a new self-guided ride each month through October 2023. The first of these routes passes through the Better Barriers pilot at Union Square, super sidewalks along Eighth and Ninth Avenues, bike boulevards and shared streets on Broadway, and double bike lanes on Ninth Avenue. The goal of this self-guided ride is to encourage riders of all genders, abilities, and identities to feel confident about cycling and understand its benefits.
DOT currently publishes self-guided rides on its website with lengths varying between roughly 2.5 to 11 miles, to showcase the agency's work, community amenities, and destinations. The new self-guided routes come as bike ridership reaches an all-time high in New York City, with record cycling trips documented over East River bridges and in Midtown Manhattan in 2022. For the first time ever, more than 24,000 trips were recorded over East River bridges during an average in-season weekday. And more than 38,000 cycling trips were counted during an average 12-hour window across Manhattan avenues at 50th Street. NYC DOT strives to empower all riders on New York City roads; and as part of this commitment NYC DOT is installing a record number of protected bike lanes this year.
"We are thrilled to see additional resources and safety initiatives to encourage more to cycle," said Kristy Tu, Chair of YPT-NYC. "WE Bike and NYC DOT have been terrific partners in helping us build community through fun and informative group bike tours!"
"WE Bike NYC is excited to partner with NYC DOT in the push for safe, accessible cycling infrastructure throughout New York City," said Casey Ashenhurst, President of WE Bike NYC. "We have seen first-hand the direct impacts these improvements have in increasing equitable access to transportation for historically marginalized groups and communities. The City has made tremendous progress in introducing innovative cycling infrastructure, and we look forward to continuing the work with DOT."
###