IMMEDIATE RELEASE
April 24, 2023
Contact: (212) 839-4850, press@dot.nyc.gov
NYC DOT Taking New Steps to Expand Bike Infrastructure and Encourage Safe Operation of E-bikes as Overall Bike Ridership Reaches All-time High
Agency expects to install more protected bike lanes than ever before and to harden more than 10 miles of existing bike lanes
New education campaign on safe operation of e-bikes will also launch in response to uptick in e-bike traffic fatalities, including spate of single-bike fatalities
New York — New York City Department of Transportation Commissioner Ydanis Rodriguez today announced new steps the agency is taking to expand bike infrastructure and encourage the safe operation of e-bikes. NYC DOT is on track to install a record number of protected bike lanes in 2023, to harden more than 10 miles of existing bike lanes, and to use sturdier materials in new bike lanes. NYC DOT will also launch a public awareness campaign on the safe operation of e-bikes. This work comes as the agency also announced today that cycling in New York City has reached a new all-time high.
"For years, as Brooklyn borough president and now as mayor, I have advocated for more New Yorkers to use bikes and supported creating the infrastructure to make cycling safe," said New York City Mayor Eric Adams. "The continued rise in cycling is a sign of true progress for our city, but we must give new and experienced cyclists all of the tools they need to bike safely. With these critical projects and this new campaign on e-bike safety, our administration is doing exactly that."
"The proof is in the data: more safe cycling infrastructure means more cyclists on our streets. As we've built more and more bike lanes, we've seen bicycle ridership reach historic levels," said NYC DOT Commissioner Rodriguez. "We will be installing a record number of high-quality, protected bike lanes this year to save lives and continue encouraging this growth. We're focusing on thoughtfully expanding our existing bike network with new lanes in underserved communities; new connections across bridges; and comprehensive neighborhood networks—all while developing innovative new bike boulevard designs that reduce vehicle volumes and prioritize cycling safety."
Upcoming protected bike lane projects include a range of high-ridership corridors, bridges, priority investment areas in underserved communities, and innovative bike boulevards. Hardening efforts will include the installation of cement Jersey Barriers and the continued testing of new materials along bike lanes in all five boroughs.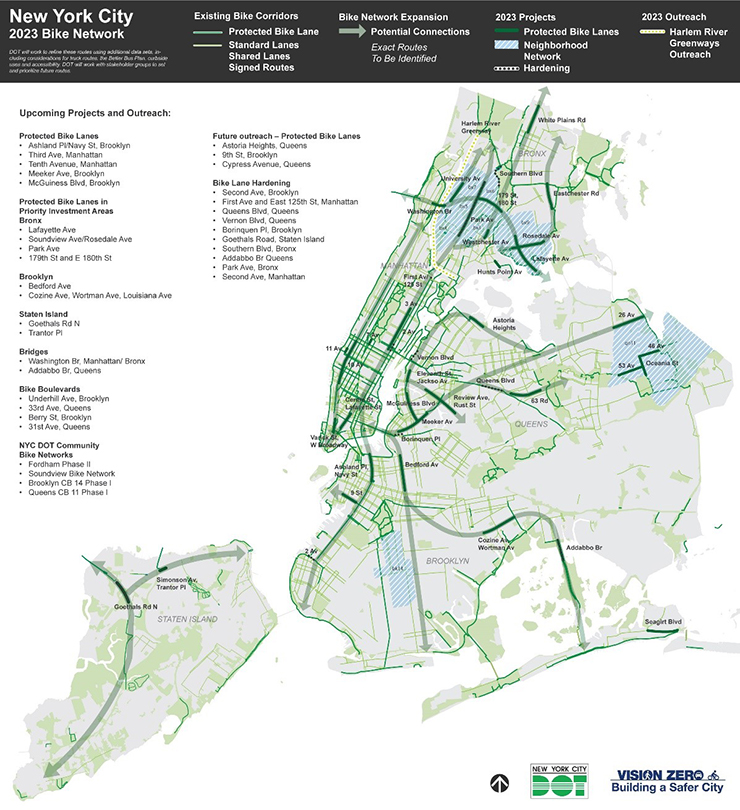 Protected Bike Lanes
Ashland Place/Navy Street, Flushing Avenue to Hanson Place; Hanson Place, Ashland Place to St Felix Street, Brooklyn
Third Avenue, 59th Street to 96th Street, Manhattan
Tenth Avenue, 14th Street to 52nd Street, Manhattan
Meeker Ave, Apollo Street to Graham Avenue, Brooklyn
McGuiness Boulevard, Pulaski Br to Meeker Avenue, Brooklyn
Protected Bike Lanes in Priority Investment Areas
Bronx

Lafayette Avenue, Metcalf Avenue to Havemeyer Avenue
Soundview Avenue, Rosedale Avenue to Clason Point
Rosedale Avenue, Lafayette Avenue to Watson Avenue
Park Avenue, East 165th Street to 188th Street
179th Street and East 180th Street, Park Avenue to Boston Roadp

Brooklyn

Bedford Avenue, Brooklyn
Cozine Avenue, Fountain Avenue to Louisiana Avenue
Wortman Avenue, Fountain Avenue to Louisiana Avenue
Louisiana Avenue, Cozine Avenue to Stanley Avenue

Staten Island

Goethals Road North, Forest Avenue to South Avenue
South Avenue, Goethals Road North to Fahy Avenue
Trantor Place, Walker Street to Bayonne Bridge
Bridges
Manhattan/Bronx: Washington Bridge, EL Grant Hwy/University Ave to Amsterdam Ave
Queens: Addabbo Bridge, 165 Ave to Kiteboard Launch
Bike Boulevards
Building on Open Streets' success, DOT is continuing to develop innovative designs for pedestrian and bicycle priority corridors along its most popular locations. Upcoming Open Street redesigns include:
Underhill Avenue, Eastern Parkway to Atlantic Avenue, Brooklyn
33rd Ave, Utopia Parkway to 215th Place, Queens
Berry St, Broadway to North 12th Street, Brooklyn
31st Ave, Queens
NYC DOT Community Bike Networks
Fordham Phase II
Soundview Bike Network
Brooklyn CB 14 Phase I
Queens CB 11 Phase I
Future outreach – Protected Bike Lanes
Astoria Heights PBL, Queens
9th Street, Brooklyn
Cypress Avenue, Queens
Bike Lane Hardening
DOT will harden 10 miles of existing lanes and five miles of new projects with sturdier barriers, including the Addabbo Bridge and Park Avenue, in the Bronx.
The hardening list currently includes:
Second Avenue, from 65th Street to Belt Parkway on ramp (Brooklyn)
First Avenue and East 125th Street (Manhattan)
Second Avenue, 60th Street to 63rd Street (Manhattan)
Queens Boulevard from 72nd Street to Grand Avenue (Queens)
Vernon Boulevard from Queensborough Bridge to Esplanade Entrance (Queens)
Borinquen Place from Rodney Street to Havemeyer Avenue (Brooklyn)
Goethals Road North from Forest Avenue to South Avenue (Staten Island)
Southern Boulevard from Garden Way to East 182nd Street (Bronx)
Addabbo Bridge to Cross Bay Boulevard (Queens)
Park Avenue from East 165th Street to East 188th Street (Bronx)
The Better Barriers program is progressing through the procurement process and this season DOT will test new curb materials at targeted locations citywide, including Second Avenue, from 63rd Street to the Queensborough Bridge, in Manhattan. At 11th Street and Jackson Avenue, in Queens, and other locations to be determined, DOT will use innovative materials as new toolbox treatments.
In addition to expanding cycling infrastructure, later this year NYC DOT will also launch a public awareness campaign on the safe operation of e-bikes. Agency data shows that e-bike fatalities are a major contributing factor in the recent uptick of overall cyclist fatalities. Half of the e-bike fatalities to date in 2023 have been solo collisions. The public awareness campaign will focus on educating New Yorkers about how to properly accelerate, brake, and operate at an appropriate speed. The campaign will include both public marketing and direct community education to help newer riders know what to expect when they operate an e-bike. NYC DOT will engage folks who use shared e-bikes as well as those buying e-bikes at the point of sale.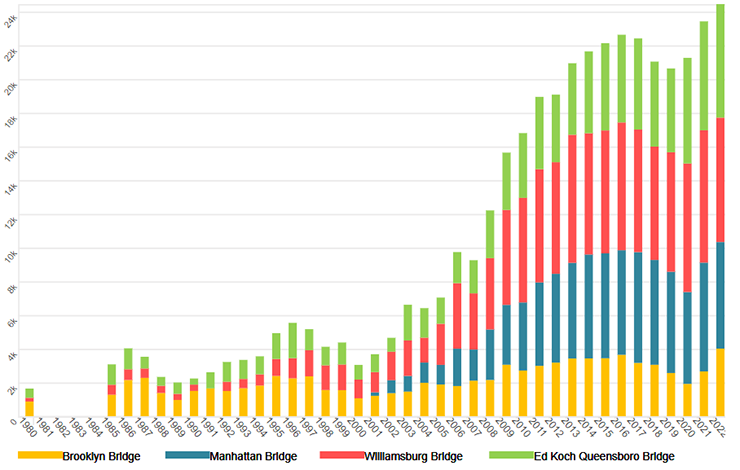 Today's announcements come as NYC DOT also announced that bike ridership has reached a new all-time high in New York City, with record cycling counts over East River bridges and in Midtown Manhattan for 2022. For the first time ever, more than 24,000 trips were recorded over East River bridges during an average in-season weekday. And more than 38,000 cycling trips were counted during an average 12-hour window across Manhattan avenues at 50th Street. Moving forward, instead of providing annual ridership updates, NYC DOT will update bike-related data on its website as it becomes available.
NYC DOT also recently unveiled the city's first wider bike lanes, with more to come this year, announced a new street activity sensor pilot program to quickly and efficiently gather data about street usage, launched the New York Twist public awareness campaign to prevent the dooring of cyclists, and continues work on ongoing greenway initiatives.
"Investing in cycling infrastructure and education is critical to increasing riders' safety and furthering our city's sustainability goals," said Manhattan Borough President Mark Levine. "On behalf of every cyclist in Manhattan and anyone committed to a greener New York, I'm grateful to the Department of Transportation for prioritizing these investments."
"I might sound like a broken record, but I'll continue to say it: expanding and upgrading bike lanes across our city will encourage alternative modes of transportation, making getting around safer for people and more sustainable for our city," said Brooklyn Borough President Antonio Reynoso. "I'm especially excited to hear about the launch of the public awareness campaign on the safe operation of e-bikes that we know are essential to many but can pose dangers. Thank you to NYC DOT, and I look forward to seeing how these investments get more people out biking and keep them safe while they ride."
"Regardless of how you navigate our city, you deserve to do so safely. That includes our cyclists and e-bike riders, for whom our streets have historically been inhospitable and dangerous," said Queens Borough President Donovan Richards Jr. "Hardening bike lanes across Queens to making the Joseph Addabbo Bridge more accessible to cyclists and e-bike users are direct investments in equitable street safety, and I thank the DOT for its partnership in protecting all who use our roadways. I look forward to doubling and tripling down on our shared efforts in the future."
"Expanding the protected bike lane program is essential to achieving our goal of a Vision Zero future," said U.S. Representative Jerrold Nadler. "Protected bike lanes make our streets safer by encouraging New Yorkers to get out of their cars and choose carbon-free modes of transit. I'm proud to support this initiative which will benefit my constituents from the East to the West Side in our fight for safer streets across Manhattan."
"I am heartened to see progress in ensuring the safety of cyclists through the expansion of protected bike lanes and additional bike infrastructure," said State Senator Kristen Gonzalez. "I look forward to continue working with the NYC DOT on additional street safety improvements along McGuinness Blvd. and beyond as we continue to prioritize pedestrian and cyclist safety in our district."
"The proof is in the ridership numbers; when you build permanent, well-protected bike lanes, more people use them," said Tiffany-Ann Taylor, Vice President for Transportation, Regional Plan Association. "Increased ridership is good for the environment and the health of New Yorkers, but it only happens when we invest in the infrastructure to keep riders safe. RPA has long advocated for these changes and discussed them in detail in our 2020 Report The Five Borough Bikeway. We applaud NYC DOT and Commissioner Rodriguez for helping to turn them into reality."
"DOT is the city agency that never sleeps," said Ken Podziba, President and CEO of Bike New York. "The sheer number of bike infrastructure projects they've completed and have in the pipeline will undoubtedly make it easier and safer to bike around the city. It's no wonder bicycling in the city has reached an all-time high, but more importantly, is where we're heading and the prospect of a future with a vast network of protected bike lanes that will exponentially increase the number of cyclists. We're also thankful to Commissioner Rodriguez and everyone at DOT for launching a much-needed public awareness campaign on the safe operation of e-bikes."
"Truly protecting bike lanes is the simplest way to keep our cyclists safe. Biking is booming; it's imperative that the City responds with infrastructure investments," said Jackson Chabot, Director of Advocacy and Organizing at Open Plans. "Protecting and hardening our bike lanes makes cycling more accessible, and gives even more New Yorkers, including children, seniors, and families, safe access to this joyful and healthful transportation."
"It's gratifying to see NYC DOT's ambitious plans for new and upgraded protected bike lanes in 2023, especially in Priority Investment Areas in the Bronx, Brooklyn, and Staten Island, and along large stretches of Third and Tenth Avenues in Manhattan, as well as on Meeker Avenue and McGuiness Boulevard, long a priority for advocates," said Eric McClure, Executive Director of StreetsPAC. "That work, along with investments in hardening protections for existing bike lanes, creating new Bike Boulevards, and developing Community Bike Networks in communities with little existing cycling infrastructure, will surely help build upon the record levels of bicycle ridership achieved in 2022."
"A critical component to ensuring street safety is making real investments in education and outreach for all New Yorkers who share our streets," said Ligia Guallpa, Executive Director of the Worker's Justice Project. "As we see more New Yorkers use e-bikes for work and their daily commute, and as we see more micro-mobility options continue to be expanded, we need the City to take bold, swift actions to build the infrastructure needed to keep everyone safe. Worker's Justice Project - Los Deliveristas Unidos are excited to see these plans take shape and looks forward to partnering with Commissioner Ydanis Rodriguez to educate and support the 65,000 app-based deliveristas who keep New Yorkers fed."
###