IMMEDIATE RELEASE
May 3, 2023
Contact: (212) 839-4850, press@dot.nyc.gov
NYC DOT Launches Platform for New Yorkers to Report Areas Where Double-Parking and Blocked Bike and Bus Lanes Commonly Occur Due to Vehicle Loading and Unloading
NYC DOT will use public feedback to identify potential locations for new dedicated loading zones
New York – New York City Department of Transportation (NYC DOT) Commissioner Ydanis Rodriguez today announced a new web platform where New Yorkers can report problem areas where double-parking and blocked bike and bus lanes commonly occur due to vehicle loading and unloading. Public feedback gathered via the platform will help NYC DOT identify potential locations to site dedicated loading zones. Double-parking and blocked bike and bus lanes create safety hazards for all road users and contribute to traffic congestion.
"We want New Yorkers to help us pin down double parking and blocked bus and bike lanes across our city," said NYC DOT Commissioner Ydanis Rodriguez. "Our new web platform will empower New Yorkers to join the conversation about where problems exist and where we can build new loading zones across the five boroughs."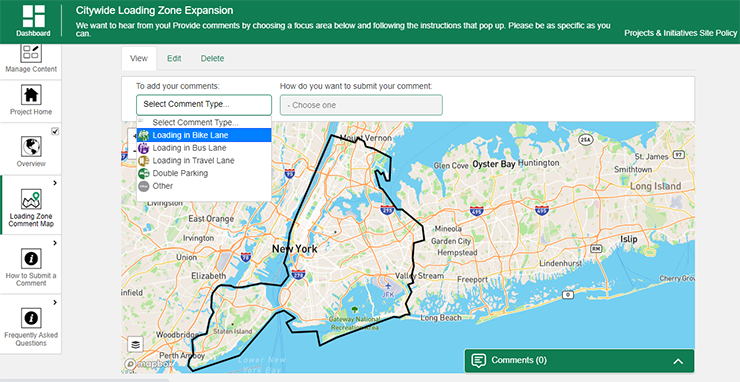 The platform lets users place a pin on a map to identify problem areas, and to add comments. Users can report areas that commonly involve the loading and unloading of passengers and/or goods. NYC DOT will use this information, along with other data and considerations, to determine where additional loading zones should be located citywide. As of March 2023, NYC DOT has installed over 2,000 loading zones since December 24, 2021, and will add at least 500 new loading zones per year in 2023 and 2024 on a rolling basis.
The launch of this new web platform follows NYC DOT's recent announcement that it will begin a local delivery hub pilot program this summer to reduce the negative environmental and safety effects of truck deliveries. The local delivery hubs, known as microhubs, will provide designated curbside or off-street locations for delivery trucks to unload items onto smaller, lower-emissions vehicles or human-powered modes of transportation like cargo bikes and hand carts for the final leg of deliveries. NYC DOT will launch up to 20 local delivery hub sites as part of the pilot program.
Local Law 168 of 2021 requires NYC DOT to consider local input from community boards, elected officials, and the general public when locating new loading zones. This portal will provide an additional avenue for gathering direct public feedback.
Additional information about NYC DOT's loading zone expansion efforts and a map of current loading zones is available at nyc.gov/LoadingFeedback.
"Double parking and blocked bike and bus lanes slow our city down and create hazards for our pedestrians and bikers, but strategically using real time consumer feedback and data, we can create better efficiencies around loading zones and improve safety," said Brooklyn Borough President Antonio Reynoso. "Thank you to NYC DOT Commissioner Rodriguez for this tool that will equip everyday New Yorkers with the ability to report what they're seeing, improve safety and congestion, and keep things moving along."
"This new web platform is a great way to get individual residents involved in addressing double-parking and blocked bike and bus lanes in their neighborhoods," said Queens Borough President Donovan Richards Jr. "Our streets should be safe for all who use them, and this platform is one way to help make that goal a reality. I commend the Department of Transportation, led by Commissioner Rodriguez, for launching this innovative and community-led safety initiative."
"Double-parking is a chronic issue throughout our City, and is one of the largest quality of life issues facing my district everyday. It is not only illegal to double-park your car, but it puts others in danger when neighbors are unable to cross traffic safely, congestion is added to our streets, crossways and bike lanes are blocked, and emergency vehicles cannot respond in time," said Council Member Amanda Farías. "Thank you to the NYC DOT for creating this vital form of community engagement and I am looking forward to reporting some of my own input at the NYC DOT's newest web platform."
###