IMMEDIATE RELEASE
April 6, 2023
Contact: (212) 839-4850, press@dot.nyc.gov
NYC DOT to Launch Local Delivery Hub Pilot to Reduce Negative Environmental and Safety Effects of Truck Deliveries
Beginning this summer, City will test local delivery hubs for moving deliveries from trucks to sustainable forms of transportation
With over 80% of New Yorkers receive at least one package per week, DOT issues new report detailing its continued, rapid installation of loading zones to meet e-commerce demand
New York — Today, New York City Department of Transportation Commissioner Ydanis Rodriguez announced the summer launch of a pilot program to reduce the negative environmental and safety effects of truck deliveries. Local delivery hubs, known as microhubs, will provide designated curbside or off-street locations for delivery trucks to unload items onto smaller, low-emissions vehicles or human-powered modes of transportation like cargo bikes and hand carts for the final leg of deliveries. The pilot is part of the agency's larger effort to rethink the City's curb space to meet the demands of e-commerce; DOT also released a new report today detailing its rapid installation of thousands of loading zones across the five boroughs to create dedicated spaces for truck deliveries.
"New Yorkers are receiving more deliveries than ever before, and we are pursuing creative ways to make these deliveries cleaner, safer, and more efficient by reducing the number of delivery trucks on our roads," said NYC DOT Commissioner Ydanis Rodriguez. "These hubs will help better organize last-mile deliveries and support small and large businesses' economic recovery as we emerge from the pandemic."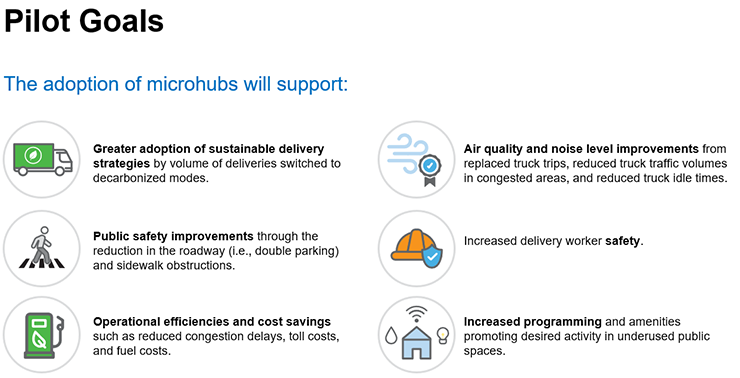 More than 80% of New Yorkers receive at least one package at home each week, and 18% receive packages on four or more days per week, leading to an increase in delivery vehicles on city streets. Today, close to 90% of the City's goods are moved into and around the city by truck. This overreliance on trucks exacerbates traffic congestion, contributes to public safety challenges on our roadways, pollutes our air, stresses our aging infrastructure, and negatively impacts quality of life. Local delivery hubs offer promising potential to reduce the number of large trucks on local streets by providing safe spaces for truck operators to transfer deliveries onto more sustainable modes of transportation.
The pilot program will include multiple phases, with the first beginning this summer and extending into the fall. NYC DOT will launch up to 20 local delivery hub sites to test both curbside and off-street hubs. Locations will be selected based on proximity to high density areas with mixed land use; as well as proximity to truck routes; transit; bike lane networks; and engagement with local communities and businesses. Through a DOT-issued Request for Expressions of Interest (RFEI), the agency collected feedback from 23 respondents—including community organizations and freight operators, as well as technology, vehicle, and infrastructure providers, to help shape the program and pilot locations.
During the first phase, DOT will monitor hub operations, collecting data and refining strategies to ensure there is equitable implementation and enforcement for both small and large companies.
Phase two of the program, which will run from fall 2024 to 2026, will expand the number of local delivery hubs and delivery partners, explore regulatory changes and incentives, examine new technology and amenity options, and gather lessons to develop a permanent local delivery hub program.
A final report on the program is targeted for late 2026.
Additional details on the local delivery hub pilot program is available in NYC DOT's Microhubs Pilot report. This pilot program, created in response to Local Law 166 of 2021, is part of DOT's comprehensive freight strategy detailed in Delivering New York and Delivering Green. Alongside its sister agencies, DOT is working to reduce the City's dependence on trucking by encouraging shifts in deliveries to smaller vehicles—like cargo bicycles, handcarts and electric vans—as well as to our ports. In October, the City announced it had won a $5 million federal grant to upgrade and improve six harbor landings for waterway freight movement.
Loading Zone Report
DOT also released its progress report on the installation of both commercial and neighborhood loading zones across the city, highlighting the agency's rapid expansion of these curbside spaces to improve traffic safety while streamlining delivery operations. The Loading Zone Expansion report, which is required via Local Law 168-2021, unveils the DOT's new formula to prioritize new loading zones, weighing population density, land use, and previous loading zone installations.
Since 2022, DOT installed more than 2,000 loading zones citywide, four times the local law's legal requirement to install 500 loading zones annually in its first three years. Locations for loading zones are now viewable through a new map on the DOT's website.
"With the rampant rise of deliveries via truck drastically changing our streetscape, it's critical that we find ways to reduce the negative impacts to safety, the environment, and quality of life. As outlined in my e-commerce blueprint last year, increasing the number of loading zones, transitioning to greener transportation methods, and activating off-street space for managing deliveries will make New York's complex delivery network more sustainable, both environmentally and logistically," said Mark Levine, Manhattan Borough President. "I look forward to working with the Department of Transportation to make Manhattan a leader in modern delivery methods that best serve New Yorkers."
"Unchecked truck traffic endangers our health and imperils the safety of our communities. With e-commerce on the rise, we can't waste any time exploring more sustainable ways to move freight in and out of our neighborhoods," said Brooklyn Borough President Antonio Reynoso. "Thank you to Mayor Adams and Commissioner Rodriguez for identifying microhubs as part of the solution toward mitigating the negative impacts on our environment and neighborhoods that comes with delivery trucks increasingly filling our streets."
"With the explosion of e-commerce, we need to swiftly rethink how we bring freight into and through New York City more sustainably," said Council Member Lincoln Restler. "DOT's pilot to expand cargo bike and hand cart infrastructure, create neighborhood microhubs to facilitate local delivery distributions, and increase loading zones to alleviate congestion are critical steps to reduce emissions caused by truck deliveries and make our streets safer."
"The reality is e-commerce is ubiquitous and if we don't design our streets to accommodate it, the current chaos will only get worse. This new approach is forward-thinking and just right for our city," said Sara Lind, Chief Strategy Officer at Open Plans. "Combining more loading zones with micro mobility for the last mile will cut down on congestion, double parking, blocked bus and bike lanes, and polluting emissions. Repurposing some curb space to allow for unloading and distribution is a good use of public space. We look forward to seeing this pilot progress and expand across New York City."
"Regional Plan Association (RPA) supports NYCDOT's continued efforts towards sustainable freight mobility. The Microhub Pilot Program and Commercial Loading Zone Expansion Report represent an exciting opportunity to address the challenges of last-mile delivery citywide and potentially the region. Continued opportunities for urban data collection and public-private partnership are instrumental in understanding the impact of goods movement at both the local and national level," said Tiffany-Ann Taylor, Vice President for Transportation, RPA. "As the City continues to navigate the challenge of a rapidly expanding supply chain that uses aging infrastructure, creative ideas that allow for new ways of thinking about deliveries is an important step in creating a more sustainable and efficient transportation network."
###