FOR IMMEDIATE RELEASE
Press Release #12-39


NYC DOT Announces Reduced Parking Restrictions in Sunset Park and Greenwood Heights to Begin in August
Enforcement of new regulations begins August 13th
Reduced Alternate Side Parking regulations in parts of Sunset Park and Greenwood Heights sections of Brooklyn Community District 7 go into effect following posting of new regulations to ease parking for local residents; Second of two phases now complete in CB 7
New Street Cleaning/Alternate Side Parking (ASP) regulations in parts of the Sunset Park and Greenwood Heights neighborhoods of Brooklyn Community District 7 take effect Monday, August 6th, with enforcement starting Monday, August 13th, now that the Department of Transportation (DOT) has completed the second of two phases to install new, reduced parking regulations. Approximately 2,400 signs in the area were installed during this phase, reducing residential street cleaning parking restrictions from twice a week to just once a week to ease parking for local residents. The new rules were established by the Department of Sanitation at the request of Community Board 7, which became the first community to receive reduced parking regulations since legislation passed the City Council in 2011 allowing for a reduction if local streets met City standards for cleanliness. To be eligible, local streets within the district must receive an average street cleanliness scorecard rating of at least 90 percent for two consecutive fiscal years. Mayor Michael R. Bloomberg announced in September 2009 that the City would continue to reduce parking restrictions in additional locations if street cleanliness ratings remained at high levels, following the implementation of pilot programs in Brooklyn's Community Districts 2 and 6, and immediately prior to a reduction pilot commencing in Community District 8 in the Bronx.
The new sign regulations apply within the following borders, with enforcement beginning August 13th: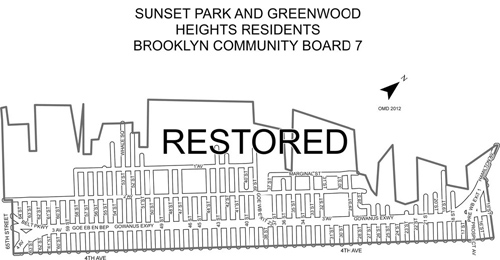 North: 15th Street (included) from Hamilton Avenue to Fourth Avenue.
East: Fourth Avenue (not included) from 15th Street to 65th Street.
South: 65th Street (not included) from Fourth Avenue to the bulkhead.
West: the bulkhead from 65th Street to 15th Street.
This map indicates where new street cleaning regulations will take effect, with enforcement beginning August 13th:
Prior to the new law, regulations were similarly converted in previous years in Brooklyn's Community District 2 and Community District 6, as well as Community District 8 in the Bronx.
For more information, please contact 311 or visit the Department of Sanitation's web site at www.nyc.gov/sanitation or the Community Board 7 web site at http://www.brooklyncb7.org/.
—30—