Trick or Streets returns for a second season! NYC DOT partners with Open Streets, plazas, and other corridors on Halloween to add pedestrian space during one of the busiest nights of the year.
NYC DOT is seeking partners to join the annual event. Open Streets partners, plaza partners, and community-based organizations are invited to complete our survey to express interest in joining the paranormal public space program! Survey closes Wednesday, September 27 at 5 pm. Trick or Streets Activations Expression of Interest Survey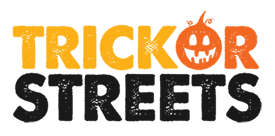 NYC coordinates with local partners and other city agencies to make car-free spaces possible. Thanks to the NYC Street Activity Permit Office (SAPO), NYPD, and so many others.