"Cross This Way" is a dynamic tool for educating elementary and middle school students about safe choices in New York City's traffic environment.
As announced by Commissioner Polly Trottenberg and Department of Education Chancellor Carmen Fariña, "Cross This Way" has been adopted as the official pedestrian safety curriculum for all New York City elementary and middle schools. Through video, hip-hop music, choreography, and easy to follow accompanying materials, the curriculum illustrates situations where students are most commonly injured and delivers strategies for success. With a playbook that recaps the scenarios and a checklist of tips, students can assess what went wrong and are encouraged to make safe choices. This curriculum is designed for 4th through 6th grades, and can be delivered in one standard classroom period.
"Cross This Way" was developed by DOT's Safety Education and Outreach division with the support of the New York City Department of Education. According to DOT statistics, over 1,000 children under 17 were involved in crashes within New York City during 2015. 200 of these resulted in serious injuries and nine children were killed. This curriculum focuses on dangers specific to elementary and middle school students, typically age 9 through 11, who may be navigating City streets without supervision for the first time.
Education is an important part of the Mayor's Vision Zero initiative to eliminate traffic fatalities and injuries. We hope that elementary and middle school teachers will spend one class period a year sharing the workbook, interactive video and simple lesson plan enclosed in the "Cross This Way" starter kit. We strongly encourage every school to schedule this time and use this effective tool in the fight to make our streets as safe as possible.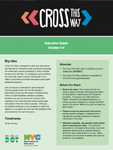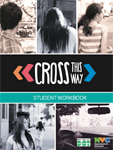 Available in
English
,
Spanish
,
Chinese
,
Arabic
,
Bengali
,
Russian
, and
Haitian Creole
.
Watch the full-length classroom video and the shortened online version on Vimeo