Red Hook Streetcar Feasibility Study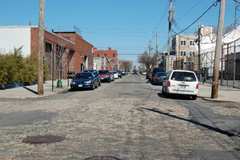 DOT conducted a study to determine the feasibility of a running a streetcar route in the Brooklyn neighborhood of Red Hook. This initial analysis was meant to determine if this mode, once a staple of New York City's streets, was a viable method of connecting the residents and businesses of Red Hook with Brooklyn's broader transportation network and supporting economic development in the area. The study was funded through a Federal Transit Administration grant secured by U.S. Representative Nydia Velázquez and has long had the support of the Brooklyn Chamber of Commerce.
With the assistance of lead consultant URS, known internationally for its streetcar expertise, DOT conducted a technical analysis of the area's needs and demographics, as well as an examination of the engineering advantages and limitations of a Red Hook streetcar line. The study also included a Community Advisory Committee and a public meeting to receive input from stakeholders and inform them of study progress.
Study Results
The study developed an optimal streetcar alignment and used it as a basis for studying feasibility considerations such as street width and underground utility impacts, construction and operations costs, the level of neighborhood support of the project, and the existing land use and zoning policies in the neighborhood. Based on a thorough examination of these factors, a streetcar in Red Hook will not be pursued at this time. The Final Report discusses these findings in detail.
This conclusion was reached after a full consideration of many factors, including the significant construction and operating costs required, the relatively low expected transit ridership increase, narrow streets that hinder streetcar motions in certain areas, and city land use and zoning policy in the neighborhood which precludes the mixed use development and neighborhood master planning that has been key to successful streetcar projects around the country.
This study contains a wealth of information about feasibility of the streetcar mode in a New York City environment and provides a valuable resource for potential future efforts to revive this mode. The study indicates that these efforts would be most appropriate neighborhoods with higher density mixed-use zoning, and physical characteristics such as wider streets.
After examining the transit environment in Red Hook, DOT identified several potential improvements which, though they will not include a streetcar, will improve access and mobility for neighborhood residents. DOT, working with community stakeholders, is currently investigating
A new intersection with Hamilton Avenue at Mill Street that could be utilized by MTA buses, pedestrians, and bicyclists for easier access to points north and east
Improvements to the pedestrian environment between Red Hook and the Smith/9th Street subway station, including pedestrian crossings under the Gowanus Expressway
various operational improvements to the B61 bus route
Download a presentation on these proposed improvements, given to Community Board 6 on November 17, 2011
Final Report
The final report incorporates comments on the interim reports. Final Report, posted September 28, 2011 (21 MB pdf)
Interim Reports
DOT produced several interim reports, leading up to a final report. Case Study Report, posted December 23, 2010 (pdf) Existing Conditions Report, posted December 23, 2010 (appendix: zoning maps for Red Hook, the Gowanus DUMBO, Park Slope) (pdf) Transit Demand, posted February 15, 2011 (pdf) Alignment Evaluation Methodology and Feasibility Considerations, posted April 20, 2011 (pdf) Operations Planning Technical Memo, posted April 20, 2011 (pdf) Feasibility Report, posted April 20, 2011 (pdf)
Project Background
Led by the DOT Brooklyn Borough Commissioner's Office, the team consisted of lead consultant URS, with support from AKRF and Nelson\Nygaard. The teamworked closely with Congresswoman Nydia Velázquez and the Brooklyn Chamber of Commerce.
The $295,000 study was fully funded by an earmark procured by Congresswoman Nydia M. Velázquez. No additional city or state funds are required.
Public Involvement
DOT convened a Community Advisory Committee that included community advocates, neighborhood associations, business owners, elected officials, and city agencies. The public at large had the opportunity to get involved in the study by providing input on the website, attending Community Board meetings, and participating in a Public Meeting that was held on May 9, 2011. Download the presentation given at the first CAC meeting on October 18 (pdf) Download the presentation given at the second CAC meeting on December 13 (pdf) Download the presentation given at the third CAC meeting on April 14 (pdf)