Design-Build: Belt Shore Parkway over Sheepshead Bay Road, Ocean Avenue, Bedford Avenue, & Nostrand Avenue
PASSPort Pin: TBD
Type: Design-Build
Anticipated Contract Amount: $220,000,000
Location: Brooklyn
Anticipated Procurement Schedule: May 2023 to September 2024
Status: Pre-Procurement
Contact: Udayakumar Dommaraju at ACCO@dot.nyc.gov
The Belt (Shore) Parkway stretches along the southern shoreline of Brooklyn and Queens.
The four bridges included in this Design-Build project serve as highway crossings for the Belt Parkway. The bridges exhibit deterioration and structural deficiencies, and the roadway corridor contains geometric deficiencies. To address these deficiencies, replacement of these bridges is necessary.
The project will also add safety and multi‐modal improvements to the surface streets and include improvements to the Belt Parkway roadway along the one‐mile stretch between the four bridges.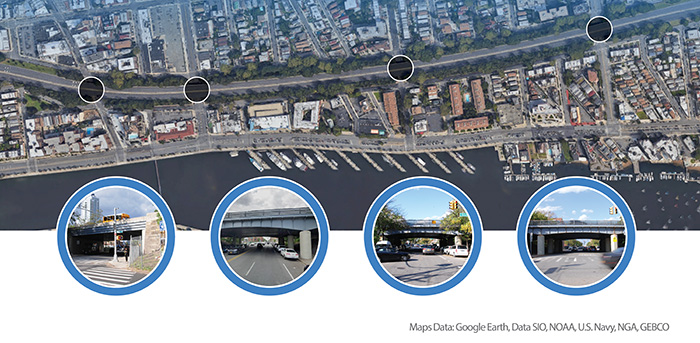 Scope of Work
Bridge replacements
Protection or relocation of all existing utilities on the bridges, as per utility companies' requirements
Protection or relocation of all existing electrical systems on the bridge and within project limits as necessary during construction
Anticipated Project Schedule
Request for Qualifications Release: Summer 2023
Notice to Proceed: Fall 2024
Project Documents: