IMMEDIATE RELEASE
April 13, 2023
Contact: (212) 839-6251, press@dot.nyc.gov
Virtual Public Workshops Begin Next Week to Develop Plan for 7-Mile Harlem River Greenway in the Bronx
Seven-Mile Route Will Restore Waterfront Access for Bronxites and Connect Van Cortlandt Park to Randall's Island with Public Open Space and Bike Path
Adams Administration's Nation-Leading Work to Reconnect Communities Divided by Highways Comes to Major Deegan Expressway, Which Separated Bronxites from Harlem River Nearly a Century Ago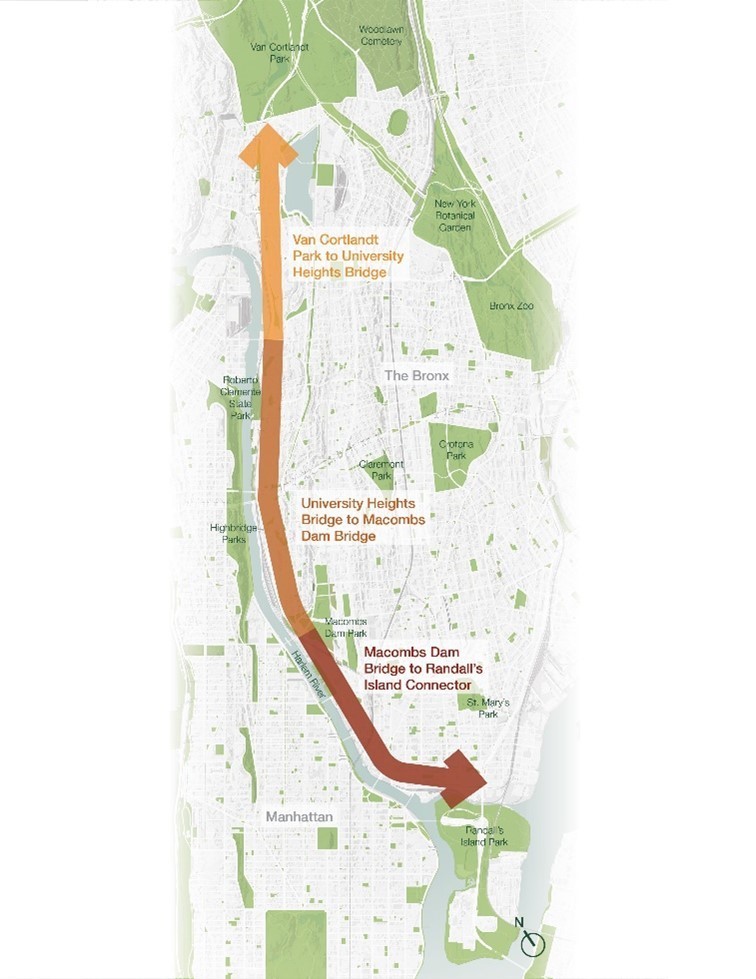 New York – New York City Department of Transportation Commissioner Ydanis Rodriguez reminded Bronxites today that virtual public workshops begin next week to help shape the agency's implementation plan for a seven-mile greenway along the Harlem River in the Bronx. The greenway would stretch from Randall's Island Park at the southern tip of the Bronx to Van Cortlandt Park in the north, creating a continuous cycling and walking path along a critical north-south bike commuting corridor.
The project represents a major new front in the administration's nation-leading effort to reconnect communities divided by highways, focusing on the Major Deegan Expressway, which has cut off Bronxites' access to the Harlem River waterfront since the 1930s. More information on the Adams administration's Harlem River Greenway announcement can be found online.
"Bronxites, we want to hear from you! Please join us to share your vision of how you would like to utilize to your waterfront. Your voice is critical in guiding our plan to develop this greenway, which would provide new green space and a safe, continuous cycling route connecting to open spaces, job centers, and educational and cultural institutions," said NYC DOT Commissioner Ydanis Rodriguez. "We thank Mayor Adams and our sister agencies for their partnership on this generational project—and look forward to sharing more citywide greenway news soon."
Attendees can register the three upcoming workshops via the links below. Each workshop will collect community feedback within the geographic area of three focus areas:
Tuesday, April 18th, 6-8PM: Van Cortlandt Park to University Heights Bridge
Register for the April 18 Workshop.
Wednesday, April 19th, 6-8PM: University Heights Bridge to Macombs Dam Bridge
Register for the April 19 Workshop.
Wednesday, April 26th, 6-8PM: Macombs Dam Bridge to Randall's Island Connector
Register for the April 26 Workshop.
###