IMMEDIATE RELEASE
March 21, 2023
Contact: (212) 839-4850, press@dot.nyc.gov
NYC DOT Announces Major Step in Crafting Vision to Reconnect Communities Along the BQE Corridor
New Design Toolkit includes three transformative approaches to improve street safety, mass transit, and public space along BQE North and South based on community feedback and 2,600 survey responses
Suite of safety projects to be implemented along BQE North and South this year to quickly improve safety and mobility
Renderings of the Design Toolkit approaches can be found on the DOT's Flickr account
NEW YORK – New York City Department of Transportation Commissioner Ydanis Rodriguez on Tuesday unveiled a design toolkit for communities in BQE South, from Atlantic Avenue to the Verrazzano Bridge, and BQE North, from Sands Street to the Kosciuszko Bridge, illustrating how the City can better connect communities along the BQE through both short- and long-term improvements to city-owned infrastructure. The design toolkit incorporates feedback received from community workshop participants, community partners, and other stakeholders and features three design approaches to prioritize transit, active transportation, and improved public space. Commissioner Rodriguez also detailed projects that will begin along the BQE Corridor in 2023 to deliver immediate safety and mobility enhancements.
The Adams administration has committed to centering historically overlooked communities in the BQE Corridor Vision process; and the Tuesday announcement came in conjunction with a second round of community workshops that evening, where DOT officials met with community members to continue crafting a vision for the BQE Corridor that centers equity and reconnects communities which are disproportionately lower-income neighborhoods of color. These physical structures have negatively impacted communities for generations, and we are committed to reversing its discriminatory effects.
"Sharing these ideas for BQE North & South about what could be is a critical step towards giving the communities a vision of what the future includes, such as safer and more public space," said Deputy Mayor for Operations Meera Joshi. "Together with our community, local and state partners, we are excited to get this critically important work underway."
"From day one, this administration made clear that any discussion around the BQE should include overlooked communities along the entire Brooklyn corridor. This design toolkit is a blueprint for how the City can reclaim space from cars for safer and more environmentally friendly uses, like pedestrian plazas, mass transit priority, and cycling infrastructure," said DOT Commissioner Rodriguez. "We look forward to continuing our close collaboration with residents along the corridor to craft this vision."
While the BQE North and South sections are owned by the New York State Department of Transportation, the City remains committed pursuing improvements across the corridor on city-owned property. To develop initial concepts, DOT collected feedback from the community through in-person and online public workshops with 160 attendees, through our 18 community partners, stakeholder meetings and focus groups, and via 2,600 survey respondents. Based on combined feedback, DOT is introducing three toolkit concepts that can be mixed and matched to apply correspondingly through varying neighborhoods: Community Connector, Multi-Modal Connector, and Green Connector.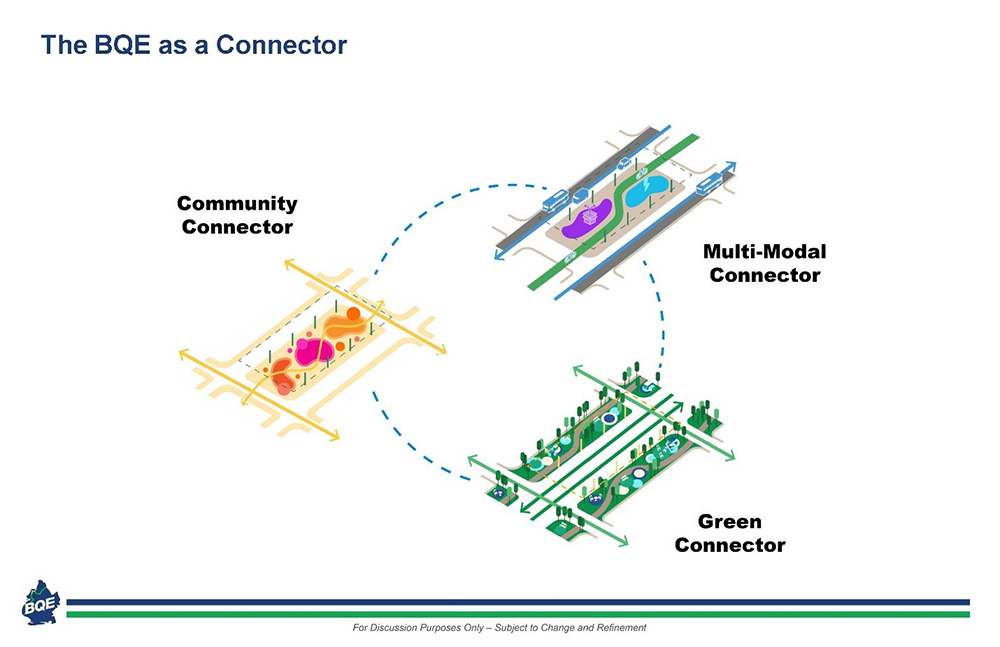 The Community Connector would emphasize improved crossings under and over the BQE to reknit communities safely, focusing on spaces under and around the BQE for community amenities.
Digging into the BQE as a corridor for transit and mobility, the Multi-Modal Connector expands options for multi-functional spaces under the highway and on its surrounding streets, and improves infrastructure for pedestrians and bus riders, bikes, freight, and electric vehicles.
The Green Connector envisions new open spaces throughout the BQE corridor, by consolidating the roadway under the viaduct structure to unlock new public space on either side of the structure. This approach could also be achieved through capping.
IMMEDIATE SAFETY IMPROVEMENTS
To that end, DOT will begin to implement projects in 2023 responsive to community feedback and that improve safety and public space in BQE North and South. This includes:
Installing new and upgraded pedestrian ramps which include a red or white detectable warning surface to help guide people with visual disabilities, and provide access for wheelchair users, strollers, and carts across the city, including many locations across the BQE vision area;
Expanding and developing new freight and congestion management strategies, like creating neighborhood and commercial loading zones, and working with commercial partners to move freight off-hours;
Bringing projects to improve safety and public safety to the BQE Corridor this year:

DOT will be implementing street safety improvements by Ingersoll houses and the Navy Yard at Park Avenue, Navy Street, Hanson Place, and Ashland Place;
Safety improvements on McGuinness and Meeker in Greenpoint;
Building-out to the Waterfront Greenway in a few BQE South communities, including Sunset Park;
Launching Third Avenue and Red Hook Neighborhood studies.

Working with the Sanitation Department to target locations for cleaning under the viaducts along the corridor.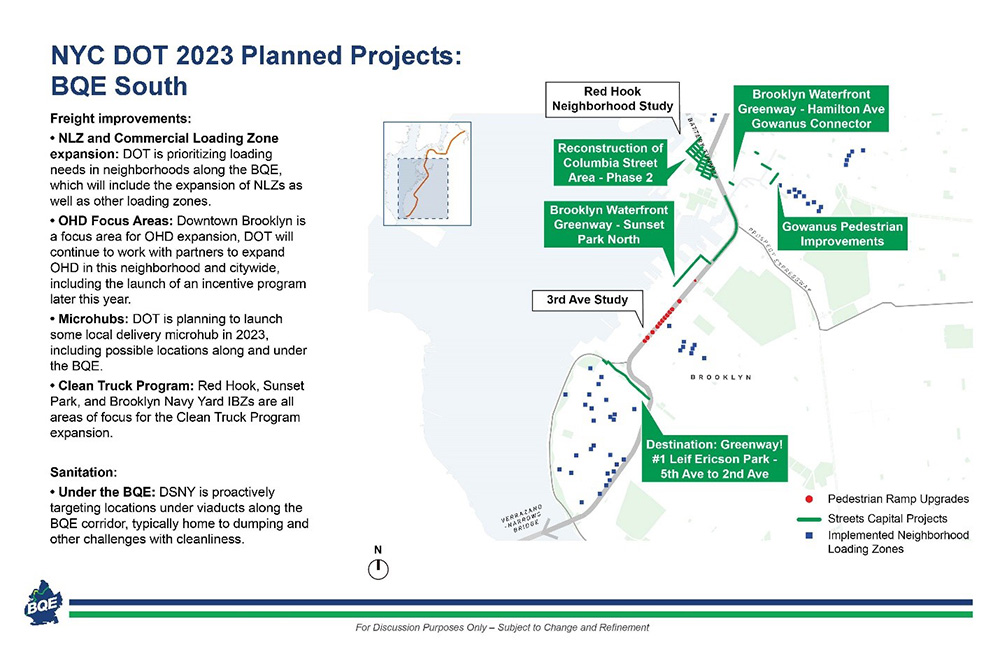 Following this round of workshops, DOT will continue to work closely with its BQE Community partners – 18 community organizations across Brooklyn – to conduct outreach in communities along the corridor. The City will continue its equitable planning effort to reconnect communities in both the BQE North and South sections, with the goal of implementing short-term projects as early as this year that improve safety, public space, and mobility— in addition to and long-term, larger capital projects that could be undertaken by NYC DOT on City-owned streets to reconnect communities that have been divided by the structure. The agency will continue to meet with stakeholders and process feedback from the second round of workshops to further refine the toolkit concepts presented. These workshops will help the City to refine potential projects and concepts for inclusion in a 2024 report and to inform federal grant applications and NYCDOT-led projects starting this year.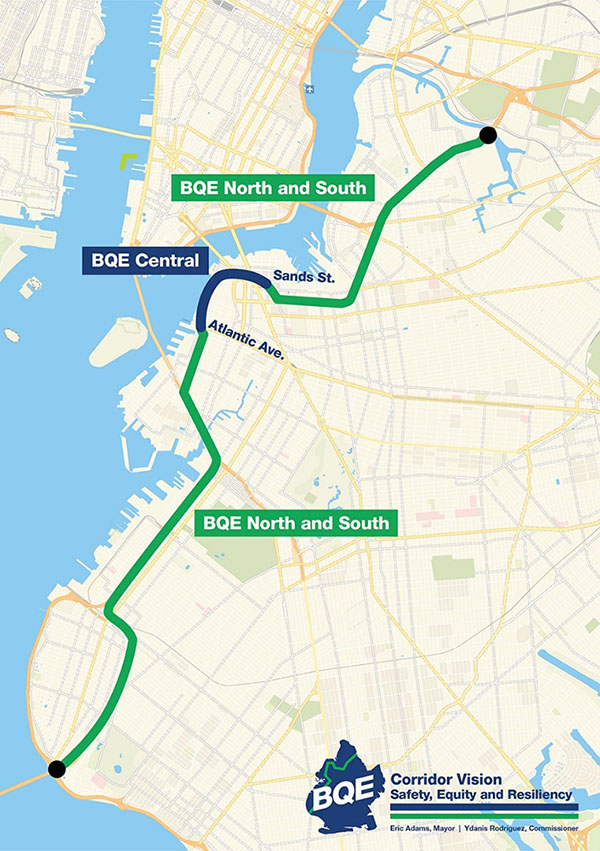 ###