IMMEDIATE RELEASE
January 23, 2023
Contact: (212) 839-4850, press@dot.nyc.gov
NYC DOT and MTA Announce Major Improvements for Pedestrians and Bus Riders Completed at Pelham Bay Park Station in The Bronx
Major overhaul outside terminus of 6 line widens sidewalk and creates a new bus lane, dramatically improving commuting times at major subway-bus transfer point
DOT crews removed a time-consuming loop and created a new sidewalk extension for riders; Station serves six MTA bus routes, including the Bronx's busiest bus route – the Bx12 SBS/Local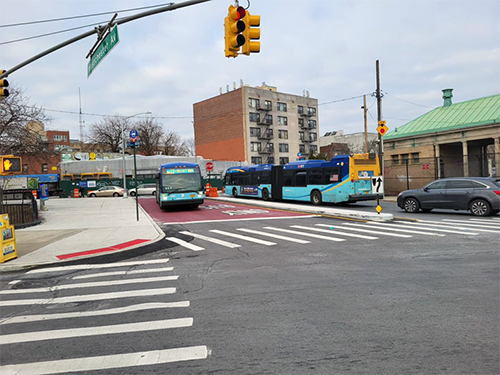 NEW YORK—NYC Department of Transportation Commissioner Ydanis Rodriguez and MTA New York City Transit (NYCT) President Richard Davey today cut the ribbon on major transit improvements at the Pelham Bay Park subway station, the terminus of the 6 line. The improvements at this major subway-bus transfer point were completed earlier this month -- and include an enhanced bus stop area outside Pelham Bay Park Station as well as a new bus lane along Westchester Avenue that has removed a time-consuming loop at the station that had slowed commute times. The average commuter on the Bx12 SBS, the busiest bus route in the Bronx, can expect time savings of as much as 2.5 minutes/day. Five other bus routes also serve the Pelham Bay Park station, which is the major transfer point for bus access to Co-op City and City Island; together, the routes serving the station had a total pre-pandemic ridership of 64,000.
"When we all look at and judge the impact of bus projects, we sometimes mistakenly put the quantity of miles over quality of the project itself," said DOT Commissioner Ydanis Rodriguez. "DOT's work at Pelham Bay Park, done in conjunction with our partners at the MTA, may be only one-tenth of a mile, but the impact for thousands of riders will be gigantic. Easing bus-subway transfers like this make bus riding faster and more seamless -- one of the ways that we can and will deliver on the equity improvements that Mayor Adams has charged us to deliver for the everyday New Yorkers who rely on buses."
"Adding bus lanes helps thousands of customers every day and this new lane at Pelham Parkway station demonstrates that bus lanes don't have to be miles long to deliver a huge impact to the community; every stretch of road counts," said NYCT President Richard Davey. "Ensuring connections between subways and bus routes are efficient and seamless is key to delivering the reliable service New York City Transit customers continue calling for. I'm thrilled to be here with NYC DOT to see the improvements this Bronx community will utilize every day."
The Pelham Bay Park project delivers on the DOT's Better Buses plan to increase bus speeds and service reliability. The creation of an eastbound contraflow bus-only lane (with 6,800 sq. ft. of red paint) on Westchester Avenue and a new bus lane on Wilkinson Avenue were the main treatments in terms of improving reliability. Bx12 SBS Co-op City bound buses were forced, due to existing road design, to take a southbound to northbound circuitous loop along Amendola Place and then Bruckner Boulevard just to eventually head east. In addition to creating additional travel time this also resulted in bus stops in both directions of the Bx12 SBS/Local being on the same side of the street, which confused riders. The project moved the eastbound stop to the southside of Westchester Avenue.
The project also better organizes westbound vehicular movements on Westchester Avenue approaching Burr Avenue. Additional improvements include:
Expanded sidewalk space at the new eastbound Bx12 SBS stop, adding 1,285 sq. ft. of concrete.
New crosswalks around Westchester and Burr Avenues, where they did not previously exist.
New stop signs at Westchester Avenue and Bruckner Boulevard North.
The retention of existing and creation of new MTA bus layover space.
MTA/NYCT played an important role in the project by rerouting its buses and relocating SBS fare machines. The Pelham Bay Park Station serves not only the Bronx's busiest bus line in the BX12 SBS/Local, but also the Bx5, Bx23, Bx24, Bx29 and Q50.
"The Pelham Bay Park Bus Station serves as a vital transportation hub connecting bus and subway commuters from Westchester County, Co-Op City, City Island, Orchard Beach, Throggs Neck, the West Bronx, Richmond County and beyond," said Bronx Borough President Vanessa L. Gibson. "With today's ribbon cutting, residents will now have access to wider sidewalks, a new bus lane and more, creating safer and faster access to the vast number of Bronx Bus Routes at Pelham Bay Park Station and the 6 Train. I would like to thank Mayor Adams, NYC DOT Commissioner Rodriguez and transportation advocates for their commitment to enhancing the experience of commuters accessing the Pelham Bay Park Bus Station."
"Pelham Bay Park Station serves thousands of customers each day, and by enhancing travel operations, we are saving time for everyone. The station has been long-overdue for enhancements and sidewalk repairs, and it's time that we deliver for our community," said Council Member Marjorie Velázquez. "My hope is that with these improvements, we will see increased ridership and safer commuting."
"Riders in the Bronx and beyond can look forward to faster, more reliable, and more enjoyable trips with the recently completed Pelham Bay Park Station Improvements," said Permanent Citizens Advisory Committee to the MTA (PCAC) Executive Director Lisa Daglian. The new bus lane, wider sidewalks, and improved crosswalks will help speed up trips on some of the Bronx's busiest buses— at one of the largest bus hubs for riders in the East Bronx, many of whom have the longest trips— while helping bus riders connect more easily and safely to the subway. We thank the MTA and NYCDOT for working together to improve bus service through initiatives like the Bus Network Redesigns and street-level upgrades. Buses remain the engine of transit equity around our region, and these improvements are another great step towards a stronger transit network for all New Yorkers."
"This project is a perfect example of how we can reimagine existing streetspace, at low cost, for more space-efficient uses and improved quality of life," said Renae Reynolds, Executive Director of Tri-State Transportation. "With just paint and curbs, this bus-only lane saves significant time for thousands of riders on the busiest bus route in the Bronx, and the new crosswalks, wider sidewalks, and medians improve safety and accessibility for people visiting both the station and the park. We hope to continue to see equitable and environmentally friendly projects like this, which also protect our city's most vulnerable users."
###
-30-