IMMEDIATE RELEASE
May 12, 2023
Contact: (212) 839-4850, press@dot.nyc.gov
New York City and State Launch New Round of Workshops to Reimagine the Cross Bronx Expressway
City and State seizing once-in-a generation opportunity to re-imagine the Cross-Bronx corridor and identify ways to reconnect communities divided by the highway
Officials to hold workshops throughout June and July to build on momentum of successful Open Houses and launch new project website
NEW YORK – New York City Mayor Eric Adams, New York City Department of Transportation Commissioner Ydanis Rodriguez (DOT), New York City Department of City Planning Director Dan Garodnick (DCP), New York City Department of Health and Mental Hygiene (DOHMH) Commissioner Dr. Ashwin Vasan, and New York State Department of Transportation Commissioner Marie Therese Dominguez today announced a new round of public workshops starting this June to re-imagine the Cross Bronx Expressway from the Harlem River to the Hutchinson River Parkway, helping to reconnect the communities divided by it and lessen the negative effects it has had on surrounding neighborhoods. Building on a successful first round of outreach that generated hundreds of comments from community members, this new round of workshops will seek to identify issues residents experience along the expressway. Leaders also launched a new website available in English and Spanish to provide detailed project background; community feedback from the first round of workshops held this spring; information on and opportunities to connect further.
In December 2022, NYC Mayor Eric Adams kicked off a landmark study to Reimagine the Cross Bronx. The U.S. Department of Transportation (USDOT) is funding this study with a $2 million grant as part of the Rebuilding American Infrastructure with Sustainability and Equity (RAISE) program. In March 2023, City and State partners hosted public Open House events. This new round of "issue identification" workshops seeks to identify issues local residents experience along the expressway, including inadequate access to open space, sustainable modes of travel, a lack of connections and ways to improve safety, freight management, and access to opportunities.
"The story of the Cross Bronx Expressway is the same story that is playing out all across New York State, one of an outdated highway negatively impacting a community for generations, dividing neighborhoods and stifling economic growth, "said New York State Department of Transportation Commissioner Marie Therese Dominguez. "With support from Governor Hochul and Mayor Adams, the State Department of Transportation is proud to partner with the city on a $3.7 million, community-driven study that will reimagine the future transportation and community network in the Bronx. There's a long road ahead, but the work we are doing now will pay dividends for residents of the Bronx in the future."
"This next round of engagement will enable us to pinpoint the issues most important to Bronxites, and we hope to build as big a tent as possible, so come one, come all!" said NYC DOT Commissioner Ydanis Rodriguez. "As we collaborate with Bronx communities, Governor Hochul, Mayor Adams, our sister agencies, City and State Government officials, and every New Yorker impacted by this 20th century highway relic, we will work to seize this critical opportunity to right the wrongs of the past and reconnect communities divided by the Cross Bronx Expressway."
"We are moving as fast as we can to reimagine the Cross Bronx Expressway, build a cleaner, healthier, and more prosperous New York City, and ensure that neighbors and neighborhoods around the Cross Bronx finally get the planning attention – and direct input -- that they deserve. Please join us at these coming summer sessions!," said Dan Garodnick, Department of City Planning Director and Chair of the City Planning Commission.
"Health has many drivers, including access to affordable and high-quality healthcare, educational and economic opportunities as well as safe, clean, beautiful and low-stress neighborhoods," said Health Commissioner Dr. Ashwin Vasan. "This project is a unique opportunity to hear from the community about the built environment around them and how we can work together to transform community infrastructure and surroundings to improve the health of New Yorkers living near the Cross Bronx Expressway."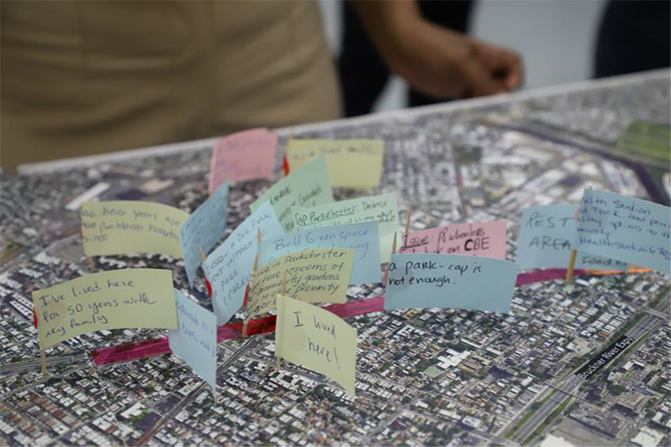 Comments collected from community members at a Reimagine the Cross Bronx Open House
Public Engagement
Project partners collected feedback from the community in April through in-person and virtual open-house events with more than 250 attendees and over 500 public comments. Based on public comments received, key desires raised by the community include access to open space, beautification, reconnecting communities, improved air quality, reduced noise, mitigation of traffic congestion, enhanced public safety, and better connections to public transit. This next round of issue identification workshops aims to build on the insights gathered during open houses and invite a wide range of voices to work towards projects that improve communities while prioritizing technical and fiscal feasibility. Additionally, the project team will seek to partner with specific community leaders to physically visit sites of concern along the corridor in hopes of building a better understanding of the numerous issues and formulate supplementary forms of engagement.
Website Resources
The new project website is intended to be a one-stop-shop for all resources related to Reimagine the Cross Bronx. For updated information on the latest events, opportunities for community engagement, details on goals and timeline, materials from meetings, reports from Open House workshops, and opportunities for further connection, visit nyc.gov/CrossBronx. The Spanish website is available at nyc.gov/ElCrossBronx.
Outreach Schedule
Issue identification workshops provide an opportunity for public input, questions, and comments. Spanish, Bengali and American Sign language interpretation will be provided. Families are encouraged to participate. Activities for children will be provided throughout the issues identification process to ensure the youngest Bronxites have a chance to make their voices heard.
In-Person
Thursday, June 8, 2023, from 5:30 PM to 7:30 PM
PS 106 Parkchester, 1514 Olmstead Ave
Wednesday, June 14, 2023, from 5:30 PM to 7:30 PM
East Bronx Academy for the Future, 1716 Southern Blvd
Tuesday, June 20, 2023, from 5:30 PM to 7:30 PM
Bronx School of Young Leaders, 40 W Tremont Ave
Virtual
Wednesday, July 12, 2023, from 6:00 PM to 8:00 PM
To RSVP for in-person and virtual workshops, visit bit.ly/CrossBronxEvents
To request accessibility accommodations or translation services, please contact the NYC DOT Bronx Borough Commissioner's Office at 212-748-6680 or email at CrossBronx@dot.nyc.gov at least three business days before the event.
Visit nyc.gov/CrossBronx for more information.
"As the Cross Bronx Expressway Study moves into this new phase, I'm looking forward to engaging in meaningful discussions with the community and other stakeholders as we work together to reimagine the future of this highway that split neighborhoods in half and left a legacy of pollution," said U.S. Rep. Ritchie Torres (NY-15). "I share the concerns about the expressway's contribution to high rates of asthma in the Bronx, which is why I am continuing to support calls to build deck parks to increase green spaces that can help reduce air pollution, greenhouse gases, and harmful particulate matter. I encourage everyone to take advantage of this critical opportunity to offer input about how the Cross Bronx impacts their health, transportation, and overall quality of life."
"Democrats across the nation are fulfilling our promise to go big and bold on infrastructure and nowhere is that truer than in New York City," said Congressman Adriano Espaillat (NY-13). "As we work to revitalize communities throughout my district, it remains vital that residents stay informed and up to date on projects that directly impact them. I encourage my constituents to participate in these upcoming workshops as the development of this important project continues. I applaud Mayor Eric Adams and Commissioner Ydanis Rodriguez for their continued commitment to re-imagining the Cross Bronx Expressway. I hope we can complete the same for the Trans-Manhattan Expressway in the near future as we continue to advance climate justice projects."
"As the Bronx consistently ranks as the unhealthiest county in New York State, a study to reimagine the Cross Bronx Expressway was essential," said Assembly Member Kenny Burgos. "As this process ramps up, I am excited that our community will now have access to public workshops and a new website, which will allow folks to give feedback and continue to learn about this study. I thank DOT and all parties involved. I encourage my constituents to take advantage of these new opportunities that will benefit the borough."
"I applaud the New York City Department of Transportation and the coalition of city agencies collaborating on and completing the first round of reimagining the Cross Bronx community vision sessions," said Assembly Member Karines Reyes, R.N. "As a participant in these workshops, I was pleased to hear my neighbors express the dire need for the capping or decking of the Cross Bronx Expressway, along with other supplemental reforms that can be made to improve our surrounding communities. I look forward to supporting the increased community engagement from the next round of workshops and the concrete plans that will provide a brighter and healthier future for Bronxites."
"I am pleased to see that the next round of workshops for the Reimagine the Cross Bronx study will be getting underway," said Council Member Rafael Salamanca Jr. "Continuing outreach to community members is a big win, and a vital step, as we strive to improve public transportation, health, and quality of life for Bronx residents."
"It's exciting to see the Department of Transportation committed to having a strong, community-focused approach, ensuring no Bronxite goes unheard. The public workshops will help address the ramifications of Moses' work and the environmental injustices infiltrating our communities. I look forward to our communities being an active part of this study and seeing real change," said Council Member Marjorie Velázquez.
"I am excited to see that NYCDOT is continuing to hold public workshops to Reimagine the Cross Bronx in the best interest of Bronxites," said Council Member Amanda Farías. "Communities across the borough have urged our City to fight the environmental injustices caused by the expressway for decades. Projects like this need the continued support from local residents, and with ongoing insight and inclusion, we will see outcomes residents envision. I look forward to continuing to attend these workshops with my community and working alongside NYCDOT in this process."
"The redevelopment of the Cross Bronx Expressway represents a generational opportunity to right the harms of the past and bring prosperity to the Bronx. By prioritizing the health, well-being, and environment of our residents, we can create a future that connects communities with affordable housing, parks, and essential infrastructure," said Council Member Pierina Sanchez. "Through inclusive public workshops, surveys, and outreach, we will forge a vision for decking over the highway, paving the way for a government that addresses historical injustices while placing communities and the climate at the forefront. I am honored to have witnessed the devastating effects firsthand and remain committed to ensuring that the voices of frontline communities are central to this transformative process. Together with our city, state, and federal partners, we will turn this vision into a reality."
"The Morris Park Business Improvement District appreciates Mayor's Adams leadership initiating the transformative "Reimagining the Cross Bronx" study," said Dr. Camelia Tepelus, Executive Director, Morris Park BID. "Substantive and meaningful community engagement led by the City and State DOT is essential to secure a healthier future and a cleaner air for the Bronx, for our residential and business communities alike."
###