IMMEDIATE RELEASE
May 10, 2023
Contact: (212) 839-4850, press@dot.nyc.gov
Livable Streets for Queens: NYC DOT Brings Street Seats to Jamaica Avenue and Begins Bike Lane Hardening on Queens Boulevard
DOT installs public seating and improves pedestrian space in Jamaica, Queens
Agency to upgrade delineator-protected bike lane with Jersey Barriers to better protect cyclists from drivers entering lanes on Queens Boulevard
NEW YORK – New York City Department of Transportation (NYC DOT) Commissioner Ydanis Rodriguez today announced cycling and public space initiatives in Queens, including a new location of the Street Seats program and a new bike lane hardening project. The Jamaica Street Seat provides safety enhancements and additional pedestrian space on Jamaica Avenue. Street Seats is a citywide program where partners apply to transform underused streets into vibrant, social public spaces between the months of March through December. Street Seats are installed in the roadbed along the curb line or on wide sidewalks to create an attractive setting for eating, reading, working, meeting friends, or taking a rest. On Queens Boulevard, DOT also began hardening the protected bike lane with Jersey Barriers, a type of barrier used to separate lanes of traffic, to make the bike lane even safer.
"Queens is the world's borough, and delivering high-quality pedestrian spaces and safe cycling infrastructure are some of the ways Mayor Adams and New York City DOT are reimagining the use of public space," said NYC DOT Commissioner Ydanis Rodriguez. "I thank the hard-working teams at DOT and our community partners for their efforts in beautifying Jamaica Avenue and giving cyclists the protection they deserve on Queens Boulevard."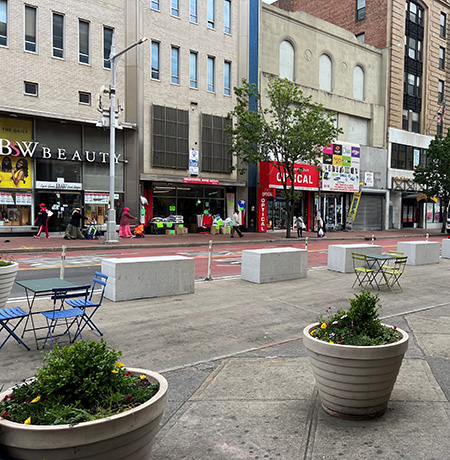 The new Street Seat on Jamaica Avenue, between 160th Street and Union Hall Street.
The Jamaica Street Seat
DOT partnered with the newly consolidated Downtown Jamaica BID to provide additional pedestrian space on Jamaica Avenue between 160th Street and Union Hall Street as well as shorter crossings across Jamaica and Union Hall Street. The new public space includes planters, granite block, and tables and chairs. Approximately 4,500 square feet of pedestrian space has been added to this commercial corridor and Streets Plan Tier 1 location. This project was implemented with the Jamaica busway, which transformed the roadway to enhance bus efficiency. The newly consolidated Downtown Jamaica BID will be working with the DOT and local organizations to provide future programming at this location and DOT will build on this work with future capital upgrades to Jamaica Avenue—part of the $375 million in public space funding announced during Mayor Adams' 2023 State of the City address the "Working People's Agenda." These capital upgrades will reconstruct Jamaica Avenue, from Sutphin Boulevard to Merrick Boulevard, with wider sidewalks and new pedestrian safety improvements, including curb extensions and raised crosswalks.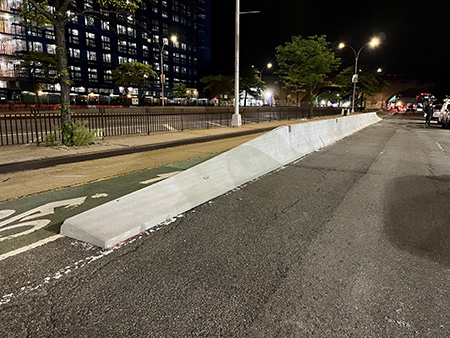 A newly hardened section of Queens Boulevard.
Queens Boulevard Bike Lane Hardening
DOT will harden 0.75 miles of delineator-protected bike lanes with Jersey Barriers on Queens Boulevard from 72nd Street to Grand Avenue. Installations will be happening from May 8th to May 17th, 2023. This builds on the 3.7 miles of bike lane hardening on Queens Boulevard in 2022, for a total of 4.4 lane miles. This year, DOT will harden 10 miles of existing lanes and five miles of new projects with sturdier barriers.
###