IMMEDIATE RELEASE
May 25, 2023
Contact: (212) 839-4850, press@dot.nyc.gov
NYC DOT Commissioner Ydanis Rodriguez Tours Upper Manhattan Today as Part of the Agency's Commissioner in Your Borough Series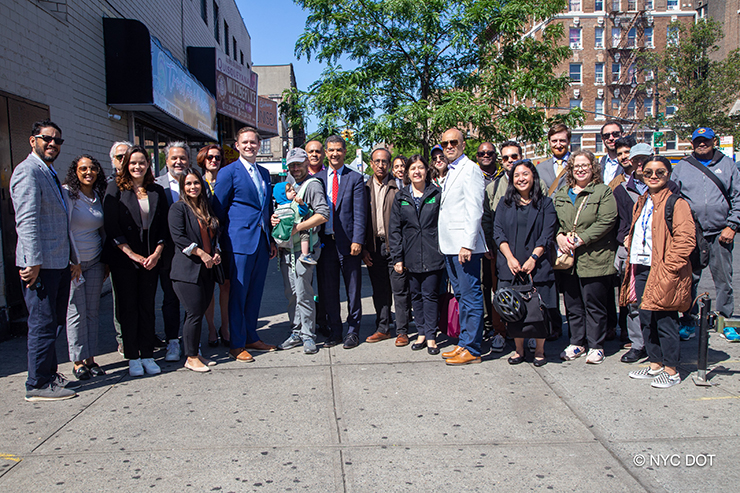 New York – New York City Transportation Commissioner Ydanis Rodriguez today announced he will spend the day touring the northern section of Manhattan to gain further insight into the main transportation issues facing the borough. He is visiting nearly 10 locations across the borough the hear the greatest transportation concerns on the minds of each community. Commissioner Rodriguez started the tour this morning by giving opening remarks at the Inwood Development kickoff event, joined by local elected officials, community leaders and businesses.
"This administration is committed to delivering our projects equitably across the five boroughs, ensuring all New Yorkers benefit from safe streets, fast buses, and welcoming public spaces," said NYC DOT Commissioner Ydanis Rodriguez. "We are hosting 'Commissioner in Your Borough' events across the city to gain further insight into what transportation issues matter most to the residents, community leaders, clergy and elected officials in these communities."
Commissioner Rodriguez will take part in a site visit on Post Avenue to discuss potential public space improvements with the Inwood Merchants Association, followed by a bus ride down Broadway where he will exit near 181st Street and head toward Amsterdam Avenue and 181st Street at the Washington Bridge to review a forthcoming bike and bus improvement project which will connect Manhattan to the Bronx.
The day continues as Commissioner Rodriguez will take Citi Bike down to West 166th Street to join in a discussion on the Future of Public Space in Northern Manhattan with community leaders including, but not limited to, Community Board 12, Alianza Dominicana, Columbia University and Community Leaders of the Heights (CLOTH). The meeting will focus on public space partnerships and the management of Open Streets.
Commissioner Rodriguez plans to wrap up the day with a walk to Haven Avenue Plaza at Fort Washington Avenue to tour the existing plaza with community partners, followed by a visit to Highbridge Park's Water Tower.
The day marks the third Commissioner in Your Borough event, following a "Queens Day" tour held in December and "Staten Island Day" held this February. Commissioner Rodriguez plans to undertake more borough-specific tours to discuss transportation needs in all five boroughs. Through 2022, Commissioner Rodriguez has joined roughly 30 New York City Council members for in-district tours or site visits.
###