IMMEDIATE RELEASE
April 28, 2023
Contact: (212) 839-4850, press@dot.nyc.gov
DOT Launches Inaugural Ride of the Dorothy Day Staten Island Ferry
New Ferry Named for Renowned Catholic Activist Who Lived and Worked on Staten Island
$85 Million State-of-the-Art Ferry, the Third and Final Boat in the Ollis Class, Will Go into Regular Service Next Week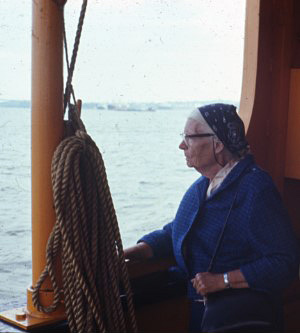 Dorothy Day aboard the Staten Island Ferry during the 1970s (Photo Credit: Department of Special Collections and University Archives, Raynor Memorial Libraries, Marquette University)
NEW YORK – New York City Department of Transportation (DOT) Commissioner Ydanis Rodriguez today led the inaugural ride of the Dorothy Day, the third and final 4,500-passenger Ollis-class Staten Island Ferry vessel joining the fleet. They were joined on the ride from St. George Terminal on Staten Island by Archdiocesan officials, as well as family, friends and colleagues of Day, a legendary 20th century Catholic peace activist. The new $85 million, state-of-the-art ferry has completed harbor trials and passed all requisite safety inspections, and will go into regular passenger service in the next week.
"The trilogy of Ollis Class ferries is now complete with the arrival of this state-of-the-art ship honoring the pioneering and courageous Dorothy Day," said Deputy Mayor for Operations Meera Joshi. "The Staten Island Ferry is an iconic piece of the fabric of New York City and the Adams Administration fully understands this ferry system is a critical mass transit link for Staten Islanders. We will continue to do all we can to provide the highest quality service and we're thrilled to welcome this wonderful new boat into our fleet."
"I know the incredible Staten Island Ferry staff are especially proud to officially bring the Dorothy Day into the harbor today," said DOT Commissioner Rodriguez. "We know that during her life, Day loved riding this ferry — and she was like Staten Islanders who know that a short ferry ride can serve as a peaceful, even meaningful, escape from the hustle and bustle of life in our city. We thank all the activists—from the Catholic Worker, the Dorothy Day Guild and so many other places -- who are joining us today, as they keep Dorothy's vital memory and incredible legacy alive."
"As we celebrate the inaugural trip of the Dorothy Day ferry, we recall her love for Staten Island and the City of New York," said Cardinal Timothy Dolan, Archbishop of New York. "May this newest addition to the ferry fleet serve as a reminder of her deep love of God and neighbor, and inspire new generations to emulate her commitment to peace and justice for all."
"It is with joy and gratitude that we can remember Dorothy Day as her namesake ferry plies the beautiful waters of her beloved New York Harbor, carrying visitors and workers to their destinations on a daily basis," said Martha Hennessy, social justice activist and granddaughter of Dorothy Day. "Thank you all for making this possible."
The Dorothy Day was preceded by two new ferries that went into service in 2022, all constructed by Eastern Shipbuilding in Panama City, FL. The Staff Sergeant Michael H. Ollis — named for a war hero from New Dorp killed saving the life of a fellow soldier in Afghanistan — began passenger service in February. The Sandy Ground — the second Ollis-class boat, which honors one of the nation's first Black settlements that was located on Staten Island's South Shore and served as a stop on the Underground Railroad — was commissioned by Mayor Adams in February and began regular passenger service in June. The Dorothy Day was commissioned last November and will go into regular service next week, and will be in service for the Five-Boro Bike Tour on Sunday, May 7th, traditionally among the Ferry's busiest ridership days.
The three new Ollis-class ferries commissioned since 2021 come with support from funds provided by a range of federal agencies and elected officials, including U.S. Senator Charles E. Schumer and U.S. Senator Kirsten Gillibrand. The new ferries are larger, more modern, and safer in extreme weather than earlier fleets. They feature popular design elements of past Staten Island Ferries, including phone-charging outlets and more comfortable seating, as well as an oval upper-deck promenade that serves, for the first time, as an outdoor "walking track " for riders.
Dorothy Day (1897-1980) was a convert to Catholicism who led the Catholic Worker movement, founded during the Great Depression. As a journalist, Day edited The Catholic Worker newspaper, first published on May 1, 1933. She maintained the movement's pacifism even during World War II, while operating soup kitchens, including one on the Lower East Side of Manhattan that remains in operation today. Day was repeatedly arrested for her postwar protests during New York City's air raid drills, which criticized nuclear war preparation. Hailed by Pope Francis in his speech to the U.S. Congress in 2015, Day has been submitted to the Vatican as a candidate for canonization by the U.S. Conference of Catholic Bishops. Day regularly rode the Staten Island Ferry to reach her cottage on Staten Island's South Shore and is buried in Pleasant Plains.
"We welcome the Dorothy Day on her maiden voyage," said Staten Island Borough President Vito Fossella. "This new state-of-the-art vessel will carry both commuters and visitors to and from our great borough. She is a welcome addition to an iconic fleet."
"The Staten Island Ferry is an invaluable lifeline for our Island, and today's launch of the Dorothy Day, third of the Ollis class vessels, should be celebrated by Staten Islanders, New Yorkers, and visitors from around the globe who board the ferry to enjoy the best views of New York City," said Staten Island District Attorney Michael E. McMahon. "My sincerest congratulations to the family and admirers of Dorothy Day, an incredible Staten Islander whose legacy of kindness and charity will be elevated even further as her name adorns this Ferry for decades to come."
"Dorothy Day is just the third Staten Island Ferry boat ever to be named after a specific woman. It is only fitting and appropriate to have this new Ferry enshrined the name Dorothy Day," said Assemblyman Charles D. Fall. "Just as she did with her activism, the Ferry continues to bring all walks of life, ethnicity and faith together as we sail forward. We are proud as a community to have this Ferry today commissioned after the legendary 20th-century Catholic peace icon."
"I am honored to join the inaugural trip of the Dorothy Day ferry," said Assembly Member Sam Pirozzolo. "The addition of a new, state-of-the-art ferry to the Staten Island fleet is welcome news for all Staten Islanders commuting back and forth to the city as well as to help bring more visitors to our borough, to support our growing economy. Safety, efficiency, passenger comfort, and amenities are of top priority, and we are happy to welcome the Dorothy Day into service for Staten Island. This ferry joins The Staff Sergeant Michael H. Ollis & the Sandy Ground ferries as another monument to trailblazers and heroes whose bravery and selflessness have touched our shores."
"The Staten Island Ferry is a vital transportation vessel for thousands of Staten Islanders, and so I would like to thank Senators Schumer and Gillibrand for securing funding for these new and more modern ferries," said Council Member Kamillah Hanks. "Dorothy Day was a remarkable figure who dedicated her life to serving the poor and marginalized, advocating for social justice, and living out her faith through her activism. Because of her extraordinary work, and the fact that she was a Staten Island resident, it is fitting that this ferry be named after her."
"Dorothy Day is one of those unique individuals whose life encourages students to see the world differently," Kevin Ahern, Director of the Dorothy Day Center at Manhattan College and Co-chair of the Dorothy Day Guild. "We hope that some of the young people who ride this ferry will be inspired to learn more about her and join in the work to build a more merciful and peaceful world."
"Today's inaugural ride of the Dorothy Day is a moment of pride for the Eastern Shipbuilding workforce that built this cutting-edge vessel for the millions of passengers who will get to enjoy her," said Joey D'Isernia, CEO of Eastern Shipbuilding Group, Inc. "Dorothy Day joins the Ollis Class with state-of-the-art features to provide safe and comfortable passage for decades to come."
###