IMMEDIATE RELEASE
February 28, 2023
Contact: (212) 839-4850, press@dot.nyc.gov
NYC DOT Unveils Refined Design Concepts for BQE Central as Corridor-Wide Process Moves Forward
New, refined designs to deliver a long-term fix for the City-owned portion of the highway reflect community feedback to dramatically improve public space, and respect historic promenade
Designs build on robust public outreach, subject to further refinement, as DOT prepares for Environmental Review
Renderings of the refined concepts can be found on the DOT's Flickr account
NEW YORK – New York City Department of Transportation Commissioner Ydanis Rodriguez on Tuesday unveiled refined design concepts for the city-owned section of the Brooklyn-Queens Expressway between Atlantic Avenue and Sands Street, known as BQE Central, ahead of the third round of community workshops on the project Tuesday evening. These further-developed designs build upon the preliminary concepts shared at public workshops in December and incorporate feedback received from participants and other stakeholders. The concepts aim to enhance open space, connectivity, and accessibility; reduce the physical presence of the highway by covering the BQE; respect the historic nature of the promenade; and mitigate pollution, noise, and traffic.
"Today brings us one step closer to building a BQE that serves all New Yorkers," said New York City Mayor Eric Adams. "This administration is taking a bold approach, repairing a crumbling eyesore and delivering transformational open space to residents and visitors alike. While much work remains, these refined concepts mark another milestone to create a reimagined BQE Central. We look forward to continue working with all of our community partners to deliver on an ambitious vision that will serve New Yorkers for generations to come."
"Today's workshop is another important step forward in undoing the historic harm the BQE created across the entire corridor," said Deputy Mayor for Operations Meera Joshi. "Based on community feedback and the hard work of our team of creative designers and engineers, we are now able to publicly present more refined concepts for the Central portion of the BQE. At the same time we will continue our pursuit of innovative solutions for reconnecting communities divided by the BQE to the North and South."
"These bold concepts reflect the wealth of feedback we've received from New Yorkers on how they want to reimagine BQE Central, with beautiful public spaces, safer bike and pedestrian connections, and improved access to local parks," said DOT Commissioner Rodriguez. "We are excited to continue refining these concepts as part of our urgent efforts to deliver a long-term fix for the city-owned portion of the BQE in Brooklyn. At the same time, we're working closely with local groups to develop projects that address the harmful effects of the highway and reconnect communities across Brooklyn."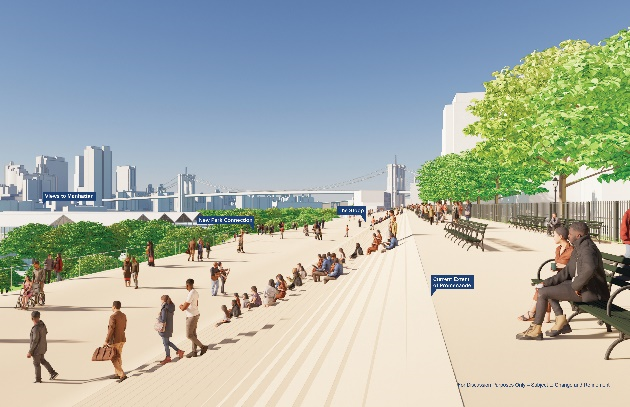 DOT collected feedback from the community through in-person and virtual workshops with more than 500 attendees, surveys with nearly 1,900 respondents, stakeholder meetings, and focus groups with experts and advocates. Based on public comment received and design feasibility, the City has refined three concepts for further public review: The Terraces, The Lookout, and The Stoop—each of which aims to overcome the highway as a physical barrier between BQE Central neighborhoods and the waterfront. While these three approaches are all technically feasible, there are distinct differences in approach; for instance, both The Terraces and The Lookout concepts could be built with a lighter-touch, partial replacement of the cantilever, The Stoop concept can only be achieved through a more intensive full replacement.
Following this round of workshops, there will be continuous opportunities for community feedback up to and through the federally mandated environmental review process, and concepts will move forward based on purpose and need—all subject to community input. The agency will continue to meet with stakeholders and process feedback from the third round of workshops to further refine the concepts presented. These workshops will help the City narrow down concepts to be used for the environmental review.
In the months ahead, DOT will also be focused on additional efforts to move the process forward:
Comprehensive Traffic Study: Starting this March, DOT will be undertaking a comprehensive traffic study of both two- and three-lane configurations for BQE Central, to develop an in-depth understanding of capacity and help inform decisions surrounding geometry for the future roadway. The objective is to build as narrow a roadway as possible, while building to modern safety standards and federal guidelines.
Atlantic Avenue Interchange: This unique, complicated geography in the vicinity of Atlantic Avenue near Columbia Street is still under review by the BQE Project Team. DOT will share refined concepts for this location with the community in the weeks ahead.
Environmental Review: DOT has already begun preparation of the studies required for the environmental review process and this work will continue in the months ahead. DOT produced an explainer video and plans to host an April webinar to educate stakeholders on the upcoming process, which is scheduled to begin as early as this fall, including additional opportunities for community feedback.
Federal Grant Application: DOT will be preparing a federal grant application for a BQE Central project to compete for once-in-a-generation federal funding made available through the Bipartisan Infrastructure Law. The City is also reviewing potential safety and public space projects in BQE North and South for grant applications later this year.
While the BQE North and South sections are owned by the New York State Department of Transportation, the City remains committed pursuing improvements across the corridor on city-owned property. To that end, the City is continuing its equitable planning effort to reconnect communities in both the BQE North and South sections, with the goal of implementing short-term projects as early as this year that improve safety, public space, and mobility— in addition to and long-term, larger capital projects that could be undertaken by NYC DOT on City-owned streets to reconnect communities that have been divided by the structure The agency is working with its BQE Community partners – 18 community organizations across Brooklyn – to conduct outreach in communities along the corridor.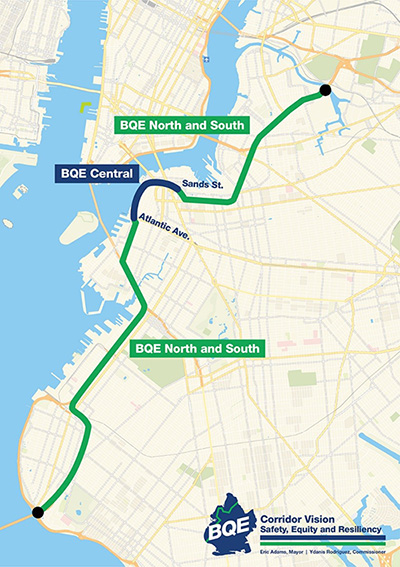 ###