IMMEDIATE RELEASE
December 20, 2022
Contact: (212) 839-4850, press@dot.nyc.gov
DOT Meets Commitment to Make Safety Improvements at 1,400 Intersections, Bucking National Trends With Declining Traffic Deaths
DOT has exceeded its commitment to make safety improvements at 1,400 intersections as it prioritized pedestrians and cyclists along key corridors citywide
Defying national trends, New York City fatalities have declined this year for first time since 2019, including an 8.8% drop in pedestrian deaths since last year
NEW YORK – Today, New York City Department of Transportation Commissioner Ydanis Rodriguez announced the agency has successfully made safety improvements at 1,400 intersections as the city experiences among the fewest annual pedestrian fatalities on record. Commissioner Rodriguez also highlighted trends that show New York City is likely to end this year with fewer traffic fatalities than in 2021, stopping the rise in traffic fatalities that began in 2019. Pedestrian deaths are down 8.8% this year, compared to last year, with the current total the third lowest in the City's recorded history. New York City is bucking trends being experienced in the rest of the United States, which has seen pedestrian fatality rates reach a two-decade high.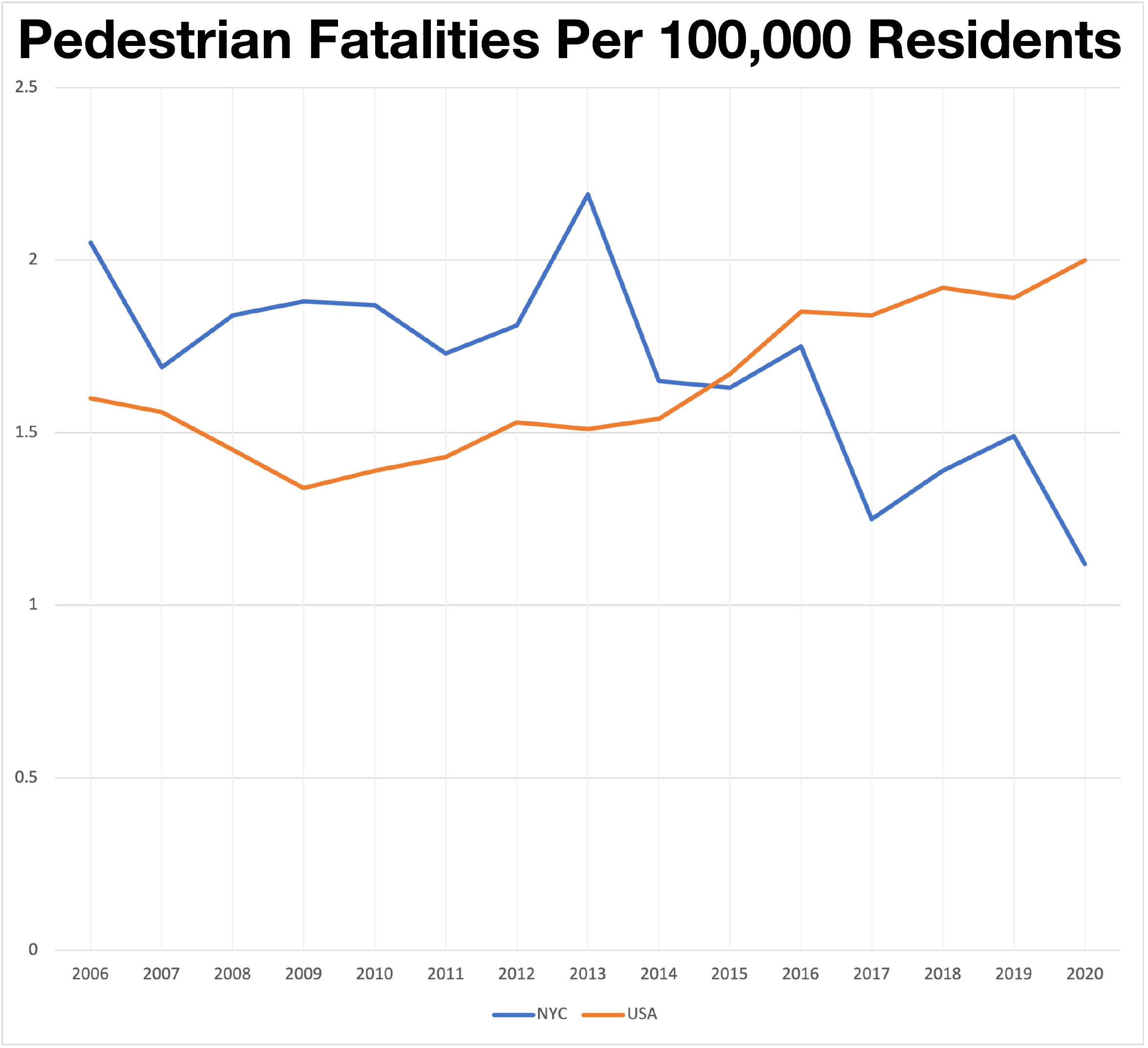 NYC is defying national trends around pedestrian deaths, which are at a two-decade high
Pedestrian safety has been a primary priority of DOT in 2022, starting in January when the Adams Administration made intersections a particular focus – as a majority of pedestrian fatalities and injuries occur there. After exceeding its original 1,000 intersection improvements goal this fall, DOT has now also reached its expanded commitment to improve 1,400 intersections, in addition to delivering a host of projects to reimagine the city's greatest public space, our streets, to create new dedicated space for pedestrians, cyclists, and bus riders. DOT achieved these improvements through a variety of treatments, including intersection redesigns, signal upgrades, all-way stop installations, daylighting, turn calming, and raised crosswalks. Injury and severe injury analysis shows DOT's treatments are effective; and while New York City is experiencing one of lowest rates of cycling and pedestrian deaths in the city's history, the agency is committed to continuing to drive deaths down under Vision Zero.
"While traffic deaths are on the rise across the country, New York City is turning the tide and is moving in the opposite direction by taking action to protect pedestrians, cyclists, drivers, and all road users," said New York City Mayor Eric Adams. "After reaching our goal of making 1,000 intersections safer months ahead of schedule, we have reached an even more ambitious goal of improving safety at 1,400 intersections across the five boroughs. Other critical successes like 24/7 speed cameras and groundbreaking new programs like Trick-or-Streets and the Fifth Avenue Open Street show that our administration is not afraid to be creative and bold in fighting for true traffic safety. But we won't have achieved that until we reach Vision Zero, and our administration will always continue working towards a day when no one dies from traffic violence in New York City."
"Let me be clear: any loss of life on our streets is unacceptable. That's why DOT is committed to using every available tool to make our streets safer and end reckless driving," said NYC DOT Commissioner Rodriguez. "New York City is leading the nation as an example of how cities can use engineering, education, and enforcement to reduce senseless traffic violence. And we will continue to take an equitable approach to delivering our life-saving projects across the city."
Through November 30, New York City had recorded 233 traffic fatalities, down from 248 at that point last year. As pedestrian deaths have risen across the country, New York City experienced a 8.8%. decline in the first 11 months of the year, with 114 pedestrian fatalities last year and 104 recorded through the end of November.
In addition to these life-saving efforts at intersections, DOT launched an innovative bike hardening program to help keep bike lanes clear for cyclists. As part of its bike-lane-hardening, DOT also began a "Better Barriers" pilot to test new barriers to protect bike lanes across the city.
2022 ACCOMPLISHMENTS
Throughout the course of the year DOT:
SAFETY UPDGRADES
Launched 24/7 speed camera operations, more than doubling hours of operation;
Installed Turn Calming treatments at 200 intersections, doubling DOT's previous commitment to calming and slowing turns at high-injury locations;
Installed all-way stop signs at more than 400 intersections, the most ever in a single year;
Installed a record number of raised crosswalks;
Daylighted 96 intersections with bike corrals – on pace to daylight a record 100 intersections with corrals by the end of the year – to improve safety and bike parking access;
Installed more than 580 Leading Pedestrian Intervals to give pedestrians and cyclists head starts at intersections;
Installed a record 471 Accessible Pedestrian Signals to help New Yorkers who are blind or have low vision navigate the city;
Released a groundbreaking study of the pedestrian safety of older New Yorkers, illustrating the ways in which DOT street redesigns have reduced serious crashes for this particularly vulnerable group;
MOBILITY IMPROVEMENTS
Implemented Transit Signal Priority at a record 750 intersections to reduce the time buses spend stuck at red lights;
Completed bus priority projects that improved the lives of 400,000 daily bus riders, making their service faster and more reliable;
Completed 7.7 miles of new and improved bus lanes and 4.2 miles of newly camera-enforced bus lanes, with many additional miles under construction;
Made 3.1 miles of busways permanent, expanding the groundbreaking 14th Street truck and transit priority treatment to serve bus riders in Washington Heights, Flushing and Jamaica;
Delivered accessibility upgrades to 27 bus stops;
Reached 1,500 bike lane miles citywide, with the expectation to complete over 25 new protected lane miles;
On pace to meet targets to harden 10 miles of delineator-protected bike lanes by the end of the year, with another 10 miles to be hardened in 2023;
Commissioned three new Staten Island Ferry vessels, bringing generational improvements to its fleet;
PUBLIC SPACE ENHANCEMENTS
Installed roughly 1,800 loading zones across the city, more than triple its legal requirement to install 500 loading zones;
Launched 46 new Open Streets to help New Yorkers reimagine how we use our streets;
Installed or announced permanent upgrades to existing Open Streets, including 34th Avenue in Queens, and Berry Street, Sharon Street, Underhill Avenue, and Vanderbilt Avenue, in Brooklyn;
Created six new permanent plazas;
Released an economic report detailing the financial benefits of Open Streets and Open Restaurants for local businesses;
Announced new visioning process to redesign Manhattan's iconic Fifth Avenue with a focus on pedestrians, cycling, and mass transit;
Expanded car free events, including a larger Summer Streets and the creation of new "Trick-or-Streets" Open Streets for Halloween and "Holiday Streets" for the winter holiday season.
###