IMMEDIATE RELEASE
June 22, 2022
Contact: (212) 839-4850, press@dot.nyc.gov
NYC DOT Commissioner Rodriguez Announces Expansion of E-Scooter Share Pilot in Bronx, Doubling Footprint and Fleet Size
More than 650,000 trips taken over course of the pilot with strong safety record
DOT is working with companies to double number of available scooters, from 3,000 to 6,000, while improving cycling infrastructure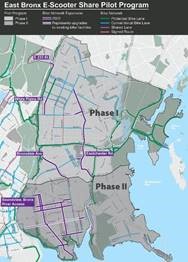 NEW YORK – Department of Transportation Commissioner Ydanis Rodriguez announced today the Phase 2 expansion of its e-scooter share pilot in the eastern Bronx, doubling the program's footprint after recording over half of a million rides without any recorded serious injuries.
"Bronxites deserve the same range of transportation options as other New Yorkers, and this pilot expansion is a step in the right direction," said New York City Mayor Eric Adams. "Our administration will continue working closely with communities and taking action to help New Yorkers and visitors get around the city safely and efficiently."
"We're thrilled to build on our successful e-scooter pilot in the Bronx and offer this safe and efficient travel option to even more residents," said Commissioner Rodriguez. "This expansion will serve important first- and last-mile trips for commuters accessing the NYC Ferry and 6 train in the eastern section of the Bronx. We thank our pilot partners Bird, Lime, and Veo, for helping the city deliver a safe, reliable, and accessible service for Bronxites."
Through Phase 2 of the pilot, DOT will work with its partners to double the number of available scooters from 3,000 to 6,000 while extending current pilot zone in the northeast Bronx further south. Phase 2 includes neighborhoods like Parkchester, Castle Hill, Country Club, and Throggs Neck, providing connections to additional stops on the 6 train as well as the NYC Ferry at both the Soundview Ferry Terminal and Ferry Point Park Terminal.
The DOT will continue to work with participating companies Bird, Lime, and Veo to promote safe and responsible riding, discounted pricing options, and compliance with e-scooter parking rules. Companies are required to hold free, in-person outreach and safety training events each month and have held a number of demonstrations in partnership with community organizations, BIDs, and New York City Housing Authority tenant associations.
Safety
The strong safety requirements in the DOT's pilot builds off of lessons learned through the agency's experience with Vision Zero and other cities' experiences with shared e-scooters. Safety is baked into contractual and operational requirements. The DOT requires in-app safety training and quiz and age verification for new riders. There is also a "Beginner Mode," during which each rider's first three trips are speed-limited at 10 mph and cannot start in overnight hours.
DOT has also expanded bike infrastructure in the pilot area, installing bike lanes on White Plains Road and 233rd Street. During the second phase of the pilot, DOT plans to install 10 miles of conventional lanes and is planning to build more cycling infrastructure in the expansion area in 2022 and 2023, including: Eastchester Road, Bronxdale Avenue, a new PBL network in Throggs Neck, as well as extending lanes along White Plains Road.
DOT will begin outreach soon at relevant community boards will for future bike lane expansion proposals in Throggs Neck and additional, protected bike lanes in Soundview.
Affordability & Accessibility
New Yorkers who receive or qualify for any local, state, or federal assistance program (e.g. SNAP, NYCHA, discounted utility bill) are eligible for discounted e-scooter share rates. Materials promoting discounted pricing are available in multiple languages. DOT has worked with the three companies to provide options for users to pay with cash instead of a credit card and for users to use e-scooters without a smart phone by texting. As part of the pilot, all companies provide wheelchair-accessible scooters.
In the first nine months of the pilot, over 1,000 unique rider accounts have collectively over 20,000 rides through discounted pricing services, averaging approximately 20 rides per account. DOT will work with the companies to push enrollment in these discount programs higher during the second phase.
"I welcome the expansion of the E-Scooter Share Pilot Program to the eastern side of the Bronx. This project will offer reliable and affordable transportation alternatives to many residents in need," said NYS Senator Luis Sepúlveda
"Today is an exciting day for our community. We are one step closer to being multi modal which shows that the City is making significant progress toward transit equity," said Council Member Amanda Farías. "With no bike share options in the district these scooters are critical to helping our residents, essential workers, and those with disabilities move around their own neighborhoods with ease and agency. I look forward to my continued partnership with DOT, our e-scooter companies, and the community to make sure we are serving the needs of our community, updating our infrastructure, and finding real solutions."
"Despite having several transit-rich corridors in my district, the reality is that large swaths of District 17 lack 'last-mile' accessibility options, particularly in the Soundview section," stated Council Member Rafael Salamanca, 17th Council Member, The Bronx. "DOT's expansion of the e-scooter pilot program into underserved transit areas will provide Bronxites with better options to access a connecting bus or subway line, their place of employment or simply commuting within their neighborhoods. I look forward to working DOT and my colleagues on the implementation of phase II, and will continue to hold conversations on how future expansions throughout the borough can serve even more Bronxites."
"Bird commends Commissioner Rodriguez and DOT for their commitment to bringing eco-friendly transportation to more visitors and residents of NYC by extending the scale and service area of the e-scooter sharing pilot," said Brian Buccella, senior vice president, global policy at Bird. "Through public-private partnerships such as this, we are working together to improve access to safe and accessible transportation alternatives that help communities make progress on their climate action goals while also providing access to education, economic and health related services and opportunities."
"The launch of Phase II is recognition of the immediate impact of micromobility in the Bronx over the past year and the bright future it has in New York City. The high usage we've seen, coupled with strong data on safety and uptake of our reduced price program, Lime Access, demonstrates the role shared e-scooters can serve in providing an affordable, and sustainable way for New Yorkers to travel," said Phil Jones, senior director of government relations at Lime. "This is especially true when it comes to connecting residents to buses and subways on the first and last legs of their journeys. We're thrilled to expand to more Bronx neighborhoods and we look forward to working with DOT, local elected officials, community boards, and other community partners to ensure safety and equity remain the foundations of this and any future programs."
"Veo's mixed fleet of stand-up, seated, and ADA accessible vehicles has made micromobility welcoming to a broad set of riders in the Bronx," said Candice Xie, co-founder and CEO of Veo. "The City's expanded pilot area will give even more residents access to scooters as a sustainable, affordable, car-free transportation option. We look forward to working with the DOT and local community to ensure a successful rollout."
###