IMMEDIATE RELEASE
Friday, October 22, 2021
Contact: (212) 839-4850, press@dot.nyc.gov
Biketober: Two-Way Protected Bike Lane Along Fort Hamilton Parkway Now Complete
Completion of lanes adds 1.1 miles of protected bike lanes toward Administration goal of 30 miles for 2021; Remainder expect to be completed before the end of the year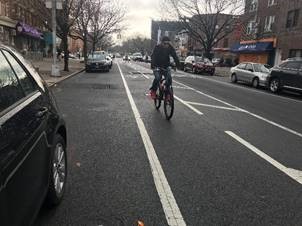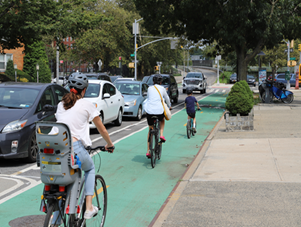 The New York City Department of Transportation today announced the completion of the two-way protected bike lane along Fort Hamilton Parkway. This new protected bike lane adds one mile to the Administration's goal of 30 miles per year. This announcement follows the release of Safe Streets for Cycling a study that uses detailed crash data and concludes that the addition of a bicycle lane – whether a protected lane or a conventional one – improves the safety of cyclists by one third. The addition of those lanes also increases the volume of cyclists by an average of 50%.
"Every new bike lane in our city is cause for celebration, especially during Biketober," said DOT Commissioner Hank Gutman. "Now cyclists in traveling along Fort Hamilton Parkway will have a safer ride. I want to thank our dedicated DOT staff for their hard work and dedication, as well as Borough President Adams and Councilmember Lander for their support of this wonderful new addition to our ever-expanding bike lane network."
The Fort Hamilton Parkway protected bike lane, running from East 5th Street to Dahill Road, was developed in response to a community request for two-way, protected bike lanes in the area, along with a request for pedestrian improvements at Fort Hamilton Parkway and McDonald Avenue. In 2010 DOT installed a bike lane along Fort Hamilton Parkway in the westbound direction that served as a key connection from Prospect Park, with the eastbound lane companion lane being on Caton Avenue. The new two-way lane strengthens the direct connection to the Park.
The new two-way lane strengthens the direct connection to Prospect Park and when included with bike lanes on Flatbush Avenue, Ocean Avenue (under construction by the Parks Department) and Parkside Avenue it will be possible to enjoy two-way access from Grand Army Plaza to the southeast base of Greenwood Cemetery. This stretch also further connects to 4th Avenue via lanes on Dahill Road, 12th Avenue and 37th Street.
This new bike lane deliver various safety and mobility enhancements to the area including:
Creating an eastbound bike route to Prospect Park by providing an alternative to Caton Avenue
Simplifying the connection to Borough Park and Sunset Park by reducing conflicts
Improving pedestrian safety with shortened crossing distances
Improving cyclist safety and comfort due to reduced double parking in the bike lane
Maintain motor vehicle circulation and discourage speeding by narrowing roadway
New York City has 1,375 lanes miles of bike lanes installed, with 74 being installed last year alone. Protected bike lanes account for was 546 lane miles as of 2020, a year in which 29.5 lanes miles were installed.
"We're so pleased that more cyclists can ride more safely now along Fort Hamilton," said Bike New York President and CEO Ken Podziba. "Whether you're a cyclist headed to Prospect Park or a Borough Park resident on foot, this new two-way protected bike lane ensures you can get to where you're going securely. We thank DOT for its response to community input on this matter and look forward to more bike lanes like this one in the future."
"Protected bike lanes are popular, life-saving, and necessary features of our streetscape. The completion of the protected bike lane along Fort Hamilton Parkway is another important step toward reclaiming car space in line with our NYC 25x25 vision," said Juan Restrepo, Transportation Alternatives Senior Organizer. "Protected bike lanes belong along all dangerous corridors of the city, and the Fort Hamilton Parkway protected bike lane will encourage more New Yorkers to choose sustainable, non-car forms of travel in a safe, accessible way."
-30-