IMMEDIATE RELEASE
Press Release #19-059
Monday, September 16, 2019
Contact: Scott Gastel/Alana Morales (212) 839-4850
Fighting Gridlock: DOT and NYPD Announce 2019 "Gridlock Alert" Days, As Well As Improved Cycling Access During Next Week's United Nations General Assembly
For the second year, Gridlock Alert Days include the week of the U.N. General Assembly from September 23rd-30th, when Midtown traffic speeds decline to slowest of the year; for the first time since protected lanes were added, bicycle access along First and Second Avenues will be completely maintained for General Assembly week
NEW YORK – The New York City Department of Transportation today announced its 2019 Gridlock Alert Days, which for the second year will include the week of United Nations General Assembly (September 23rd to September 30th). Data from the Department of Transportation (DOT) and the Taxi and Limousine Commission (TLC) note that travel speeds in the Midtown Central Business District on those days are slower than on the ten traditional Gridlock Alert days around the November and December holidays. This year's announcement also introduces a new joint plan from the NYPD and DOT to maintain protected bike lane access along First and Second Avenues for General Assembly week. Citi Bike will again offer discounted rides during General Assembly week.
"The U.N. General Assembly sees some of Manhattan's most congested days of the entire year, and we want to get the word out early to ask drivers to use alternatives," said DOT Commissioner Polly Trottenberg. "Drivers should leave their cars at home next week if they can -- and try walking, taking mass transit, or getting on a bicycle. In fact, our recent Mobility Report showed that cycling is now regularly the very fastest way to get around Midtown. And we want to thank our partners at NYPD for their creative collaboration this year that will allow safe protected bike lane access along First and Second Avenues."
"The NYPD reminds commuters who travel by vehicle to avoid east midtown during the United Nations General Assembly, and to expect possible delays and street closures," said NYPD Chief of Transportation Thomas Chan. "Those that choose not to utilize public transportation and drive in the area must allow for extra travel time and exercise caution behind the wheel, remembering to yield to pedestrians and bicyclists."
"The opening of the UN General Assembly brings exciting events and opportunities to our city each year, including welcome foot traffic to local businesses. However, we also recognize that all the added street traffic can present challenges for New Yorkers going about their everyday lives," said Penny Abeywardena, Commissioner of the Mayor's Office for International Affairs. "That's why we are doing all we can to help drivers and cyclists navigate all the changes during this time. We want everyone to be safe while continuing the urgent work between New York City and the UN to address the issues that so deeply affect us all."
For the first time this year, bike lane access will be maintained through the security zone along First and Second Avenues.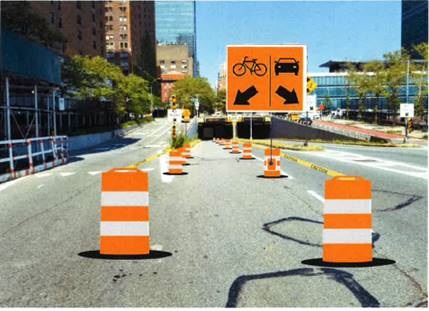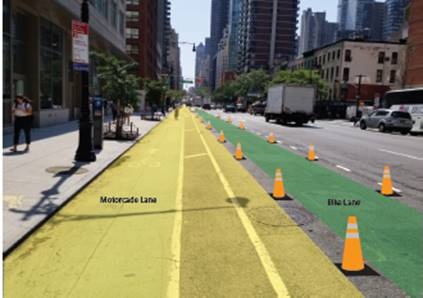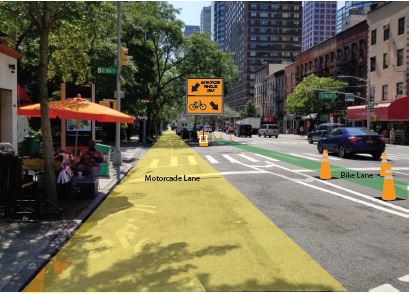 The protected bike lanes along First and Second Avenue in Midtown are used by about 6,000 cyclists daily and are among New York City's busiest bike lanes, completed in 2011 and 2017 respectively. Every year until this year, these lanes had experienced significant disruptions and closures during General Assembly week. For the first time this year, the following changes will be in effect:
First Avenue Protected Bike Lane Access: Along northbound First Avenue, cyclists will pass a security checkpoint at 39th Street, after which they will be able to travel on the temporary bike lane between East 40th Street to East 49th Street. Cyclists will be directed to use one northbound travel lane through the 1st Avenue tunnel where a temporary bikeway will then transition back to the existing protected bike lane at East 49th Street. Barrels, signage, and tape will delineate the space for the temporary bikeway and direct cyclists where to travel. Cyclists are advised that the temporary bike lane is a tunnel thruway with no turns: ie.no exit is available between East 40th and East 49th Streets.
Second Avenue Protected Bike Lane Access: Along southbound Second Avenue, a temporary bike lane will be created between East 57th Street and East 41st Street, adjacent to the existing protected bike lane using both the travel lane and parking lane. Traffic and signage will delineate and direct cyclists to the temporary bikeway. As in past years, the existing protected bike lane on the east side of Second Avenue will be kept clear by NYPD, maintained as a travel lane to accommodate emergency vehicles and dignitary motorcades.
The temporary bike lane along First Avenue will remain in effect for 24 hours, while the temporary Second Avenue bike lane will be open until about 9pm. Cyclists on both routes will be subject to security checkpoints and occasional, unannounced traffic freezes.
Citi Bike Discounts and Special Gridlock Plans: To encourage cycling during the General Assembly, Citi Bike is offering a 50% discount on its 3-day pass from September 23 through September 30. For the same price as a 1-day pass normally, individuals will be able to take unlimited 30-minute rides over a 3 day period for only $12 by using code GRIDLOCK19 in the Citi Bike app.
Gridlock Alert Days: DOT also today announced this year's 16 Gridlock Alert Days. According to DOT and TLC data, the days during the General Assembly are among the slowest for travel within Manhattan for the entire year. During last year's UN General Assembly weekday in Midtown's Central Business District, average speeds slowed to about 4 MPH, which means that it took up to 20 minutes to travel a mile. Last year, the slowest day for traffic within the CBD for the entire year was September 25, 2018, the Tuesday of UN General Assembly week.
This year's Gridlock Alert Days are:
Monday, September 23, 2019
Tuesday, September 24, 2019
Wednesday, September 25, 2019
Thursday, September 26, 2019
Friday, September 27, 2019
Monday, September 30, 2019
Friday, November 15, 2019
Wednesday, November 20, 2019
Wednesday, November 27, 2019
Friday, December 6, 2019
Wednesday, December 11, 2019
Thursday, December 12, 2019
Friday, December 13, 2019
Wednesday, December 18, 2019
Thursday, December, 19, 2019
Friday, December 20, 2019
"Navigating congestion in Manhattan just got a little easier! For a second year, the New York City Police Department and the Department of Transportation have collaborated on Gridlock Alert days to help drivers manage added street traffic and keep cyclists safe during the opening of the United Nations General Assembly," said Congresswoman Carolyn Maloney. "I am thankful concrete steps have been taken to improve commutes for New Yorkers, and look forward to all the exciting opportunities and events that UNGA brings."
"Every year during the U.N. General Assembly, the neighborhoods I represent are overrun by car traffic, putting families at risk and dirtying our air, said State Senator Brad Hoylman. "I'm grateful to the Department of Transportation and the NYPD for making safety a priority and expanding access to the First and Second Avenue bike lanes. I urge drivers to do their part on this Gridlock Alert Day, leave their cars outside the city, and walk, bike, or take public transit. With congestion pricing on its way, it's good to get in the habit of being a responsible commuter."
"Congestion in Manhattan can be a nightmare on a day-to-day basis. During the week of UN General Assembly meetings, I encourage New Yorkers to utilize public transportation and am happy to assure them bike lanes will still be available for use," said Council Member Keith Powers. "I thank the Department of Transportation for raising the bar with transportation options as we welcome a global constituency for a visit."
"As many New York City drivers as possible need to avoid gridlocked areas in Manhattan during U.N. Week," said Council Member Ben Kallos. "During U.N. Week speeds can slow to about 3 MPH, around the United Nations and that means that 1 mile can take up to 20 minutes. Nobody wants to be stuck in that. Thank you to Mayor de Blasio and to the Department of Transportation for letting drivers know when to steer clear of certain streets. This is as good a reason as ever to take mass transit."
"New Yorkers know that the secret to beating traffic gridlock is to hop on a Citi Bike, and that's never more important than during the General Assembly," said Laura Fox, Lyft Market Manager for Citi Bike. "As DOT's recent mobility report demonstrated, Citi Bike is much faster than a taxi for trips in Midtown — even on an average weekday. With our special three-day discount during the upcoming General Assembly, we're making it easier than ever for more New Yorkers to hop on a Citi Bike and pedal past the gridlock. Plus we hope many will take advantage of maintained access on the First and Second Avenue bike lanes this year."
"We commend NYCDOT and NYPD for keeping the vital 1st and 2nd Avenue protected bike lanes open during the General Assembly, ensuring safe passage for thousands of biking commuters, said Marco Conner, Deputy Director, Transportation Alternatives. Walking, biking and public transit are the safest, healthiest and most environmentally sustainable transportation options, and we encourage more New Yorkers to leave their car at home during the General Assembly and beyond."
###