FOR IMMEDIATE RELEASE
Press Release #19-046
Wednesday, August 7, 2019
Contact: Scott Gastel/Lolita Avila n (212) 839-4850
Vision Zero: DOT, Congresswoman Velázquez, and Councilmember Menchaca Announce that Protected Bicycle Lanes Will Be Completed This Year Along Fourth Avenue in Sunset Park, Brooklyn
As part of Green Wave plan, more than four miles of new bike lanes will link Sunset Park with Downtown Brooklyn; Advocates had pushed for this crucial build-out of the bicycle network in Brooklyn -- where cyclist fatalities have been concentrated this year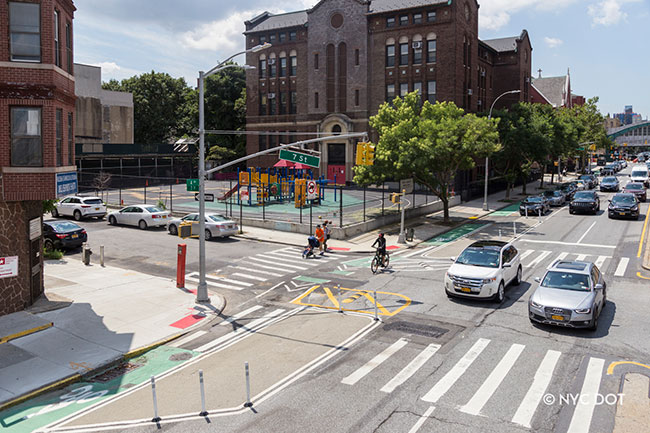 Brooklyn -- New York City Department of Transportation (DOT), in coordination with Councilmember Carlos Menchaca and the office of Congresswoman Nydia Velázquez today announced, that as part of the Green Wave plan to accelerate protections for cyclists, DOT would this summer complete a new protected bike lane along Fourth Avenue in Sunset Park, Brooklyn. When finished later this year, the new north-and-south lanes will provide four new miles of protected lanes, connecting 64th Street to 1st Street -- from northern Bay Ridge and Sunset Park to Gowanus and Park Slope. The lanes will provide a critical connector within the bicycle network in Brooklyn, where 13 of 18 cyclist fatalities in 2019 have happened.
"As Mayor de Blasio announced two weeks ago, among its many ambitious goals, the Green Wave focuses on putting more protected bike lanes on our streets," said Deputy Mayor Laura Anglin. ";The Fourth Avenue bike lane project is a great example of how installing these life-saving protections will not only make our streets safer for all New Yorkers, but transform and connect communities across the city."
"I could not be more pleased than to see the Fourth Avenue lane come to fruition in Sunset Park this year," said DOT Commissioner Polly Trottenberg. "For decades, Fourth Avenue was seen more as a local highway; with protected bike lanes this year and Citi Bike coming soon to Sunset Park, we will continue its extraordinary transformation into a neighborhood boulevard. We thank all of the neighbors, community groups and elected officials, especially Councilmember Carlos Menchaca, whose years of fierce advocacy made today's announcement possible."
"The heartbreaking deaths of cyclists this year has resulted in the community rightfully demanding meaningful change and the announcement that the 4th Avenue Protected Bike Lane is nearing completion is an important, positive step in that direction," said Congresswoman Nydia Velázquez. "Still, we cannot rest and must use every tool available to us to prevent these tragic crashes. This includes additional work to complete the Brooklyn Greenway, which will provide additional commuting options for residents. Likewise, I hope the City can work to educate truckers and motorists about how to stay safe and prevent future accidents with cyclists."
"As a biker myself, I live the dangers of our streets almost daily. And I can attest that protected bike lanes aren't just safer, they save lives," said City Council Member Carlos Menchaca. "We've needed a protected bike lane on Fourth Avenue for a long time, and I am proud to stand beside the Department of Transportation to announce its arrival by year's end. This is a victory for our neighbors and members of the cycling community who live and work in and around Sunset Park. Thank you always for your tireless advocacy."
Earlier this year, DOT crews completed protected bike lanes on the section of 4th Avenue between 1st Street and 15th Street, and last year a section of lanes was completed between 60th and 64th Streets in Sunset Park. The accelerated safety improvements coming to the remainder of the busy avenue include:
Installing curbside, parking-protected bike lanes on each side of the avenue
Painting new pedestrian islands at intersections
Updating parking regulations and expanding metered parking
The Fourth Avenue bike lane project, originally announced by DOT in 2017, had been delayed by MTA work along the R subway tracks that run the length of 4th Avenue to Bay Ridge. The majority of the MTA work will be completed this fall allowing the bike lanes to be installed here by the end of the year. However, construction will continues from 57th Street to 60th Street, and the protected lanes along that section of Fourth Avenue lane will remain incomplete until 2020 or 2021.
Third Avenue and Waterfront Greenway Improvements: Thirteen of New York City's 18 cyclist fatalities this year have been in Brooklyn, including two along 3rd Avenue in Sunset Park – a street that runs immediately parallel to Fourth Avenue. As part of today's announcement, DOT also committed to a re-evaluation of safety along 3rd Avenue, working with local officials and community groups in a process similar to what DOT has recently undertaken along Northern Boulevard in Queens.
Meanwhile, other major segments of the Brooklyn Waterfront Greenway will be prioritized by the Department of Design and Construction (DDC), with construction slated to start on segments of 3rd Avenue and Hamilton Avenue in 2020. Once the project is completed in 2022, Red Hook and Sunset Park will be connected for the first time by protected lanes. (see map below)
About the Green Wave Plan's Protected Bike Lane Vision
To implement the Green Wave plan, announced by Mayor de Blasio two weeks ago, New York City has committed $58.4 million in new funding over the next five years, with 80 additional new staff. As part of that commitment, DOT will:
Build 30 miles of protected bicycle lane annually, guided by a vision document. By the end of 2021, DOT will install over 80 miles of protected lanes. These projects are currently in various stages of planning and design.

Continue to build critical bike infrastructure in the 10 Brooklyn and Queens community boards identified as Bike Priority Districts in our Safer Cycling report, which together represent 16% of community boards and 14% of the bike lane network – yet have 23% percent of all NYC's bicycle fatalities. DOT has committed to build 75 miles of bicycle infrastructure in these districts by 2022.

Spur increase in cycling mode share for safety and emissions reduction, furthering OneNYC 2050 goal that 1 out of every 10 trips in NYC be taken by bicycle.
"A protected bike lane from Sunset Park to downtown Brooklyn is a welcome addition to our transportation network," said Assembly Assistant Speaker Felix Ortiz. "Cyclists will be able to ride in a safe environment. I want to remind everyone that traffic laws must be obeyed at all times. Safety is always our top concern."
"Dedicated, protected space on the street is the best way to keep people safe while biking. We're grateful to Council Member Menchaca and the Department of Transportation for expediting the extension of the protected bike lanes on 4th Avenue, a corridor where there is a clear need for a safe right of way for New Yorkers who travel on two wheels," said Transportation Alternatives Deputy Director Marco Conner.
"We're heartened by the news that the Department of Transportation will complete work this year on the 4th Avenue protected bike lanes from 15th Street all the way to 60th Street, connecting the existing segments between 1st and 15th Streets and 60th and 64th Streets," said Eric McClure, Executive Director of StreetsPAC. "4th Avenue will fill a major gap in the city's network of protected bike lanes, and this project will greatly improve safety not only for people cycling, but those walking and driving along 4th Avenue, as well. We're especially grateful to Council Member Carlos Menchaca for his relentless advocacy, both in pushing to have this section completed in 2019, and for refusing to settle for anything less than fully parking-protected bike lanes along the length of 4th Avenue. We urge NYCDOT to move quickly to finish the remaining segment between 1st Street and Atlantic Avenue as soon as possible, and to extend a protected route to the Brooklyn and Manhattan Bridges, and south into Bay Ridge, as well."
About Vision Zero: In 2014, New York City became the first city in the United States to implement Vision Zero. Through a combination of enforcement, education and engineering, New York City made dramatic changes that have helped drive down fatalities for five consecutive years, bucking national trends. To maintain progress, since the beginning of 2019, New York City has released Vision Zero Year 5 Report, as well as a major update to its Pedestrian Safety Action Plans.
For more information about the de Blasio Administration's Vision Zero initiative, please see www.nyc.gov/visionzero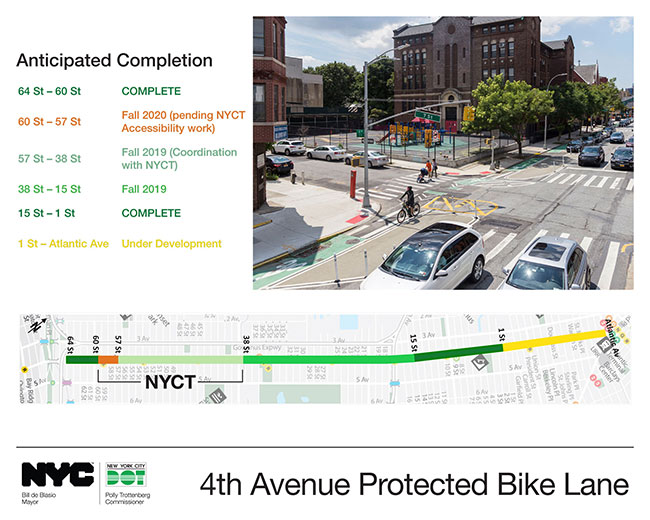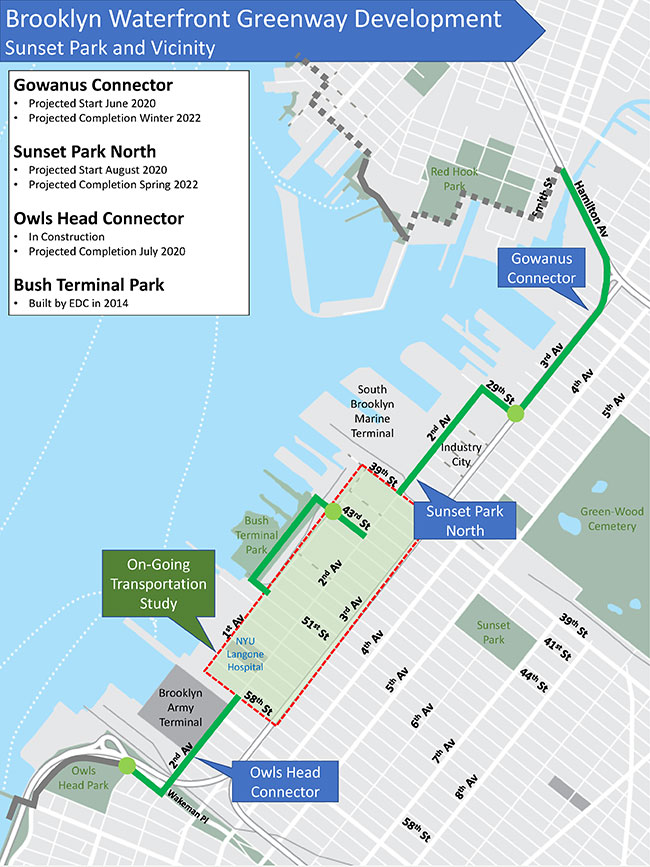 —30—