FOR IMMEDIATE RELEASE
Press Release #19-039
Tuesday, July 23, 2019
Contact: Scott Gastel/Alana Morales (212) 839-4850
NYC DOT Announces 12th Annual "Summer Streets" Along Park Avenue, Connecting Streets from Central Park to Brooklyn Bridge
Seven miles of car-free streets on three August Saturdays will include returning favorites, as well as new activities
The New York City Department of Transportation today announced its twelfth annual Summer Streets, taking place on Saturdays August 3rd, 10th and 17th from 7 a.m. to 1 p.m. along Park Avenue, Lafayette and Centre Streets from Central Park to the Brooklyn Bridge. DOT will once again curate an expanded roster of fun and free activities along the route.
"Offering miles of fun, family-friendly and free activities, Summer Streets has become one of the great traditions of a New York City summer" said DOT Commissioner Polly Trottenberg. "Summer Streets' activations allow New Yorkers to see their streets in new and exciting ways. We encourage everyone to get out this year – and enjoy three weekends of Park Avenue blissfully free of cars and traffic."
Since 2008, the New York City Department of Transportation has presented Summer Streets along nearly seven miles of streets made accessible to the public for outdoor recreation – walking, running, cycling and playing, in addition to many free activities for all ages. Last year, 300,000 people attended Summer Streets. The theme for 2019 is Freedom! Whether that means getting in a great workout, hearing your favorite instrument, eating a delicious meal, learning a new skill, or simply enjoying a bike ride, this year's programming explores the theme by offering the public free and unrestricted options to explore a car-free Park Avenue.
Fitting with this year's theme, DOT is calling on Summer Streets participants to join physical therapist and creator of the LYT Yoga method, Lara Heimann, in an attempt to beat the current standing world record for the most people executing a handstand simultaneously. The attempt will happen at the Foley Square rest stop during the first weekend of Summer Streets. The current record is 399 people. Lara's LYT method emphasizes smart alignment, functional movement, and spiritual wellness. To help break the world record, please register here.
Additional Summer Streets 2019 activities and programming will include:
Uptown Rest Stop: Children's Corner
Arts & Cultural Workshops: A variety of fun and interactive workshops geared towards children ages 2 and up will be presented within the DOT Arts and Cultural Hub at Rudin Plaza. Visit with some of the City's most coveted cultural institutions, such as El Museo del Barrio, The Asia Society, New York Botanical Garden, The Japan Society, The International Center of Photography, The Africa Center, and the Children's Museum of the Arts and many more for arts and crafts.
Performance Stage: A diverse spread of musical, theatrical and dance performances, which include: the NYC Kids Project, Robert Anderson Band, Afro Brazil Arts, Calpulli Dance and Wildlife Theater.
Kid Fitness Zone: Returning to the Uptown Rest Stop this year is the Kid Fitness Zone. Designed for children ages 2 and up, active programming will include Parkour with The Movement Creative, an urban obstacle course hosted by Pop Fit Kids, and workouts with NYC Parks Fitness Play Mobile.
I LOVE NY Mobile Visitor's Center: If you are itching to escape the NYC heat, visit the I LOVE NY Mobile Visitor's Center on August 3rd to find the perfect NY State destination based on your interests. Also, participate in a virtual reality experience or play trivia to win fun NY-centric prizes.
DOT Safety Zone: Visit the always popular Safety Zone to learn about Shared Streets and experience Truck's Eye View, in which children and adults can climb into a parked truck to experience a truck driver's perspective on the roadway. New this year, DSNY will present one of their recently painted Trucks of Art as part of the Truck's Eye View activity. DOT participating units include Adopt-A-Highway, Sidewalks, and Pedestrian Ramps.
Bike Programming: Transportation Alternatives will offer free bike valet and Unlimited Biking will offer free bike rentals.
Midtown Rest Stop: City Picnic
Food and Beverage Sampling Zone: Stop by the City Picnic's Food & Beverage Sampling Zone on 25th Street for yummy treats and refreshing beverages. Grab free samples from vendors throughout the day. Vendors include Bowery Farming, Cabot Creamery Co-Operative, Chameleon Cold Brew, GoGo SqueeZ, Hubert's Lemonade Kevita, Lenny & Larry's, MadeGood, Nuun and Sweet Leaf Tea.
Performance Stage: Listen to a diverse array of musical performances from acts such as the Jaliya Kafo Ensemble, The Blue Dhalia, Cover Story, Aubrey Haddard, John James Band and the Baby Soda Jazz Band.
Bike Programming: Unlimited Biking will offer free bike rentals; The Five Borough Bicycle Club will offer free bike repairs; Transportation Alternatives will provide free bike valet; and DOT will host a free helmet fitting workshop. Citi Bike is inviting everyone to dance alongside their famous DJ bike train, cool down with some refreshments or play Citi Bike trivia for fun swag. Citi Bike Ambassadors will be available to answer questions, show the public how to ride and offer discount memberships to new customers.
Astor Place Rest Stop: Dance Festival
Summer Streets Dance Festival: For the first time in Summer Streets' history, DOT Art & Event Programming is curating a dance festival at the Astor Place Rest Stop in partnership with local dance companies to bring the theatre out onto the street making dance accessible to all. Dance companies include Accent Dance Ariel Rivka Dance, Artichoke Dance, Ballets with a Twist, Buglisi Dance, Brooklyn Ballet, Gleich Dances, Heidi Latsky Dance, Jody Oberfelder Projects, Michiyaya Dance, Teresa Fellion Dance and XAOC Contemporary Ballet.
Clif Kids Bicycle Playground: CLIF Kids invites children under 12 to enjoy a fun, free flowing 2-wheel experience in the CLIF KIDS Bicycle Playground. The 'Playground' will have easy to navigate features and tunnels and will allow young riders to work on their bike handling skills in a unique, playful space. And of course, to fuel all this fun, CLIF Kids will be sampling their latest Z-Bar Filled flavors (as well as nut free product options).
Gazillion Bubble Show's Bubble Garden: (4th Avenue between 8th Street and 9th Street) GAZILLION BUBBLE SHOW is Unlike Anything You Have Ever Seen Before! The most incredibubble show in the world! Bubble lovers of all ages are delighted with an unbubblievable experience, awashed with a bubble tide, and perhaps even find themselves inside a bubble. Mind-blowing bubble magic, spectacular laser lighting effects and momentary soapy masterpieces will make you smile, laugh, and feel like a kid again. You have to experience it to bubblieve it! Experience the Gazillion Bubble show's exclusive interactive Bubble Garden. Join the fun by making bubbles of all sizes and learning new bubble tricks that will amaze and dazzle you!
DOT Hand-Cycle Activation: Participants will be able to test a high profile prototype hand-cycle model, which allows for easy transfers between a wheelchair and the hand-cycle. People of all abilities are encouraged to join and take a hand-cycle for a ride. Tell us what you think! Your comments will help NYCDOT with the possible development of a citywide hand-cycling initiative in the near future.
Beverage Sampling: Kitu Coffee and Nuun will offer free samples
SoHo Rest Stop: Fitness Zone
The Body Shop: Summer Skin Oasis: Global beauty brand The Body Shop will be providing Summer Streets attendees with the chance to cool down. Passerby's will be gifted with samples of the brand's Body Yogurt product, and have the chance to test out SPF skincare. The Body Shop seeks to make a positive difference in the world by offering high-quality, naturally-inspires skincare, hair care and make-up producer ethically and sustainable – and was the brand to pioneer the philosophy that business can be a force for good."
Fitness Class Stage: Come meditate, stretch, jump, kick and get your heart rate up at free fitness classes hosted by Pop Up Yoga, WRKNYC, and Athleta and DJ Got Me Fit.
NYPD Rock Wall: Join NYPD and challenge yourself to scale a 27-foot tall rock wall. Rock Wall is first come, first served but participants must register in advance on site and should arrive before 7 am to secure a timeslot.
Dog Park & Agility Course: Bring your furry friends to the Paws and Play Dog Park for a chance to make new friends and play with fellow dogs of New York! Dogs are invited to roll around on a grassy knoll, splash around in small pools, and test their skills in an agility course hosted by Martial Arts. Other partners include: Animal Care Centers of NYC, Animal Haven Shelter, and Best Friends Society.
Doggie Dental Exams: New this year, members of the Animal Medical Center's Dentistry team will be on-site to provide dental health information and do quick, free dental exams for dogs.
Foley Square Rest Stop: Sports Zone
World Record Attempt: Physical Therapist and creator of the LYT Yoga method, Lara Heimann invites Summer Streets participants to join her in attempting to reach a Guinness World Record for most people executing a handstand during the first weekend of Summer Streets.
Zip Line: Sponsored by Metro by T-Mobile, the popular 165 foot long, 30 foot high zipline returns to Summer Streets. Soar down Centre Street and catch a bird's-eye view of NYC. New this year, Metro by T-Mobile is capturing footage of your Zipline moment to be shared across social media with all of your friends!
Football Activation – Dunkin' is a leading sponsor of the Sports Zone at Summer Streets and will be hosting an interactive football experience, so come on down and test out your abilities. Participants can also try free samples of Dunkin's new Hershey's Cookies 'n' Creme and Heath Iced Coffee Flavors.
Adaptive Basketball: The Wheelchair Sports Federation invites the public to participate in training sessions and live games or watch an exhibition of practicing adaptive basketball teams. Able bodied individuals are also invited to participate in the sessions with loaner wheelchairs available to the public.
NY Knicks Free Throw Contest: On August 10th, the New York Knicks will have their brand ambassadors and clinicians on hand to run basketball free throw contests and give out prizes
Inline Skate Rentals: Go! Sports USA, who has hosted programming every year at Summer Streets, returns again to provide free skate rentals and a "learn to skate" clinics at its Skate Station
Pop-Up Performances: Join Batingua Arts, the Bryant Park Jugglers, Fogo Azul, Marching Cobras, Saung Budaya Indonesian Dance, and L Train Brass for a series of pop-up performances at Foley Square.
Bike Programming: Transportation Alternatives will be providing a free bike valet service, and Unlimited Biking will offer free bike rentals.
Walking Tours: The Municipal Art Society invites you to explore the art and architecture of Park Avenue and beyond, alongside seasoned art and architectural historians, on timed, guided walking tours. Big Onion Walking Tours will also be hosting tours exploring the diversity of New York City's neighborhoods and people. Visit the Summer Streets website to pre-register for one of these tours hosted at a number of the rest stops each weekend.
A number of City agencies will also be participating in this year's Summer Streets throughout the various rest stops – including TLC, who will be highlighting their Accessible Dispatch Program which provide wheelchair accessible taxi service in all five boroughs. Cool off with DEP's Water on the Go stations. Grab your reusable water bottle and join us at any of the five rest stops to fill up with NYC water. DSNY will also be teaching how to keep garbage from landfills, and will be giving out free reusable bags. DOT offers its thanks to The Mayor's Office of Citywide Event Coordination and Management, NYPD and FDNY for their support.
"The annual Summer Streets celebration is a wonderful way to enjoy fun, family-friendly activities and soak up the last few weeks of summer," said Congresswoman Carolyn B. Maloney. Thank you Commissioner Trottenberg and the DOT for organizing this fantastic event, and offering New Yorkers a chance to get outside and explore traffic free portions of our city by bike or by foot. I can't wait to participate!"
"Summer Streets is a wonderful event that my family and I look forward to every year. I'm grateful for all the work New York City does to reclaim our streets for pedestrians in this program every year," said Senator Brad Hoylman. "I encourage all New Yorkers to grab their bikes and helmets, visit a rest stop along the route for free activities, and enjoy three Saturdays of car-free streets right in the heart of Manhattan!"
"There's nothing like New York in the summer, and there's really nothing like seven miles of open city road. Summer Streets clears space for pedestrians, cyclists, and runners to enjoy open roads every August," said Council Member Keith Powers. "Residents in my district can join in activities including a performance stage, fitness zone, and bike programming, all offered on Park Avenue. I congratulate the DOT on another year of Summer Streets."
"Dunkin' is thrilled to help keep New Yorkers running at this year's Summer Streets. As the leading sponsor of the Sports Zone, we'll be hosting an interactive football experience and sampling our new Hershey's Cookies 'n' Creme and Heath Iced Coffee Flavors," said Cathy Chavenet, Dunkin' Brands Integrated Marketing Director, New York Region.
"I am beyond excited to be a part of Summer Streets celebration of Freedom! What better way to salute freedom than through the body," said Lara Heimann, founder of the LYT yoga method. "Doing a handstand expands what we think we can do. It empowers us on the mat, and it translates to a boldness off the mat. A handstand is the ultimate expression of freedom!"
"Summer Streets is a celebration of the best of New York -- what it feels like to have miles of streets reclaimed for walking, bicycling and running." said Ken Podziba, President and CEO of Bike New York. "We look forward to bringing our popular Learn to Ride for Kids classes directly to the streets as we continue creating the next generation of cyclists. We thank Commissioner Trottenberg and her team at DOT for their commitment to Summer Streets, and I'm looking forward to experiencing the freedom and joy of riding car-free alongside thousands of New Yorkers."
"New York City is the finest walking city in the United States. The best way to truly enjoy our city is to do so on foot. But we are usually restricted to walking on sidewalks or rushing across streets and avenues before the traffic lights flash the red "Don't Walk", said Seth Kamil President and Founder of The Big Onion Walking Tours. "The Summer Streets program is a wonderful opportunity to not only enjoy part of Manhattan vehicle free, but affords us the time to see the surrounding area from a rarely offered perspective - from the pavement usually reserved for the automobile."
"Animal Medical Center's Usdan Institute for Animal Health Education is so proud to participate in Summer Streets NYC 2019, and at the Dog Zone area, we will provide free doggie dental exams by our dentistry staff, free dental health food samples donated by Hill's, and a chance to talk with members of our team about your pet's dental health," said Jaclyn Skidmore, Director, Usdan Institute for Animal Health Education at AMC.
"For 35 years, Best Friends Animal Society has been a nation-wide leading organization in the animal rights movement focused on ending the killing of dogs and cats in America's shelters. As of two years ago, we have established our presence in the northeast by opening a Lifesaving Center right here in SoHo, but there are still plenty of New Yorkers who don't even know where we are or what we do," said Amy Gravel, Marketing Specialist for Best Friends Animal Society. "That's why we're participating in this year's Summer Streets, because it's been the best way to interact with the public in NYC for 12 years. Come visit us at the Dog Zone on opening day, August 3rd —four-legged friends invited. We will have giveaways and information on all the ways that you can get involved with Best Friends right here in the city."
"Ballets with a Twist has toured Cocktail Hour: The Show, our signature production, throughout the country, but it's always a treat to perform in our hometown — especially when it allows us to collaborate with other NYC artists," said Marilyn Klaus, Artistic Director for Ballets with a Twist. This time, Brooklyn's L Train Brass Brand will lend its groovy sound to several of our pieces, all of which feature original choreography, music, and costume design. We're so thrilled to be a part of Summer Streets!
"Summer Streets is an iconic event that brings together both the international and local community. Unlimited Biking is excited to be participating in this year's event to help promote a car-free and eco-friendly means of riding around for visitors to enjoy for free," said Hakan Ugdur CEO for Unlimited Biking. "We encourage everyone to come out and take a bike to enjoy all the activities! We thank Mayor de Blasio and Commissioner Trottenberg for championing this cause."
"El Museo del Barrio is excited to participate, once again, in Summer Streets. As a community museum it is important for us to deepen our relationship with local residents and encourage everyone to learn more about Latinx art and culture," said Ana Chireno, Director of Government and Community Affairs of El Museo.
For more information about Summer Streets, including a route map and street closure information, please visit www.nyc.gov/dot or www.nyc.gov/summerstreets. A full list of this year's programming can be found here.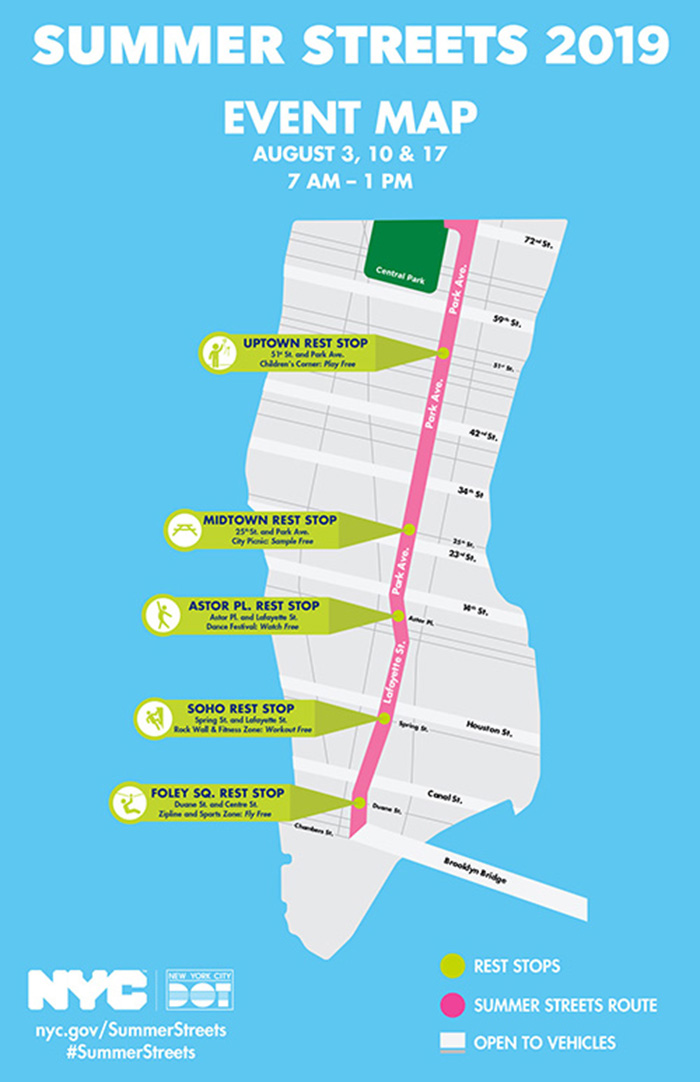 —30—