IMMEDIATE RELEASE
Press Release #18-059
Tuesday, November 20, 2018
Scott Gastel/Brian Zumhagen (212) 839-4850

NYC DOT Announces Success of Select Bus Service Along Woodhaven and Cross Bay Boulevards
One year since the addition of Select Bus Service, Woodhaven and Cross Bay Boulevards have been transformed: freshly paved with new high-visibility crosswalks, expanded medians and dedicated bus lanes; Q52/53 SBS status report shows that over last year, bus reliability and travel times have improved by 9-10%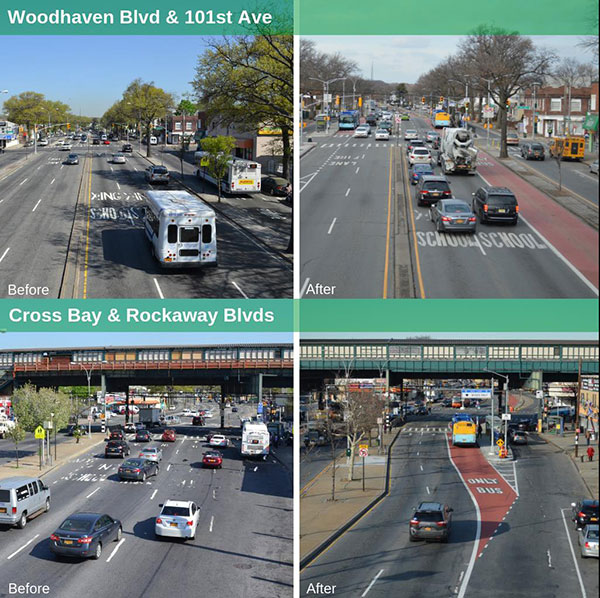 The New York City Department of Transportation (NYC DOT) today announced that one year since the introduction of Select Bus Service, Woodhaven and Cross Bay Boulevards had been transformed. A new
status report (pdf)
finds that travel times have improved by 9-10 percent, with ridership and customer satisfaction also rising since Q52/Q53 SBS routes launched on November 12th, 2017, bringing improvements like off-board fare payment, median stations and all-door boarding to more than 30,000 daily bus riders from Woodside to the Rockaways. Meanwhile, with the addition of safety enhancements, crashes resulting in injuries have declined by 6 percent.
"On the first anniversary of the rollout of SBS on the Q52 and Q53 lines, we can take pride in the fact that Woodhaven and Cross Bay Boulevards have truly been transformed," said DOT Commissioner Polly Trottenberg. "This project was a massive group effort by staff at DOT – as the project combined innovative planning and engineering with extensive repaving, street marking, expanded sidewalk and median work, which have together made buses faster and more reliable. While we were also relieved to see that overall traffic injuries have declined, two recent pedestrian fatalities along Woodhaven prove just how much more Vision Zero work we have to do to make this crash-prone street safer."
"This new SBS line has brought major benefits to our customers, our bus operators, and the communities through which we travel," said Darryl Irick, President, MTA Bus Company. "When buses can move with fewer impediments, trips end up being safer and more reliable. That's an absolute victory for all parties. I'm pleased that our partnership with the city on this route is already reaping significant benefits and look forward to continuing our work together."
In the last year, Woodhaven and Cross Bay Boulevards saw the following improvements:
Faster and More Reliable Travel Times: Because of reductions in travel times and bus bunching, 87% of riders surveyed say they prefer the Q52/Q53 SBS to the service it replaced, and average weekday ridership is up 5-8%. Corridor-wide transit signal priority and other changes to signals, markings and concrete work are all expected to improve travel times further. According to DOT data, travel times for other vehicles along the corridor stayed the same or only declined modestly (by ~1 percent).
Design Changes:The project improves the flow of buses and other traffic with design features including:
The repaving of much of Woodhaven Boulevard in 2017 and 2018.
New red dedicated bus lanes that eliminate slowdowns caused by vehicles parking and making right turns.
New, rebuilt wider medians with new bus shelters that create more and safer pedestrian space.
Longer turn bays that keep through lanes clear.
New slip lanes that allow vehicles to access service roads more easily.
Offset bus lanes that preserve parking and improve bus speeds in sections with no service roads
These changes, along with bus stop consolidations, have led to significant travel time improvements on the Q52/Q53 routes.
Safety Improvements:As part of its work to make SBS faster on Woodhaven and Cross Bay Boulevards, DOT also brought traffic-calming enhancements to a Vision Zero Priory Corridor, and crashes resulting in injuries have declined on the corridor by 6 percent. Woodhaven and Cross Bay Boulevards have had among the highest crash and fatality rates in the city, with 129 people killed or seriously injured between 2012 and 2016. The improvements made for SBS -- widened medians, pedestrian refuges, sidewalk and median tip extensions, additional crossing time, and new turn restrictions – also had an impact on safety.
During this past August and September, however, two fatalities at the intersection of Woodhaven and Jamaica Avenues led DOT to further prioritize that intersection for safety improvements. Changes at the intersection over the last two months include: addition of a pedestrian head-start (also known as leading pedestrian interval, or LPI) to give additional protected crossing time; upgrades to overhead lighting to improve visibility; and installation of flexi-bollards and rubber speed bumps to calm northbound left turns. The intersection is also among the targeted locations for NYPD enforcement during the ongoing Dusk & Darkness initiative.
Continuing traffic and safety enhancements in 2018 and 2019, DOT will build more pedestrian refuges, extend left turn bays in some locations, add new slips to improve driver access between the main road and service road on Woodhaven Boulevard, and make additional transit improvements along Broadway. Future capital phases of the project will add additional bus bulbs, medians and median tip and sidewalk extensions, street resurfacing and some street reconstruction.
About Select Bus Service
Select Bus Service (SBS) is New York City's brand name for bus rapid transit: an improved bus service that offers fast, frequent, and reliable service on high-ridership bus routes. As of October 1st, 2018, there are 18 Select Bus Service routes on 16 corridors serving all 5 boroughs, including the Q52/Q53 SBS.
"The improvement in bus service along Woodhaven and Cross Bay Boulevards is a direct result of changes such as off-board fare collection, bus lanes, transit signal priority and pedestrian crosswalks and medians," said MTA Board Member Veronica Vanterpool. "We've seen how these improvements have improved travel times and pedestrian safety along 18 SBS citywide routes to-date showing that transit investments also deliver safety benefits for pedestrians and help NYC meet its Vision Zero goals. Next, we need NYS leaders to expand bus lane camera enforcement so that we can multiply the travel benefits in this corridor."
"Thirty thousand daily bus riders are seeing major quality of life improvements thanks to the City's bold improvements to Cross Bay and Woodhaven Boulevards," said Danny Pearlstein, Policy & Communications Director of the Riders Alliance. "Dedicated bus lanes and other advances mean that bus riders can count on getting places more quickly and reliably. For riders, less time spent in transit -- and worrying about transit--means more time with family and friends, more economic and social opportunities, and a better life in a busy city."
"Dedicated lanes and all-door boarding make bus service more valuable and attractive to riders," said Tabitha Decker, deputy director of TransitCenter. "Bus riders need these improvements throughout the city."
"Faster buses, higher ridership, lower fatalities -- and all with no change to regular traffic speeds; this is a great example of how smart planning can mean safer, more efficient roads for everyone," said Nick Sifuentes, Executive Director of Tri-State Transportation Campaign. "We applaud the Department of Transportation and Mayor de Blasio for their leadership along Woodhaven and Cross Bay Boulevards, and we look forward to continued improvements to bus service citywide."
—30—