IMMEDIATE RELEASE
Press Release #18-020
Monday, April 9, 2018
Scott Gastel/Alana Morales (212) 839-4850

NYC DOT and Council Transportation Chair Rodriguez Announce Programming for Upcoming Car Free Day on April 21, 2018
Two miles of Broadway and St. Nicholas Avenue in Manhattan will only be open to pedestrians and cyclists; DOT will also continue its Weekend Walks car-free programming and additional car-free events in Downtown Brooklyn
Standing in Times Square, New York City Department of Transportation (DOT) Commissioner Polly Trottenberg and New York City Council Transportation Committee Chair Ydanis Rodriguez today announced programming for this year's upcoming Car Free Earth Day -- on Saturday, April 21st. Launched for the first time in 2016, Car Free Day will open two miles of streets to pedestrian and bicycle traffic only -- including Broadway from Union Square to Times Square and along St. Nicholas Avenue in Washington Heights.
"NYC DOT is proud to partner with Chair Ydanis Rodriguez to bring Car Free Day to Broadway and St. Nicholas Avenue for a third year this April," said NYC DOT Commissioner Polly Trottenberg. "By making 30 blocks on Broadway, and another nine on Saint Nicholas Avenue car free, we are giving the streets back to pedestrians and cyclists. The abundance of fun and educational programming along the way is sure to remind everyone how important sustainability and the environment is to transportation, and our city as a whole."
"If we are to change how we treat our planet, we must be bold. Car Free Day helps us reimagine how we use our streets, commute, and reduce our carbon footprint by shutting down vehicular traffic on Broadway and St. Nicholas Avenue. I invite all New Yorkers to be part of this initiative to celebrate Earth Day by not driving personal vehicles that day, and think of ways we can do our part to save the planet. We have witnessed the real impacts of climate change through natural disasters such as Hurricanes Katrina and Maria, Super Storm Sandy, snow storms, and earthquakes, among others. Let's take action now to preserve our planet for present and future generations," said Council Member Ydanis Rodriguez, chair of the Council Committee on Transportation. "New Yorkers have embraced this annual event for a third year, and I look forward to seeing it expand. I am grateful for Commissioner Trottenberg's partnership and that of her team, and the great support from Speaker Corey Johnson and my colleagues. Let's start planning for 2019!"
Chair Rodriguez launched the Car Free Day concept in 2016 as he formed a coalition of dozens of elected officials, companies, advocacy groups and institutions to support a campaign asking New Yorkers to leave their cars at home on Earth Day -- and use other viable transportation options that day. A range of sponsors and other partners are expected to join the effort this year, including Citi Bike, which will offer free one-day passes. Clear Channel Communications will provide an electronic billboard in Times Square publicizing Car Free Day. To underscore the role motorists can play on Earth Day and every day in New York to make it more sustainable, participants are expected to highlight the positive environmental effect of freeing up streets and promoting alternative modes of transportation, such as mass transit and cycling.
Car Free Day: Areas closed to vehicular traffic on Saturday, April 21st will be:
Broadway, from Union Square to Times Square from 9 am to 3 pm: Programming along Broadway will include dance performances, fitness classes, music performances, children's activities, cycling events, sustainability and environmental educational programming, and more – all in partnership with the Times Square Alliance, Garment District Alliance, 34th Street Partnership, Flatiron Partnership and Union Square Partnership.
Union Square will feature dance, yoga, and fitness classes on the hour as well as Historical and sustainability programming
At Flatiron, participants can find bike programming sponsored by Citi Bike, Bike NY, and We Bike NYC along with other outdoor recreation and environmental programming. Performance stages will feature pop-up yoga, family fitness classes, dance workshops, and performances by the Department of Youth and Community Development Youth Dance Company, Artichoke Dance Company, and a Tahitian Polynesian Dance Performance and Class. Fitness activities include free rollerblade rentals, and activations from Movement Creative Parkour. A public art installation, Broadway Bouquet, designed by Terrain Work is a 36 foot bouquet of flowers that will provide a living, breathing garden in the middle of one of the busiest spaces in the world! The National Museum of Mathematics will be bringing their exhibit "Plant the Daisy," to 26th Street, challenging participants to use the natural modes of vibration to try and plant a giant daisy stem in its pot. City Agencies will have education and information tents set up in the area as well.
Herald Square will feature a Double Dutch performance and class, a Hula Hoop class, a Sport Salsa dance class, and various fitness classes including cardio, dance fitness, boot camp, and Iron Strength. Columbia University's Earth Institute will be hosting an "Ice Detectives" workshop that uses snowflakes to better understand the planet and "Map My Emissions" to help people understand the climate impacts of their transportation choices. Music performances will also be featured every hour on the hour.
The Mayor's Office of Sustainability, in partnership with DOT, the Garment District Alliance, Building Energy Exchange, NY Passive House and the Belgium Consulate will host an Ice Box Challenge in the Garment District – a public science demonstration that invites the public to discover the benefits of hyper efficient buildings. There will be also be an environmental public art installation by Isabelle Garbani – who will make knitted planters and sculptures from recycled objects
In Times Square, Loudest Yeller will provide free bike tours, and Project Dance will hold an all-day dance festival. Various musical performances will also happen every hour, on the hour, in the Times Square Plaza.
In partnership with Mastercard, Citi Bike will offer free day passes to all on Car Free Earth Day. Individuals can visit http://www.citibikenyc.com/carfreeday for more information on how to obtain their free rides, or they can download and visit the Citi Bike app on Car Free Earth Day, April 21st.
St. Nicholas Avenue from 181st Street to 190th Street from 10 am to 4 pm: St. Nicholas Avenue will be similarly open for the public to enjoy activities provided by the Washington Heights Business Improvement District.
FDNY will bring a fire truck to 181st Street that participants can takes turns going inside.
The main performance stage in front of Lucky 7, between 182nd and 183rd Street, will feature local and international acts. Kicking off the day with Dance project Washington Heights, followed by Jazz Power and other culturally rich acts. From 2pm on, the stage will be filled with acts such as Roy Tavares, J Aguabuena, and closing out the day will be Dominican merengue singer, Rubby Perez.
At 182nd Street, you can bring an outgrown children's bike and swap it for the correct size, while also receiving a brand new helmet, courtesy of DOT and Bike NY, who will also be offering free learn to ride bike lessons.
Take part in physical activity, training with New York Road Runners, The Armory, Street Soccer USA, Row New York and other groups offering different sports throughout the day. Take a tour of Highbridge Park with New York Restoration Project. Dance the day away with La Mega and their zumba classes at 190th St.
Join Children's Museum of Arts New York, Morris Jumel Mansion, Sugar Hill Children's Museum and other cultural institutions. Reimagine NYC streets, and relax in the pedestrian Plaza, while enjoying some of our dance or Brazilian Drumming workshops.
Take a tour of the BioBus and let your inner scientist come out. Enjoy robotics shows by local schools, or follow the march of Brazilian Drum Band Fogo Azul as they parade through the day. Local elected officials and city agencies will also join to provide details on accessing opportunities.
Enjoy a show by Carnegie Hall or a puppet show with Repertorio Español and Society of Educational Arts on the United Healthcare stage between 186th and 187th Streets.
Uptown, will offer the culture and magic you have come to expect from Washington Heights. And for just one day, we will reimagine the community, as a car free community.
"Give New Yorkers a place to gather and they'll turn it into a dance floor, a science lab, an art studio, and a concert hall, all in one," said Cultural Affairs Commissioner Tom Finkelpearl. "I applaud Chair Rodriguez and Commissioner Trottenberg on the third consecutive year of this exciting effort to make our city greener and healthier, and to open up these central spaces to everyone for an amazing range of social and cultural engagement."
"Car Free Earth Day gives our pedestrians and cyclists an opportunity to enjoy New York City streets in a safe and fun way, as well as promotes the sustainability of our planet," said Health Commissioner Mary T. Bassett.. "Thanks to the New York City Department of Transportation and Council Member Rodriguez for launching this great event."
"I would like to thank NYC Department of Transportation and Councilman Rodriguez for putting together the annual Car Free Earth Day. It is important that we spend Earth Day promoting sustainability and the environment," said State Senator Marisol Alcantara. "By closing down close to 40 blocks around the island of Manhattan for fun and educational programming, we demonstrate our commitment to cleaner and healthier future."
"One of the best things about Earth Day in New York City is the chance it gives New Yorkers to envision a healthier and more livable city. I welcome the return of a car-free Broadway stretching from Union Square to Times Square in my Assembly District, and hope it encourages more of us to imagine a future less reliant on automobiles," said Assembly Member Richard N. Gottfried of Manhattan, Chair of the Assembly Committee on Health.
"Car free day continues to create awareness and promotes the sustainability of our environment. This is another step forward that encourages our people to consider other transportation alternatives that are safe for our planet earth. I commend Councilmember Rodriguez for extending this initiative to Northern Manhattan. The resources along with the valuable information, entertainment, and educational component these street closings offer are noteworthy to be continued and expanded every year," said Assemblywoman Carmen De La Rosa.
"Car Free Day is a fun and environmentally-friendly way to encourage New Yorkers to get out and enjoy their city," said Council Member Daniel Dromm. "This event gives pedestrians and cyclists an opportunity to traverse our city streets without vehicular traffic. It helps foster a greener, safer and more sustainable New York City. I join the NYC DOT and NYC Council Transportation Chair Rodriguez in celebrating another year of this exciting program."
"As one of the major global cities that lead the way for sustainable and progressive practices, we must continue to be an example for change that will protect our environment for future generations. I am proud that this event happens in my district and gives New Yorkers a perspective on what is possible," said Councilwoman Carlina Rivera.
"Since it was first celebrated nearly fifty years ago, Earth Day has served to highlight distinct challenges to the preservation of our planet," said Council Member I. Daneek Miller." "Car Free Earth Day is a concept unique to New York City as a densely populated metropolis trending away from its dependence on fossil fuels in favor of clean energy sources and transportation modes. This occasion particularly resonates with my Southeast Queens constituents who routinely endure climate change induced flood damage from elevated levels of precipitation. So, I want to applaud Department of Transportation Commissioner Trottenberg and my colleague Council Member Rodriguez for their ongoing commitment towards promoting the benefits of a greener and more sustainable New York City."
"Car Free Earth Day reinforces New Yorkers' commitment to a cleaner, greener city, and shows the possibilities of one with no traffic. As streets are opened up to pedestrians and cyclists across my district and others, I commend the Department of Transportation and Council Member Rodriguez for advocating for environmentally friendly transportation." said Council Member Keith Powers
Council Member Costa Constantinides said, "I look forward to enjoying Car Free Day and Weekend Walks at Astoria Park in honor of Earth Day this year. We will enjoy spending time on the street and our waterfront, while promoting sustainable habits and community togetherness. As chair of the Council's Environmental Protection Committee, I am proud to encourage environmentally-friendly habits in our neighborhood and across the city in honor of Earth Day. Thank you to DOT Commissioner Trottenberg and our community partners for leading this effort."
"Car Free NYC is an opportunity not only to show our commitment to sustainable transportation, but it's also a chance to stand up and declare that New York City streets are streets for people,&rdsuo; said Paul Steely White, Executive Director of Transportation Alternatives. "We're grateful to Council Member Rodriguez and the Department of Transportation for joining the movement to reclaim our streets for walking, biking and transit, and we look forward to helping turn demonstrations like these into permanent solutions."
"We are thrilled to be working with DOT and all the other NYC agencies and nonprofits promoting a Car Free Earth Day and an environmentally friendly City. At Materials for the Arts, every day is Earth Day. For forty years we have been helping New Yorkers learn how to creatively reuse materials and keep them out of the landfill," said Harriet Taub, Executive Director of Materials for the Arts. "Last year, almost two million pounds of valuable items were repurposed by NYC school children and members of the arts community."
"Times Square is both the city's busiest subway hub and pedestrian space, so it is appropriate to celebrate here incremental steps we can all take to make the planet greener by supporting public transit and pedestrian improvements," said Tim Tompkins, President of the Times Square Alliance.
"The city's pedestrianization of Broadway has been a success story for retail activity, pedestrian safety, and air quality," said Dan Biederman, President of the 34th Street Partnership. "Our district is pleased to participate in this Earth Day expression of the program."
"The Garment District Alliance applauds the efforts of NYC and DOT to heighten the awareness of Earth Day, allowing us to envision a world with fewer cars and less waste. We are happy to participate and look to leadership to pass legislation that will move our city to the forefront of conservation efforts. These Earth Day initiatives are great reminders that our local elected officials must do more to embrace a smart city of the future that supports sustainable greener living for all of its citizens," said Barbara A. Blair, President of the Garment District Alliance.
"For the tens of thousands of people who ride Citi Bike daily, every day can be car-free," said Kris Sandor, Citi Bike General Manager. "We are thrilled to bring Citi Bike to even more people with free passes on Car Free Earth Day. With nearly 30 blocks of Broadway open for cyclists and pedestrians, there's no better day to try out one of the most fun, healthy, and eco-friendly ways to get around town."
"Almost 10 years ago New York City closed Times Square to motorized traffic. Visitors and New Yorkers now fill spaces once occupied by congested auto traffic. The ban created new opportunities for small businesses, and property values have risen. Car Free Day is an excellent opportunity to show the benefits of opening even more streets to pedestrians and cyclists. The NYC DOT and Council Transportation Chair Rodriguez are showing their commitment to providing a sustainable urban environment for all New Yorkers," said Elliott Sclar, Professor Emeritus of Urban Planning and Director of the Center for Sustainable Urban Development at the Earth Institute, Columbia University.
"Row New York is excited to participate in Car Free Day. As an organization dedicated to uplifting and educating the next generation, we are happy to be a part of such an impactful event that engages our kids," said Amanda Kraus, Executive Director and Founder, Row New York. "We commend Commissioner Trottenberg and Council Member Rodriguez for championing an event that allows our community to activate our streets, learn about sustainability, and promote healthy habits."
"I am excited to work with my students from the West Nottingham Academy in Maryland on this interactive sculpture and workshops for Car Free Day," said artist Isabelle Garbani. "Through this artwork, we hope to demonstrate the importance of the Zero Waste Challenge, and help visualize how much waste we, as humans, can generate in a day."
"The Broadway Bouquet takes one of the most familiar and portable landscapes found on countless street corners in Manhattan and turns it into a larger than life experience, which is quintessentially New York," said Theodore Hoerr, Founding Principal of Terrain Work. "The artwork captures the scale-bending qualities of the city while giving people a glimpse of how introducing plants in new civic spaces can spark the imagination."
Weekend Walks: DOT's 11th annual season of Weekend Walks continues on Car Free Earth Day in Elmhurst, Queens. Weekend Walks are car free events where community based organizations apply to close multiple blocks of a commercial street and provide active programing that promotes walking, cycling and local businesses. Weekend Walks are planned for more than 60 different locations throughout the five boroughs from April to December, starting with the Songkran Weekend Walks on April 21, and again on April 28, 2018 located at Woodside Avenue from 75th to 77th Street in Elmhurst, Queens.
Outer-Borough Car-Free Events: Downtown Brooklyn Partnership launces their 2018 Downtown Brooklyn Presents event series at Albee Square and Albee Square West. Starting at 1 pm. During this car-free event, the environmentally-friendly troupe from Bash the Trash will perform music, help kids construct instruments from recycled products, and then lead a parade. This is followed by an all-ages dance class led by the Dodge Y with beats by DJ Mike.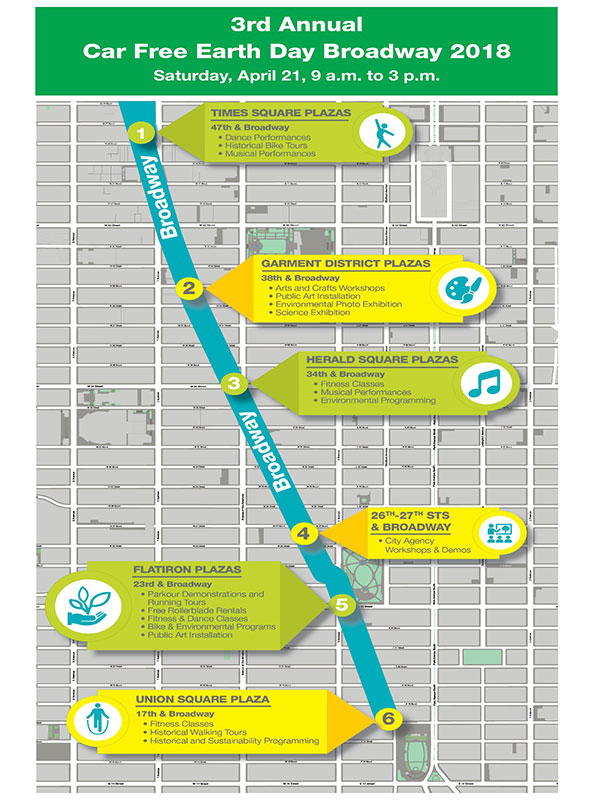 —30—