FOR IMMEDIATE RELEASE
Press Release #17-080
December 19, 2017
Scott Gastel/Brian Zumhagen (212) 839-4850
At Williamsburg Bridge, DOT Hails Unprecedented Expansion of Protected Bike Lanes Citywide This Year
Twenty five lane miles in 2017 exceeds last year's record; Dramatic improvements around Williamsburg Bridge will aid in the expected doubling in cycling volume during the L Train closure in 2019
New York City Transportation Commissioner Polly Trottenberg today announced that DOT would finish 2017 with a record 25 miles of new protected bike lanes. Riding a Citi Bike, the Commissioner was joined near the Williamsburg Bridge by elected officials and advocates, who hailed the additional mileage within New York City's growing 1,190-mile bicycle network.  The changes this year include new protected lanes that will help in the movement of L train riders, displaced by the L Train's Canarsie Tunnel closure in April 2019 – when DOT anticipates daily bike volume over the Williamsburg Bridge will at least double.
"My helmet is off to the DOT planning and construction crews that have this year shattered records with 25 miles of new protected bike lanes, part of the largest bicycle network in North America," said DOT Commissioner Polly Trottenberg. "Twenty years ago, the city took a big step forward with its first plan to build a bike lane network, and cycling is now growing by orders of magnitude, faster than any other mode of transportation in the city. As we noted last week when we joined the MTA to unveil our plans for the L train closure, these terrific improvements around the Williamsburg Bridge will do a lot to address the even greater surge of cycling we expect to see then."
The Commissioner noted that the de Blasio Administration had committed to double cycling Citywide by 2020, and cited other highlights around bike lanes this year:
The 25 miles constructed this year exceeded the previous one-year record of 18 miles set in 2016 by 38%.
DOT also added more dedicated mileage (65 miles of conventional lanes and protected) than ever before, with two-thirds of that mileage outside Manhattan, providing safe routes to schools, parks, shops, restaurants and other neighborhood destinations.
In Midtown Manhattan -- the center of commerce in New York City – cycling has increased 40% since 2013. In 2017, DOT continued to build out a strong protected bike network in the central business district, with almost three miles of new lanes along Second, Fifth and Seventh Avenues.
Outside Manhattan, DOT listened closely to community groups, and worked alongside sister agencies such as Parks, and DOT built new protected bicycle lanes in new parts of the City, including along 111th Street in Queens and Gerritsen Avenue in Brooklyn. DOT also completed the third phase of the transformation of Queens Boulevard, which has now gone more than three years without a pedestrian or cyclist fatality.
Other new lanes completed this year around the City include those along Classon Avenue and Loring Ave in Brooklyn, Monsignor Del Valle Square in the Bronx, Van Duzer Street, Targee Street and St Paul's Avenue on Staten Island, and 150th Street and Parsons Boulevard in Queens.
Even prior to the Canarsie Tunnel shutdown, the Williamsburg Bridge currently has the highest cyclist volumes of any East River crossing: 7,580 cyclists (along with close to 4,000 pedestrians on a walkway that is mostly separate from the bikeway). The project improving Williamsburg Bridge bike access from S. 4th Street and Borinquen Place repurposed underutilized space underneath the BQE on-ramp to create a new crossing for cyclists and pedestrians. Concrete barriers, used along La Guarina Playground, create dedicated bike lanes while slowing traffic along an area frequented by children.
DOT also adjusted traffic signals to create a new more inviting public space along Havemeyer Street linking neighborhoods on each side of the elevated highway, and where heavy vehicular traffic had previously dominated.  These changes complement the improvements that DOT made last year at the nearby Williamburg Plaza B44 bus terminus that benefit thousands of daily pedestrians and bus riders. 
"New bike lanes are making key streets safer across our borough, from Classon, Gerristen, and Loring Avenues to the approaches for the East River bridges," said Brooklyn Borough President Eric Adams.  "These safe street infrastructure upgrades address the impact of the impending L train shutdown as well as priority corridors where traffic and safety have been critical concerns. I look forward to additional partnership with the City in the year ahead to meet the Vision Zero demands of our borough through comprehensive street redesign and traffic-calming measures."
"DOT is to be commended for achieving a record 25 miles of additional protected bike lanes in 2017," said Council Member Helen Rosenthal.  "This represents a staunch commitment to safe, sustainable transportation, which is essential to full achievement of Vision Zero's goals. Additional protected bike lanes are encouraging the shift to cycling, and are helping New Yorkers to regain control of their streets. Congratulations to Mayor de Blasio, Commissioner Trottenberg, my colleagues on the Council and transit advocates, who have helped make this historic achievement possible."
"New Yorkers deserve a wide variety of transportation options, so I am pleased that safe biking routes are expanding," said Council Member Daniel R. Garodnick. "I look forward to seeing even more protected bike lanes in the coming years, particularly those that will help East Siders affected by the closure of the L Train to get across town."
"We commend the Department of Transportation on their installation of 25 miles of protected bike lanes in 2017 -- a 35 percent increase over the number installed last year, and more than double the number installed in 2015 -- and thank them for staying true to their commitment to double cycling's mode share by 2020," said Paul Steely White, executive director of Transportation Alternatives. "We look forward to working with the Department of Transportation not only to secure a year-over-year expansion of this life-saving infrastructure, but to ensure that one day soon every New Yorker will live within a quarter-mile of a protected bike lane."
As part of Mayor de Blasio's Vision Zero initiative to reduce traffic fatalities and serious injuries, DOT is implementing its most aggressive street redesign safety program, increased investment in street redesign and traffic-calming measures citywide. DOT has also improved the safety at a record number of dangerous intersections and thoroughfares and is installing a record number of Leading Pedestrian Intervals (LPIs) to give pedestrians a head start while crossing the street.
For more information about the de Blasio Administration's Vision Zero initiative, please see www.nyc.gov/visionzero.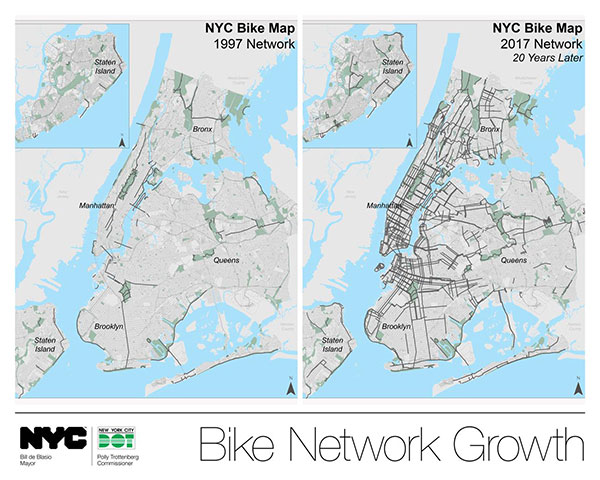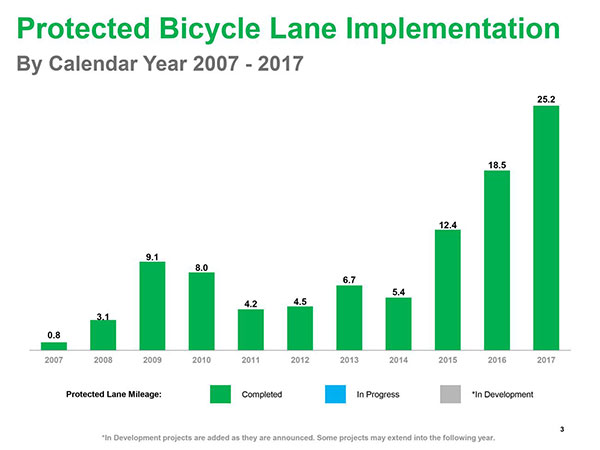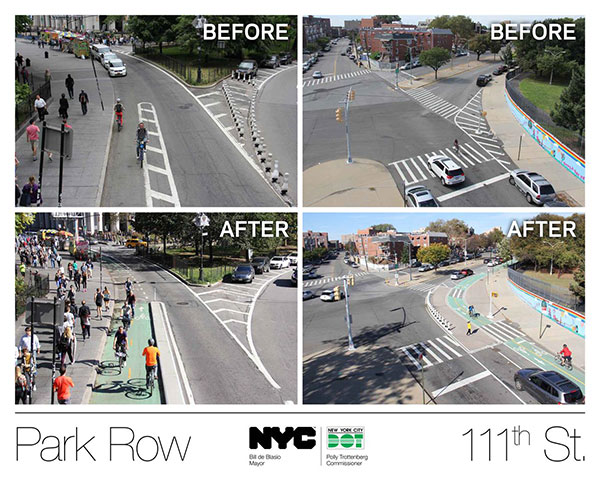 —30—