FOR IMMEDIATE RELEASE
Press Release #16-081
Wednesday, August 10, 2016
Scott Gastel/Jose Bayona (212)839-4850
NYC DOT Announces Programming for First-Ever "Shared Streets" in Lower Manhattan this Saturday, August 13th
For the first time, Lower Manhattan will be open largely to pedestrians and cyclists from 11 a.m. to 4 p.m.
Participants in Citi Summer Streets – running from Central Park to the Brooklyn Bridge that same morning – will be encouraged to "make your way downtown"
New York City Department of Transportation (NYCDOT) Commissioner Polly Trottenberg today announced programming for the inaugural "Shared Streets," scheduled for this Saturday, August 13th in Lower Manhattan from 11 a.m. to 4 p.m. – allowing pedestrians and cyclists to explore the streets of New York City's oldest neighborhood from a new perspective.
On that day, the historic streets of lower Manhattan below the southern end of Citi Summer Streets will become "Shared Streets," a 60-square-block area from the Brooklyn Bridge to Battery Park, where pedestrians, cyclists, and motorists will share streets to rediscover the history, culture, and commerce of lower Manhattan. For Shared Streets, DOT is working in partnership with the Downtown Alliance, City agencies and other organizations.
"This past Saturday, we kicked off the ninth year of our very popular Summer Streets," said DOT Commissioner Polly Trottenberg. "Next Saturday, we are excited to inaugurate Shared Streets in lower Manhattan – modeled on car-free street programs in cities around the world like Paris and Bogotá. On Saturday from 11:00 to 4:00, we will turn a 60-block neighborhood south of City Hall into a 5 mph zone, encouraging New Yorkers to rediscover the streets where New York City was born. On foot and by bike, we urge all New Yorkers and visitors to come south from Summer Streets next Saturday – to enjoy all the food, music, history, culture and activities that Lower Manhattan will offer all day."
While not strictly a car-free event, DOT and NYPD will staff vehicular traffic entry points into the Shared Streets zone – from Broadway to Water Street and from Park Row to State Street – wherein all vehicles will be encouraged to not exceed a speed of 5 mph. Large-scale car-free days have been successfully implemented in major world cities like Bogotá and Paris – and on Earth Day this past April, New York City closed several major streets to traffic, including Broadway. This will be the first time that something of this sort has been tried in a major American city.
All visitors will be encouraged to share the streets of lower Manhattan and take the time to rediscover the commerce, culture, and history in this special district. City agencies will be partnering with DOT on Shared Streets programming, including the Mayor's Office of Media and Entertainment, the Department of Cultural Affairs, and the Department of Records and Information Services.
"We are thrilled to partner with DOT for this year's Shared Streets initiative, and to bring NYC's film and TV magic to New Yorkers throughout the month of August," said Mayor's Office of Media and Entertainment Commissioner Julie Menin. "In honor of the 50th anniversary of the City's Office of Film, Theatre and Broadcasting, this year we will be facilitating free mini-walking tours highlighting iconic films 'Made in NY' along the Shared Streets route. I encourage all New Yorkers to join us at Shared Streets, for what will surely become a unique NYC summer tradition."
"Many New Yorkers wonder about the history of their City. The Municipal Archives at the Department of Records and Information Services documents our City's history in eight kiosks located around Lower Manhattan. They are filled with evocative maps, photos and documents that illustrate historical events such as the creation of the first City park at the Battery, the infamous Wall Street bombing, and ticker tape parades along the Canyon of Heroes. We are thrilled to share our treasures in the DOT's Shared Streets program," said Department of Records and Information Services Commissioner Pauline Toole.
"As we kicked off a year of car free streets on Earth Day with our first ever Car Free Day, this week we celebrate an exciting next step that will thrill New Yorkers of all ages," said Council Transportation Chair Ydanis Rodriguez. "There is so much potential in our open spaces typically occupied by gas-guzzling trucks and cars. The Shared Streets initiative will instantly open up play spaces for kids, safe travel for cyclists and an easily accessible area for all New Yorkers to gather and celebrate. This is a major advancement for New York City, thanks to Mayor de Blasio, Department of Transportation Commissioner Trottenberg and their respective teams, in creating a more livable and walkable environment for all."
"What makes Manhattan unique is its unparalleled, walkable streetscape – but it is still so often dominated by cars and traffic," said Manhattan Borough President Gale A. Brewer. "Programs that transform our streets into walkable public spaces offer a truly special opportunity to experience the city in a whole new way."
"Lower Manhattan is a local gem and an important part of New York's broader history. By allowing New Yorkers and visitors alike to explore this area on bike and foot, the 'Shared Streets' event will further boost the area, benefitting local businesses and permitting more people to experience this storied neighborhood," said Rep. Nydia M. Velázquez.
"I am proud that this Shared Street Program will connect our communities in a unique and exciting way creating more functional spaces in our street for neighbors to come together," said Assemblywomen Alice Cancel.
"With the first 'Shared Streets' event taking place this Saturday, pedestrians and cyclists will get to roam the streets where the City of New York began, and get a sense of how our forebears experienced it – without the overwhelming presence of cars and trucks," said Council Member Margaret S. Chin. "I thank Mayor de Blasio and Commissioner Trottenberg for inaugurating this experiment that I hope will be a guide for a less car-reliant City, and for their ongoing commitment to Summer Streets."
"Lower Manhattan is a special place," said Jessica Lappin, President of the Alliance for Downtown New York. "Across one square mile you can step, or bike, off the grid to explore the winding cobblestone streets of where New York began, and where it's all beginning again."
"On behalf of the residents of this neighborhood, the Financial District Neighborhood Association is thrilled by the New York City DOT's announcement of its Shared Streets program," said Patrick Kennell, President of the Financial District Neighborhood Association. "Bringing this innovative concept to our neighborhood, where tens of thousands of New Yorkers live and millions of tourists visit every year, shows DOT's forward-thinking commitment to improving the quality of life and safe enjoyment of our streets. We expect Shared Streets for Lower Manhattan to be a popular and successful event, and we are proud that our neighborhood was chosen for this exciting experience."
DOT has begun distributing a map (see below) that outlines the activities being planned for the day, including walking and biking tours, performances and other cultural programming in the neighborhood's plazas, parks, and open spaces.
Highlights of Shared Streets include: The Fife & Drums of the Old Barracks will perform drills and period performances to take visitors back to Lower Manhattan's Colonial Dutch days; competitors can compete testing their knowledge in the NYC History Trivia Quiz Game with official Manhattan Borough Historian, Michael Miscione, at City Smarts; culture NOW will provide a free map of (almost) everything that has ever happened in Lower Manhattan; at Uni DRAW, a pop-up drawing studio, aspiring artists will find high-quality art materials offered in the midst of historic buildings for your sketching pleasure, with self-guided activities created by the NMAI, the Skyscraper Museum, NYC artists, illustrators, architects and others.
For those coming from Summer Streets, who want to continue into lower Manhattan by foot, bikes can be docked at Transportation Alternatives' free bike valet at Park Row. On Park Row, Mullaly Bikepark's Strider Adventure Zone will offer activities for kids while NYC Mechanical Gardens offers multiple workshops on bicycle repair and InTandem will offer tandem bike lessons.
The Shared Streets program was first announced in June this year by Mayor de Blasio, who noted that the event builds on New York City's OneNYC's long-term plans for a strong and just New York City, which focus on growth, sustainability, resiliency and equity as core principles. OneNYC has established measurable goals for tackling these challenges in the coming years – including the construction of 80,000 affordable housing units and preservation of 120,000 affordable housing units by 2024; the targeted reduction of 800,000 New Yorkers in poverty by 2025; achievement of the best air quality of any large US city and sending zero waste to landfills by 2030; spurring more than 4.9 million jobs by 2040; lowering greenhouse gas emissions by 80 percent while withstanding and emerging stronger from the impacts of climate change by 2050.
For more information on Shared Streets 2016, please visit: http://www.nyc.gov/html/dot/summerstreets/html/sharedstreets/shared-streets.shtml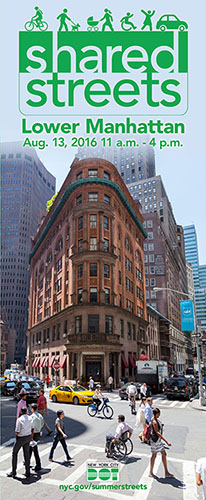 &nbsp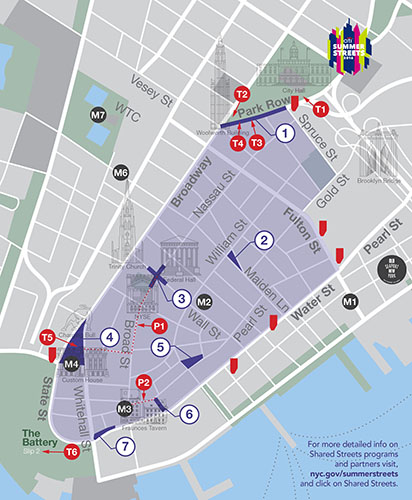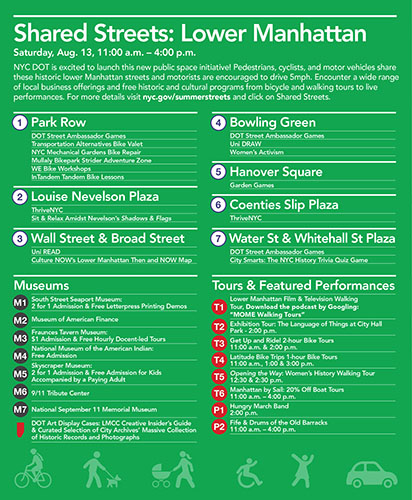 —30—