FOR IMMEDIATE RELEASE
Press Release #16-075
Monday, August 1, 2016
Contact: Scott Gastel/Jose Bayona (212) 839-4850
NYC DOT Announces Citi Summer Streets Activity Schedule
Citi Summer Streets 2016, sponsored for first time by title sponsor Citi, will take place along Park Avenue from Brooklyn Bridge to Central Park this Saturday, August 6th – and again on August 13th and 20th from 7 a.m. to 1 p.m.
Annual tradition is now in its ninth year; in 2015, more than 300,000 people enjoyed exciting free events along the route; online registration begins today for Vita Coco's Beachside Slide at Foley Square this Saturday
New York City Department of Transportation (NYCDOT) Commissioner Polly Trottenberg today announced the return of Citi Summer Streets for its ninth year. For the first time in the program's history, Summer Streets is proudly sponsored by a title sponsor, Citi. Citi Summer Streets will take place on Saturdays, August 6th, 13th and 20th from 7 a.m. to 1 p.m. along Park Avenue and Lafayette Street from the Brooklyn Bridge to Central Park.
"As we return seven miles of Manhattan streets to pedestrians and cyclists the next three weekends, New Yorkers lucky enough to be in town have a lot to look forward to at Citi Summer Streets," said Commissioner Polly Trottenberg. "I am myself excited to hop on a Citi Bike to discover the car-free street -- and also look forward to sliding down Vita Coco's Beachside Slide, grabbing a tasty snack at the Taste of Summer Sampling Zone, whizzing down the popular Zip Line or testing the agility of my dog at the Paws and Play Dog Park."
"We're excited to be the title sponsor of Citi Summer Streets and invite everyone to join this quintessentially New York event," said President of Citi U.S. Retail Banking Will Howle. "As part of Citi's 'Make It Here' campaign, experiences Uptown and Downtown will turn our streets into everyone's back yard as we celebrate New Yorkers' diverse passions and bring 'Make It Here' to life."
Since 2008, the New York City Department of Transportation has presented Citi Summer Streets along nearly seven miles, closing streets to vehicular traffic and opening them to the public for outdoor recreation – walking, running, cycling and playing, in addition to many free activities for all ages. Last year, more than 300,000 people attended Summer Streets and enjoyed hundreds of exciting free events along the route.
As in past years, scheduled activities are concentrated in five separate "rest stops" along the route: at Foley Square near the southern terminus of Summer Streets; in Soho, at Spring Street; in Noho/East Village, at Astor Place; in Midtown, at 25th Street; and Uptown at 52nd Street.
"One of the best parts of summer is back as Citi Summer Streets opens up Park Avenue to the people! New Yorkers have come to embrace this growing event each year as the city eliminates traffic for some car-free fun," said Council Transportation Chair Ydanis Rodriguez. "Through this great celebration of open streets, residents and visitors alike get to experience what a safer and more people-oriented streetscape feels like."
"What makes Manhattan unique is its unparalleled, walkable streetscape – but it is still so often dominated by cars and traffic," said Manhattan Borough President Gale A. Brewer. "Programs that transform our streets into walkable public spaces – with activities and attractions like a huge water slide! – offer a truly special opportunity to experience the city in a whole new way."
"Citi Summer Streets makes entire swaths of our City more accessible for New Yorkers to enjoy. I'm pleased to see this program continuing and encourage all New Yorkers to get out this summer and enjoy some of our amazing outdoor space," said Representative Nydia M. Velázquez.
"Free outdoor activities and programming, like Citi Summer Streets, are a great part of summer in the city," said State Senator Daniel Squadron. "I thank the City, Commissioner Trottenberg and DOT, and their partners for working to open up more open spaces for more New Yorkers."
"I am very excited to see Citi Summer Streets return for the ninth year, providing great outdoor fun and recreation along Park Avenue. Taking cars off the road for this incredible event not only provides free family fun, but is also great for our environment. Many thanks to Commissioner Polly Trottenberg for continuing this wonderful program," said Senator Jose M. Serrano.
"Citi Summer Streets will feature some of New York City's greatest cultural institutions and most beautiful streets in a uniquely accessible manner. Whether you're a movie buff, art fan, or cycling enthusiast, or just want to explore something new, Citi Summer Streets has something for you. I am looking forward to seeing new works of art and participating in fun activities while enjoying our city's historic streets in a new way," said Assembly Member Dan Quart.
"I am thrilled to join the Department of Transportation, Mayor's Office of Media and Entertainment, and the Department of Cultural Affairs who are opening 7 miles of Summer Streets to show everything that New York City has to offer. An innovative event to gather community organizations and city agencies by linking music, performances and youth programming for all to enjoy is a true testament to the potential of opening the city's valuable public space, its streets," said Assembly Member Rebecca Seawright.
"I am happy that Citi Summer Streets is returning this year so that even more New Yorkers can walk, run, bike, or just take in the sights and sounds of a City without cars or trucks," said Council Member Margaret S. Chin. "I thank Mayor de Blasio, Commissioner Trottenberg and the many event partners for their commitment to what has become an annual rite of Summer in New York City."
"Citi Summer Streets is a tremendous opportunity for New Yorkers to experience public space in a unique and exciting way. Removing cars from a nearly seven-mile stretch of Park Avenue promotes a clean environment, active lifestyle, and pedestrian safety. And with hundreds of thousands of New Yorkers taking part– Summer Streets will help to support local businesses on the East Side," said Council Member Dan Garodnick.
"For the ninth year in a row the Department of Transportation is giving New Yorkers the ability to walk the summer streets without vehicular traffic," said Council Member Ben Kallos. "I encourage residents from all the way up on the Upper East Side down to the Brooklyn Bridge to come out and go for a stroll to enjoy the many attractions along the route. Last year 30,000 people participated, let's make sure this year we beat that number; come out and enjoy."
"Summer Streets brings a mashup of summer camp and art exhibits to nearly seven miles of a car-free Park Avenue. Whether you're walking or biking, please join me and take part in this fun New York City summer tradition," said Council Member Helen Rosenthal.
"Summer Streets gives New Yorkers and tourists alike a truly unique experience," said Council Member Corey Johnson. "It's not too often that you can casually stroll right down the middle of Park Avenue! These events are an incredible way to promote environmentalism and to showcase the outstanding beauty of our City, and my thanks go out to Mayor de Blasio and the Department of Transportation for giving us all this great opportunity."
Among this year's new activities is title-sponsor Citi's Make it Here activation at the Uptown and Astor Place Rest Stops. At those stops, participants will enjoy programming centered on what people love about New York City, specifically the following passion points – Music, Food, Sports and Fashion.
Audiophiles can enjoy the beat of New York with live performances and a NYC inspired playlist on August 6th at the Uptown Rest Stop located on the west side of 53rd Street and Park Avenue. Also Uptown, foodies will sample delectable treats from local small businesses – ChocNYC and Big Bottom Biscuit Bar or cool down with Citi Blue Sno-cones on August 13th.
At the Astor Place Rest Stop, athletes can test their prowess by virtually racing an Olympian. This Saturday, fans can also meet Mr. Met and pick up some Mets and Olympic swag from the social media vending machines. The following week (August 13th) at Astor, fashionistas can catch a Vespertine and Active wear fashion show featuring the latest FashTech, wearable tech sports fashions. Lastly, at both rest stops, lovebirds can share their New York love story on social media for an opportunity to win prizes and have their love story featured on a Digital Mosaic board that will be displayed on August 20th.
Also new this year at the Uptown Rest stop is the Hallmark Channel's Sounds of the Shore activation located on the east side of 52nd Street and Park Avenue. Visitors can stop by and be transported from the busy streets of NYC to a quiet, restful seaside town – the setting of Hallmark Channel's new summer series, 'Chesapeake Shores' – where they can sit in Adirondack chairs or hang out on the pier and listen to soothing coastal sounds. To sweeten the escape, Hallmark Channel will have vending machines where you can "Tweet for a Treat" and enjoy free popsicles.
Also at the Uptown Rest Stop is Nike Unlimited NYC. All NYC athletes are invited to join Nike experts to reach their full athletic potential each weekend. Participate in free play and a soccer tournament on August 6th, test your speed down a 60 meter custom track on August 13th and jump start your day with an athlete-inspired training workout on August 20th – all on the streets of New York City. Through Nike's partnership with Marathon Kids there will be a special 1-mile run designed just for young athletes with Marathon Kids staff, Nike coaches and Pacers on hand to discuss with the benefits of using the Nike+ app. For the first time since the program's inception, Nike has signed on board as Citi Summer Street's apparel sponsor .
Returning to Citi Summer Streets this year is Vita Coco's Beachside Slide, a nearly 300-foot water slide based at "Vita Coco Beach" located at the Foley Square Rest Stop. Vita Coco gives you the chance to slide through the streets of New York City on an inner-tube and cool off during the hot summer days. Right next to the three story water slide is the Vita Coco Beach where you can take a swing in a hammock, hang out at the Beach Bar and enjoy some refreshing coconut water, or relax in the sand and listen to live music from the DJ booth. There will also be games including corn hole and giant Jenga, as well as morning yoga sessions starting at 9 a.m.
Online pre-registration is required to ride the slide. To register and for further information, please visit https://www.eventbrite.com/e/vita-coco-beachside-slide-registration-26794016625.
After the Vita Coco Beach, visitors to Foley Square can then stop by the Wheelchair Sports Federation's Adaptive Basketball activation to participate in basketball drills and watch an exhibition of adaptive athletes playing a pick-up game or test their skills on the court. Then visit the Brooklyn Boulders Foundation/Movement Creative Adaptive Obstacle Challenge, which features a mix of Parkour (free running), climbing and scrambling on an urban obstacle course for people of all abilities. Dance-lovers should walk over to 26 Federal Plaza to experience a dance installation, On Display/Citi Summer Streets, choreographed by Heidi Latsky of Heidi Latsky Dance, a living sculpture court. Walk around the plaza to observe the diverse dancers as they pose in classical sculpture-inspired positions.
Citi Summer Streets is also teaming up this year again with culture NOW to present a self-guided public art walking tour and a self-guided architectural walking tour. Participants can follow the self-guided tours by picking up a copy of the map at the Foley Square Rest Stop, printing the PDF at home, or following along on an interactive iPhone app, cultureNOW's Guidebook to the Museum Without Walls. The public can also register to join guided walking tours with historians along the route organized in partnership with culture NOW, and the Municipal Art Society. For the first time, culture NOW will also offer a Lower Manhattan specific historical map, the Lower Manhattan Then and NOW Map. The map stitches together overlapping stories: discovery, immigration, social protest, celebrations, inventions in a single document to showcase the impact that it had on the local and national stage over the past 400 years in a single document.
A new addition to the self-guided walking tours this year is the TV and Movie Sites Walking Tour organized in partnership with the Mayor's Office of Media and Entertainment and On Location Tours. Participants can grab a map at the Uptown Rest Stop on the west sidewalk between 51st Street and 52nd Street and create their own tour following in the footsteps of favorite TV and movie characters -- discovering sites where famous TV shows and movies were filmed, including I Am Legend, Cloverfield, Breakfast at Tiffany's, When Harry Met Sally and Will and Grace.
Returning this year at the Astor Place Rest Stop is the popular Paws and Play Dog Park. Dogs are invited to take a break from the route and roll around on a grassy knoll, hang out in the family-friendly picnic area, make new friends or cool off in small pools. Dogs can play freely within a designated dog run, try an agility course run by The Martial Arfs or participate in training sessions led by School for the Dogs, including Dog Selfies, in which dogs can learn to take their own selfies or draw pictures. The Best Friends Animal Society will also be on-site to talk about fostering animals and will distribute free hand-held fans to cool off you and your best friend.
Also popping up at the Astor Place Rest Stop this year is "Los Trompos (Spinning Tops)" designed by Mexican-based design team of Hector Esrawe and Ignacio Cadena. Originally exhibited at the High Museum of Art in Atlanta, Georgia, this public art installation is named and modeled after the popular children's toy –spinning tops—and also doubles as seating. Each seat can accommodate four adults and up to twelve children, and only spin when two or more individuals work together to generate speed. The tops provide shade from the summer heat. The structures are fabricated from nylon rope woven in traditional Latin American patterns by professional weavers.
This year at the Midtown rest stop is the Taste of Summer Sampling Zone at the Midtown Rest Stop featuring a number of favorite food and drink brands – Cabot, Nuun, Gardein, Daiya and Honest Tea. Hungry Summer Streeters can indulge in delicious snacks while taking a breather in the picnic area.
Also returning is the popular 165-foot-long, 30-foot-high zip line, this year located on the east side of 53rd Street and Park Avenue at the Uptown Rest Stop. Meanwhile, at the Midtown Rest Stop, NYCDOT Safety Education will provide free bike helmet fittings for adults and children, and at the Uptown Rest Stop, will host a Safety Zone, which features the popular "Truck's Eye View" and other safety education activities.
At the SoHo Rest Stop, visitors can participate in a variety of fitness classes led by Crunch Gym instructors throughout the day, catch up with NYCDOT Street Ambassadors to play with larger-than-life dominos or a Velcro Street Mix set to learn more about designing city streets or join Movement Creative to learn Parkour techniques, including running, climbing, swinging and jumping. Also, dance, theatrical and musical performances will take place at both the Midtown and Uptown Rest Stops throughout the three weekends with groups like Phone Home, Moondrunk, Music with a Message, Darrah Carr Dance, City Stompers, in addition to a number of musicians from the MTA's Music Under New York Program.
For the first time this year at the Midtown Rest Stop, the Clif Kid Bike Park will be available for kids to test their skills on a pump track. Ride over a number of obstacles, either with your own bike or one provided by Clif, and as a reward, grab a Clif bar as proof that you overcame this challenge. Also at this rest stop, NYCDOT is offering the return of its hand-cycle demonstration. Test out a hand-cycle on an organized bike circuit around the east side of 24th Street between Park Avenue and Lexington Avenue and voice your opinion about the experience, which will contribute to the possible development of a citywide hand-cycle initiative in the future. Participants will be able to test our model, high profile prototype, which allows for easy transfers between a wheelchair and the hand-cycle. People of all abilities are encouraged to join and take a hand-cycle for a ride. There are weight and height limitations for this activity. We ask that all interested parties be able to independently transfer on and off the hand-cycle.
New to Rudin Plaza at the Uptown Rest Stop this year is the NYCDOT Arts and Culture Hub that features a variety of fun, kid-friendly, interactive workshops presented by some of the City's most coveted cultural institutions. From jewelry-making to color theory, poetry writing to architectural design, join the American Folk Art Museum, Publicolor, the Museum of the City of New York, the Society of Illustrators, Recycle-a-Bicycle, Materials for the Arts, the National Museum of the American Indian, ArchforKids, Design Trust for Public Space, Poets House, Arts Gowanus, Groundswell, as well as artists Taliah Lempert and Risa Puno to get your creative juices flowing and take home a fun craft as a memory of your time at Summer Streets. Thanks to Rudin Management for providing access to this space for the event. Additional cultural institutions will participate at the other rest stops with the Museum of Chinese in America and Storefront for Art and Architecture at the SoHo Rest Stop, and the Bronx Museum of the Arts at the Foley Square Rest Stop.
Also new this year, the DOT Art Program has commissioned French artist Niko de La Faye to present his work titled, M2B, Beijing – New York along the Citi Summer Streets Route. M2B is a mobile kinetic sculpture housed on a traditional Chinese tricycle. The sculpture itself is a representation of the universe found in both Eastern and Western cultures. Originally fabricated in 2012, the performance piece has traveled 3,400 km between Beijing and Hong Kong and most recently visited Paris. The artist will start his journey at the Foley Square Rest Stop within Collect Pond Park at 10 a.m. and will continue up the route arriving at Pershing Square around 11 a.m. and ending at Central Park around 12 p.m. The artist will present video footage from previous journeys in Beijing, Hong Kong and Paris on a small screen at each of these stopping points for the public to experience and will be available to answer any questions about the project.
Also this year, bike rental will be offered at the Uptown Rest Stop, Midtown Rest Stop and the Soho Rest Stop, bike repair at the Midtown Rest Stop and Soho Rest Stop, bike valet at the Uptown Rest Stop, Midtown Rest Stop and Foley Square Rest Stop, and Rollerblade rental and repair at the Midtown Rest Stop.
Many City agencies will be participating at Citi Summer Streets at the Uptown Rest Stop along the west sidewalk along Park Avenue between 51st Street and 53rd Street. The NYC Department of Sanitation will showcase the NYC recycling characters so be sure to take photos and post on social media. The NYC Department of Health and Mental Hygiene will offer fun activities about active design, in addition to their newest mental health initiative – Thrive. The Mayor's Office of Immigrant Affairs will be on-site offering information about signing up for IDNYC. Stop by to schedule an appointment to obtain your ID today. The NYC Department of Parks and Recreation will offer a workshop with artist Juanli Carrion, who currently has a public art exhibit on display in Fort Greene Park. Also, the NYC Department of Environmental Protection is supplying mobile drinking fountains along the route at all five rest stops. The Mayor's Office of Citywide Event Coordination and Management, NYPD and FDNY also support Citi Summer Street 2016.
For more information, including a route map and street closure information, visit nyc.gov/dot or nyc.gov/summerstreets.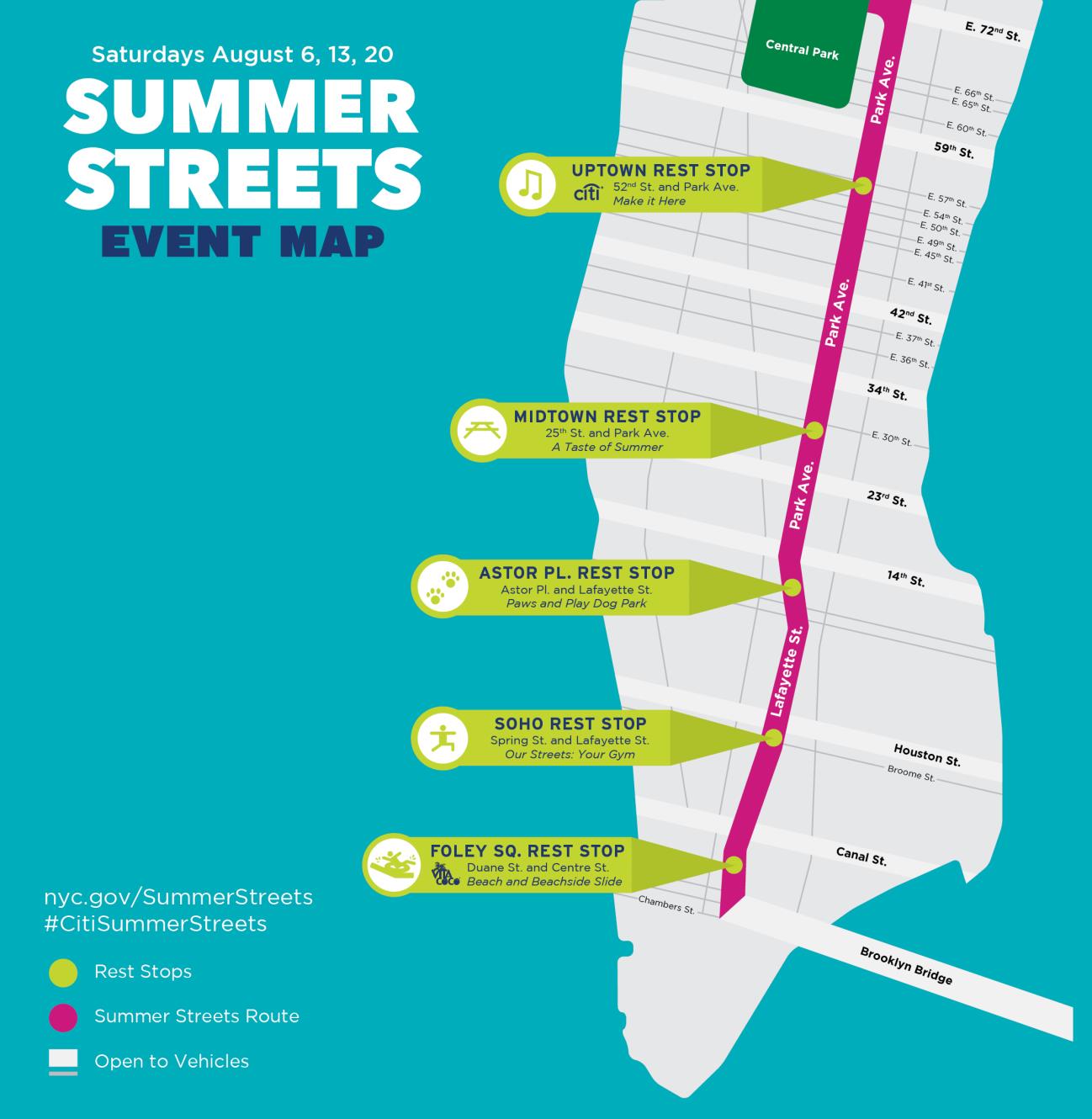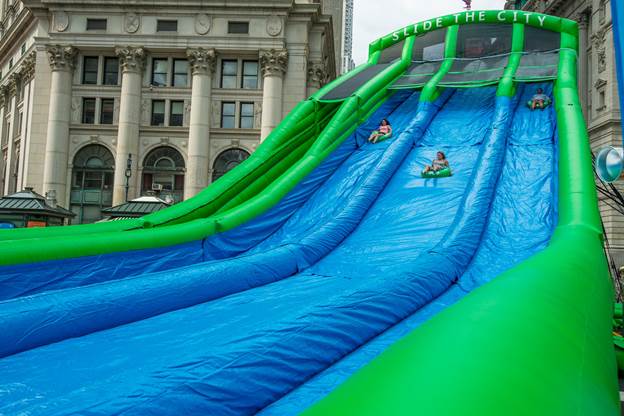 —30—