FOR IMMEDIATE RELEASE
Press Release #16-017
February 19, 2016
Scott Gastel/Jose Bayona (212) 839-4850
NYC DOT Invests $2.5 Million For Vision Zero Multi-Cultural Media Campaign Funded By the City Council
Twelve billboards citywide, bus tails, TV, radio, digital advertisements and in-cinema previews will build on success of Vision Zero, with education campaign in English, Spanish and Chinese
New York City Department of Transportation (DOT) Commissioner Polly Trottenberg and Council Member Ydanis Rodriguez today announced the expansion of New York City's Vision Zero campaign educating motorists that the choices they make behind the wheel matter.
Using $2.5 million in funds provided by the New York City Council for FY 2016, the "Your Choices Matter" campaign will install 12 billboards and 641 bus tails citywide in English, Spanish and Chinese during February, March, and April. The campaign also includes English and Spanish TV, radio, and digital advertisements. The event was held in Washington Heights, in the district of Councilmember Rodriguez, in full view of one of the campaign's new Spanish-language Vision Zero billboards ("Los choques de vehículos no son accidentes. Sus decisiones importan." or "Car crashes are not accidents. Your choices behind the wheel matter.").
"After 2015, a year with record-low fatalities, DOT is proud to build on our Vision Zero success by expanding our multi-cultural education and outreach," said DOT Commissioner Polly Trottenberg. "Under Mayor Bill de Blasio's leadership and with the support of Councilmember Rodriguez, we expect that this campaign – in English, Spanish and Chinese – will grab your attention. New Yorkers need to remember that pedestrians should always be expected in the crosswalk and that crashes are preventable."
"As we have seen with the anti-smoking ad campaign, stark reminders that our choices have real impacts can lead to more thoughtful decisions," said NYC Council Transportation Chair Ydanis Rodriguez. "As the Vision Zero campaign becomes more recognizable to New York drivers, we expect a true culture change to dovetail with the extensive work the DOT is doing across the city leading to a drop in traffic related injuries and fatalities. The funding secured for this initiative, with the support of Speaker Melissa Mark-Viverito and my colleagues at the Council, has led to an effective public awareness campaign that we expect to become ubiquitous in the coming years. What is more, the use of Spanish and Chinese will reach more drivers across the city than ever before. We cannot put a price on lives lost, nor the lingering pain felt by families and loved ones, but we as a city can and must do our part to hammer home on the point that your choices matter behind the wheel; make the right ones."
"Dangerous driving decisions like speeding and failure to yield to pedestrians kill and maim far too many New Yorkers in communities across the five boroughs," said Paul Steely White, Executive Director of Transportation Alternatives. "That's why people in every neighborhood need to see and hear the Vision Zero message, in every language: that we can prevent traffic deaths and serious injuries in our city, by slowing down, by paying attention, and by yielding to every pedestrian in every crosswalk, every time. We thank DOT Commissioner Trottenberg for her leadership on these powerful ads, and City Council Transportation Chair Rodriguez for his leadership in advancing $2.5 million to bring the campaign to a wide audience."
New York City's Vision Zero campaign is built around data that show that more than half of pedestrian fatalities occur at intersections and that curbing "failure to yield" violations represents the best opportunity to effectively reduce traffic fatalities and injuries citywide.
This new phase of "Your Choices Matter" builds on the success of the earlier Vision Zero education and marketing efforts. A 2015 survey -- conducted in English, Spanish and Chinese -- showed the effectiveness of that earlier campaign. Among drivers, 72% recall having seen DOT's paid media. Of those surveyed, 61% of Chinese respondents and 73% of Spanish respondents identified driver behavior the cause in fatal pedestrian crashes. Respondents across all languages reported that the ads convinced them to pay more attention to pedestrians and cyclists while driving and made them more careful pedestrians.
Two Vision Zero ad campaigns have run since 2014. "Reckless Driving Kills," launched in 2014, shared the stories of families devastated by traffic fatalities. The "Choices" Anti-DWI campaign is currently viewed in alcohol-serving venues across the city. The high-impact ad campaigns displayed across TV, radio, digital, in-cinema, and in-venue placements are aimed to reduce reckless driving, and complement engineering and enforcement efforts to eliminate behaviors that contribute to pedestrian fatalities.
In January, Mayor Bill de Blasio announced several new Vision Zero initiatives for 2016, including investment in street redesign and traffic-calming measures on key thoroughfares citywide, a pilot project to reduce left-turn collisions, safer bicycle routes, targeted NYPD enforcement to protect seniors, increased use of speed-enforcement cameras and earlier education about Vision Zero in public schools. As part of this multi-faceted and multi-agency approach, DOT will continue to solicit community feedback on all of its efforts and will partner with NYPD on enforcement issues.
For more information about Vision Zero, please visit www.nyc.gov/visionzero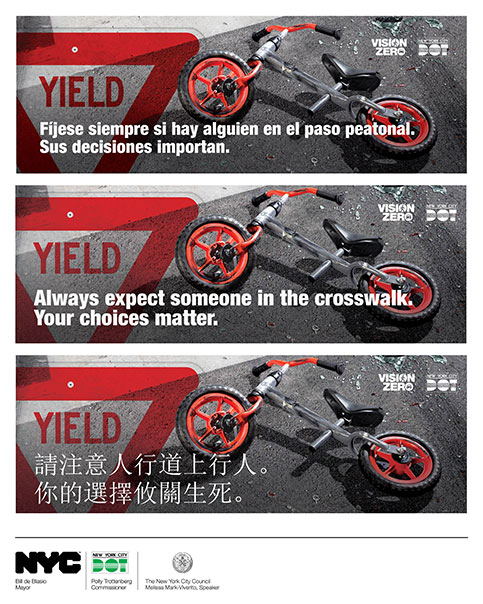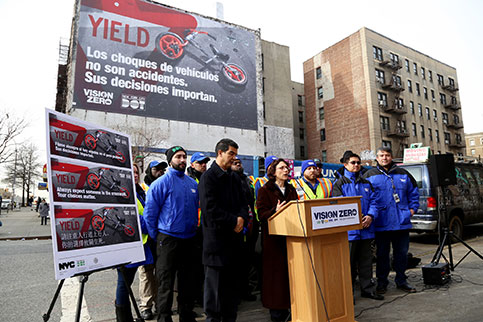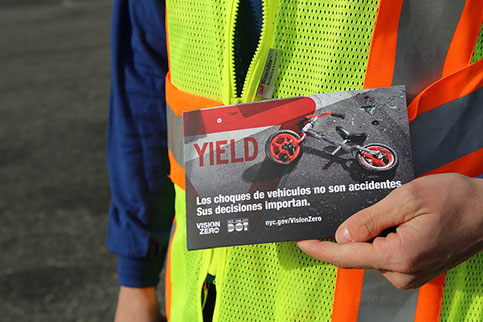 —30—