FOR IMMEDIATE RELEASE
Press Release #14-067
August 27, 2014
Scott Gastel/Jose Bayona – DOT (212) 839-4850
Craig Chin – DDC (718) 391 1641
NYC DOT and DDC Announce Fordham Plaza Phase 2 Groundbreaking in the Bronx
Premier transportation hub in the Bronx will be enhanced after collaborative reconstruction process with the Department of Design and Construction. Project completion expected in fall 2015.
New York City Department of Transportation (DOT) Commissioner Polly Trottenberg and New York City Department of Design and Construction (DDC) Commissioner Dr. Feniosky Peña-Mora today announced the groundbreaking of Phase 2 of the Fordham Plaza reconstruction project in the Bronx. The new Fordham Plaza will play an important role in Vision Zero's goal to reduce traffic-related deaths and injuries with shortened pedestrian crossings, new direct crossings established to deter jaywalking, and a 25 percent expansion in pedestrian space.
A major transit and commercial hub, Fordham Plaza sits at the crossroads of 12 local and regional bus lines including Bx12 and Bx41 SBS lines, the fourth busiest Metro North train station, Fordham University's Rose Hill Campus, home to some 6,700 students, Roosevelt Educational Campus with some 6,800 elementary and high school students, and Fordham Road, which is traveled by 80,000 pedestrians daily.
"The thousands of shoppers, students and commuters using this hub each day deserve these substantial upgrades," said DOT Commissioner Polly Trottenberg. "TIGER grants make innovative ideas a reality around the country and this is an example how the program benefits the heart of the Bronx."
"The new Fordham plaza will bring greenery, new pedestrian space, and safer streets to one of the busiest parts of the Bronx," said DDC Commissioner Dr. Feniosky Peña-Mora.  "Incorporating community input and working with stakeholders throughout the design and construction process will help us build a plaza that meets the needs of those who live, work, or go to school in the area. The plaza's cafe and markets, along with new trees, plantings, and comfortable places to sit and relax will help transform this major transit hub and make it a more welcoming gateway to the borough."
"NYCEDC is committed to ensuring that the City's commercial, cultural and transit hubs are thriving while also ensuring that they are safe and serve the needs of New Yorkers," said NYCEDC President Kyle Kimball. "Improved and beautified plazas make our communities more livable, safe and accessible, providing a boost to local businesses and encouraging job creation. We are proud to have helped with the conceptualization of the Fordham Plaza project, and I congratulate Commissioners Trottenberg and Peña-Mora for their hard work."
"The development of Fordham Plaza into a vibrant public space will be a big boost for the neighborhood and its local businesses," said Blaise Backer, Deputy Commissioner of Neighborhood Development at the NYC Department of Small Business Services. "We have already seen the impact the plaza can have on the neighborhood through the Summer Movie Series and art installations supported by the Fordham Road BID through our Neighborhood Challenge grant program, and with the groundbreaking and proposed expansion of the Fordham Road BID to include the plaza, we expect to see many more innovative uses and benefits to the community."
"The groundbreaking of Fordham Plaza is good news for The Bronx. This project will significantly improve transit riders' access to the area's 12 bus lines and rail transportation while also taking advantage of the more than 80,000 pedestrians and potential customers that walk through the area daily. This  project will transform Fordham Plaza into the vibrant, pedestrian-friendly transit hub we know it can be and I look forward to seeing Fordham Plaza becoming an even greater hub of our borough's retail activity  and culture," said Bronx Borough President Ruben Diaz Jr.
"Bronx residents and visitors will now have access to state of the art public transportation facilities in one of the city's busiest areas. The new and upgraded Fordham Plaza will provide commuters with plenty of public transportation options, improve pedestrians' safety, and help relieve traffic in the area so they can get to their destination safely and on time. Federal funding from the Department of Transportation was instrumental in making this project a reality, especially through the TIGER grant program. Thanks to its financial support the Bronx has been able to update one of its most important transportation centers," said Congressman Jose Serrano.
"I applaud Commissioners Trottenberg and Peña-Mora for addressing the essential transportation and design upgrades needed at this major transit hub. I am confident that these comprehensive changes and improvements will ensure New York drivers and pedestrians are traveling with ease and safety for many years to come," said Senate Co-Leader Jeffrey D. Klein (D-Bronx/Westchester).
"Fordham Plaza is in the heart of the Bronx and serves as a vital transportation and commercial hub for thousands of residents of the Bronx. I applaud Commissioner Trottenberg and Commissioner Peña-Mora and the Fordham Road BID for their work to revitalize Fordham Plaza through innovative design that will ease traffic congestion, promote economic development, and ensure a more productive use of this vibrant thoroughfare. At the end of the construction period residents will have a new asset in their community to be proud of," said Council Member Ritchie Torres (D-Bronx).
"In conjunction with the DOT's efforts to improve Fordham Plaza, Metro-North is making big improvements to the Fordham train station," said Joseph Giulietti, President of Metro-North Railroad. "Metro-North will be doubling the width of the northbound platform and adding customer amenities such as benches and heated shelters to help reduce crowding on the outbound platform. Also, in cooperation with New York City Parks Department, a new direct connection to the southbound platform from Webster Avenue and 193rd Street will be installed. This will allow quicker access to the inbound platform to and from Webster Avenue and points north."
"The improvements at Fordham Plaza also improve the commutes of thousands of our bus customers who use the new terminal or the plaza as a transfer point to other Bronx routes and Metro-North," said MTA New York City Transit President Carmen Bianco. "The new boarding areas and pedestrian crosswalks make it safer for customers, as well as the new bus shelters that will be installed.  A dedicated portion of Third Avenue for buses allows for faster service and gives our buses room to turn and stop."
"The Fordham Road BID is very excited with the redevelopment of the Fordham Plaza site. The new site will be a destination magnet for local residents, workers, students, shoppers & visitors. The accessibility to public transportation including a Metro-North station, Select Bus Service routes on Fordham Road & Webster Avenue, countless connections to bus routes and the nearby 4 & D subway stations as well as the fact that the plaza is positioned between two major Bronx iconic properties: One Fordham Plaza (440 East Fordham Road) & Fordham Place (400 East Fordham Road) highlight the unique character & prominence of this area in the Bronx. This project, when completed, will also create a major platform for retail & food concessions that will generate jobs as well as opportunities for new businesses & local entrepreneurs that will have a positive impact in the local economy," said Fordham Road BID Executive Director, Wilma Alonso.
The second phase of the Fordham Plaza Project will fully reconstruct the plaza by building two large concrete planters and ten small steel planters each landscaped with trees and other plantings. The planters will also have attached wooden seating. Three kiosks are to be installed, one large and two small, for future vendors. A café structure is to be built with a canopy to extend over the Metro-North bridge deck.
Once completed in the fall 2015, the plaza will feature a new canopy over the Metro North entrance enhancing its visibility, creating a more gracious stair which will allow natural light onto the waiting platform below, and new ticket machines. The design also features a new bus loop which improves transit operations and vehicular circulation, and includes shelters, seating, and wayfinding for riders.
New pedestrian plaza improvements include planted areas to provide shade and buffer from bus and roadway traffic, pedestrian plaza lighting, fixed and moveable seating areas, wayfinding signage, enhanced waiting areas at bus stops, an Automatic Public Toilet, increased vending space including a new market canopy, multiple kiosks, and a café building fronting Fordham Road. DOT is pleased to partner with The Fordham Road Business Improvement District on the management, maintenance, and programming of this plaza.
New York City Economic Development Corporation (NYCEDC) provided a conceptual design plan and project support for the plaza. Together, DOT, DDC and NYCEDC worked closely with the community, conducting interviews, focus groups and public sessions to ensure the new plaza design met their needs.
This project is partially funded by a $10 million TIGER Grant, a discretionary grant program administered by the U.S. Department of Transportation to fund innovate projects around the country.
The NYC Plaza Program has 64 plazas citywide in planning, design, construction, or complete. Of these, 46 are currently open to the public. In the Bronx, the Plaza Program has 7 plazas; 3 under construction and 4 currently open to the public.
The NYC Plaza Program Round 7 is now accepting applications until October 1, 2014.  For more information about the NYC Plaza Program, and for program guidelines and applications, visit www.nyc.gov/plazas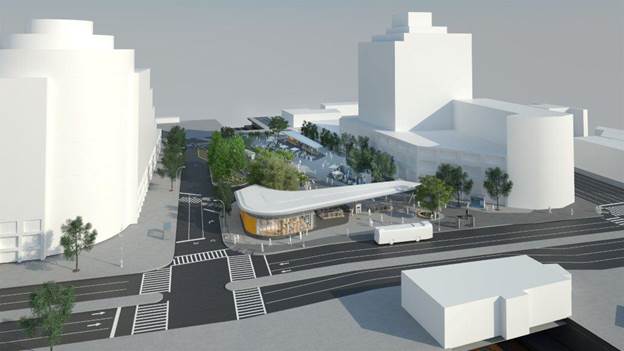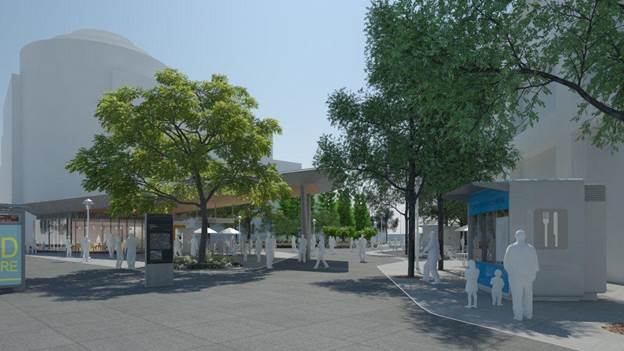 —30—