FOR IMMEDIATE RELEASE
Press Release #12-64

Seth Solomonow/Nicholas Mosquera (212) 839-4850
NYC DOT and MTA NYCT to Establish Dedicated Shuttle Bus Routes Between Brooklyn and Midtown Manhattan as Storm Repairs Continue.
Service will provide important connections between the boroughs while East River subway tunnels remain out of service
NYC Department of Transportation (DOT) and Metropolitan Transportation Administration (MTA) New York City Transit (NYCT) are establishing new shuttle bus service and dedicated bus priority lanes from three Brooklyn locations to Midtown Manhattan, providing commuters a needed transportation option following transportation disruptions caused by Hurricane Sandy.
Starting Thursday, Nov. 1 at 6 a.m., MTA/NYCT shuttle buses will travel to and from subway stations at Atlantic Avenue, Jay Street and Hewes Street.
The Atlantic Avenue and Jay Street routes will operate via a new, two-way bus lane across the Manhattan Bridge and into Manhattan via bus-priority lanes on Bowery and Third Avenue, making stops at major cross streets all the way up to East 55th Street in the inbound direction, and via bus-priority lanes on Lexington Avenue, East 23rd Street, and Third Avenue and Bowery in the outbound direction.
The shuttle bus from Hewes Street will operate over the Williamsburg Bridge and Delancey Street, then via Bowery and Third Avenue up to East 55th Street before returning downtown via Lexington Avenue, East 23rd Street, Third Avenue and Bowery.
NYPD will provide enforcement along the bus route and keep the lanes clear for buses. The bus service will operate 24 hours until further notice.
For additional information, visit www.nyc.gov.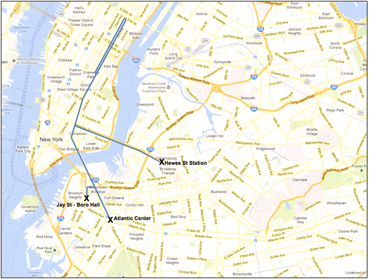 —30—