FOR IMMEDIATE RELEASE
Press Release #12-52

Seth Solomonow/Scott Gastel (212) 839-4850
NYC Department of Transportation, NYC Department of Parks & Recreation And Central Park Conservancy Announce Roadway Improvements For Central Park
Travel lanes will be simplified to provide enhanced space for Pedestrians, make lanes more consistent
New York City Department of Transportation, New York City Department of Parks & Recreation and the Central Park Conservancy today announced a proposed set of improvements for Central Park designed to provide more simplified lanes to ensure separation of pedestrians, motorists and bike riders using the park's famous and increasingly popular drives. These enhancements, which double pedestrian space to walk and jog on the drives, are based in part on similar lane configurations installed earlier this year in Brooklyn's Prospect Park that have successfully reduced conflict in the park among users. DOT has notified local elected officials and community board leadership of these plans, and will conduct further outreach to all stakeholders involved before starting to implement the plan next month. Diagrams of the project design are available at nyc.gov/dot.
"Central Park's signature drives will now have even clearer markings to help every park user have the best and safest experience possible," said Commissioner Sadik-Khan.
"Central Park is New York City's recreational oasis and this redesign will provide park visitors with safer and wider paths to walk, jog or bike," said Parks & Recreation Commissioner Veronica White. "I am grateful to the NYC Department of Transportation and the Central Park Conservancy for partnering to improve the safety and quality of life for all of the park's 40 million annual visitors."
"Each of the Park's 40 million annual visitors has their own idea of how the Park should be enjoyed, and these changes to the drive will help each of them enjoy the Park to its fullest, addressing issues of congestion and safety," said Doug Blonsky, President and CEO of the Central Park Conservancy. "I am thankful for the ongoing partnership of the Parks Department and Department of Transportation in continuing Central Park's tradition of providing as many extraordinary experiences to the public as possible."
The project is designed to clarify lanes and is tailored to the changing lane configurations in different parts of the park. For example, along the Upper Drive areas the pedestrian lane will double in width, bringing a total of 14 feet of pedestrian space, the bicycle lane width will increase to 11 feet and a 12 foot vehicle traffic lane will remain available during hours vehicles are permitted in the park. See the project presentation for full details.
Similar improvements made to the Prospect Park Loop Drives, installed in May 2012, now allow for one full lane each for joggers, cyclists and motorists, thus eliminating the previous lane shift during car-free and sections at which joggers were previously enclosed by a rail.
Observations from the Prospect Park lane redesign as well as DOT's traffic analysis in Central Park suggest the lane redesign along the drives will result in an efficient flow for all users.
Example of lane reconfiguration: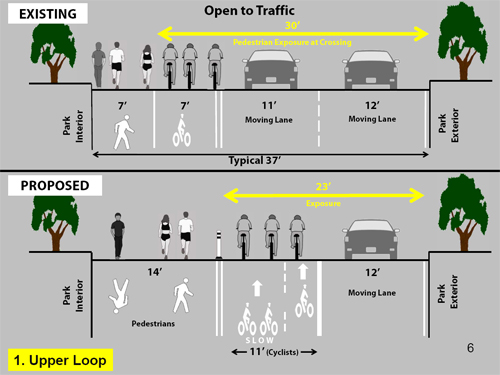 —30—