FOR IMMEDIATE RELEASE
Press Release #12-32

Seth Solomonow/Nicole Garcia (212) 839-4850
NYC DOT Announces "We're Walking Here NYC" Competition Winners
Four City schools create next generation safety slogans and designs to highlight the benefits of walking; building on ongoing programs such as the Groundswell sign design workshops
The New York City Department of Transportation (DOT) today announced the winners of the "We're Walking Here NYC" competition, which invited New York City schools to design posters that promote walking as a safe, healthy and practical way to get around that is also good for their community and the environment. A majority of New York City's more than one million students walk to school, to transit and around their communities daily, and the contest encouraged students to think about the benefits of walking, and to articulate their ideas with a creative design to share with all New Yorkers. The grand prize, a $1,000 grant from the Safe Streets Fund—a public-private partnership dedicated to supporting safe streets for all New Yorkers—was awarded to P.S. 94 in Queens for a creative design with the slogan, "Let's Walk." P.S. 257 in Brooklyn received an honorable mention for the slogan "Take Steps for a Healthy Life" and received $250. The artwork and two slogans will be put on t-shirts that will be distributed to students participating in DOT's safety education workshops citywide.
"With crayons and colored pencils, our youngest pedestrians are making their mark to show how safe and fun streets are for walking," said Commissioner Sadik-Khan. "While we engineer streets for safety, the next generation of New Yorkers is helping everyone recognize the value of building healthy habits for life."
Three schools also received $250 grants for students' designs that addressed one of three categories. Queens P.S. 17 and Queens P.S. 14 received the prizes for safety- and health-themed designs, respectively. Harry S. Truman high school in the Bronx won for its environmental-sustainability entry. Organized by DOT's Safety Education and Outreach division, the contest builds on the agency's existing school-based programs, including an annual sign design program with the nonprofit Groundswell to teach traffic safety by having students create one-of-a-kind traffic signs that are installed near schools.
Launched on October 4, 2011, as part of International Walk to School Day, "We're Walking Here NYC" includes an online curriculum that provides teachers with activities and other resources that help students learn about and embrace the benefits of walking. More than 100 schools registered for access to the online training materials and grade-specific curricula, and nearly 50 submitted designs for the competition. The agency will re-introduce the competition next year, timed again to International Walk to School Day. "We're Walking Here NYC" also was featured in the Mayor's Obesity Task Force Report, released this May, as an initiative designed to encourage active transportation among students.
As part of DOT's safety education and outreach, the agency works with elementary and middle schools in each of the boroughs for a traffic-safety sign design residency program with Groundswell. This year, DOT traffic-safety staff and Groundswell artists worked with students at Brooklyn's P.S. 277, P.S. 304, and M.S. 380; the Bronx's P.S. 9, Manhattan's P.S. 64 and P.S. 161; Staten Island's I.S. 2 and P.S. 21; and Queens' M.S. 210 and P.S. 19 to examine local traffic conditions near their schools and develop a traffic sign that addressed their safety concerns. The signs are now being installed on streets near participating schools.
New York is a city of walkers, with one-third of trips in the city made on foot, one-third by transit and the remaining third by car. 2011 marked the safest year in city history, with traffic fatalities are at an all-time low, and the last four years being the safest in more than 100 years of record keeping. Still, DOT works to combine education and engineering to achieve its aggressive goal of reducing the number of fatalities by 50% by 2030.
For more information about DOT's safety initiatives, visit nyc.gov/dot.
Winning Designs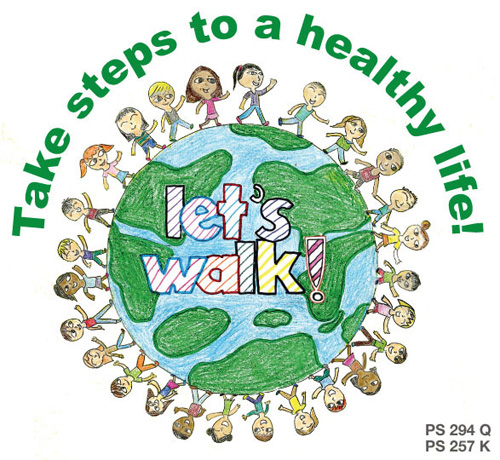 Runners-Up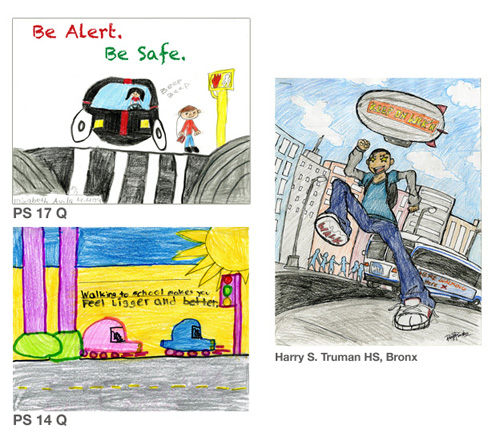 Latest Groundswell and Student Designed Traffic Safety Signs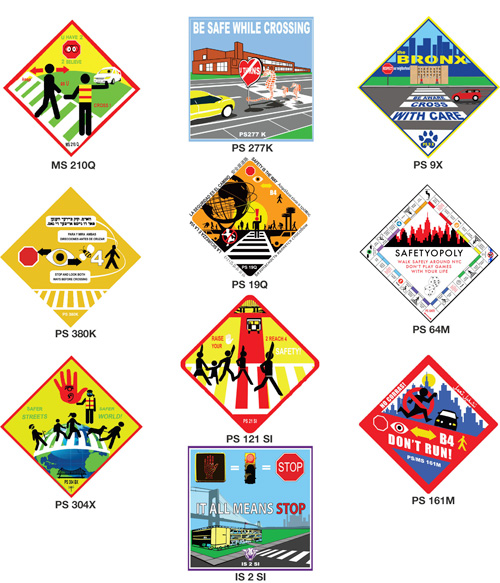 — 30 —