FOR IMMEDIATE RELEASE
Press Release #11-102

Seth Solomonow/Nicole Garcia: (212) 839-4850
NYC DOT Announces Commuter Biking has Doubled in the Last Four Years and Conversion of Parking Meters into Bike Racks to Meet Growing Demand for Bike Parking
Commuter bike riding nearly quadrupled in the last decade, growing 8% in the last year
175 decommissioned parking meter poles repurposed as bike racks, 6,000 more planned citywide
New York City Department of Transportation (DOT) Commissioner Janette Sadik-Khan today announced a continued steady increase in commuter bike riding in New York City, with an 8% increase in bike riders counted at commuter locations this year compared to last year's record number. According to counts of bike riders made at six commuter locations, bike riding has increased 102% compared to 2007 and by 289% compared to 2001. In that time, safety has increased for all street users, with fatalities at their lowest levels in the century that records have been kept, while serious bike injuries and fatalities have remain unchanged despite the near-quadrupling in bike riding. DOT also announced the installation of 175 of the city's first parking meter bike racks, using an innovative design that allows hoop-shaped bike racks to be securely fastened to former parking meter poles. The City currently is reviewing responses to a Request for Proposals for a vendor to manufacture 6,000 additional racks to be installed at meters citywide to help meet the city's growing demand for public bike parking.
"Our infrastructure needs to keep pace with new demands on city streets," said DOT Commissioner Janette Sadik-Khan. "By transforming obsolete parking meters into off-the-rack bike parking, we are recycling old facilities to meet this growing need."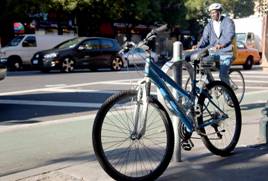 DOT estimates changes in bike riding through counts of bike riders at six commuter locations: the City's four East River bridges, the Hudson River Greenway at 50th Street and at the Whitehall Ferry Terminal. An average of 18,846 cyclists per day was recorded this year, up from 17,491 in 2010; 9,327 in 2007; and 4,927 in 2001. The growth in commuter bike riding and increase in safety come as DOT has brought an unprecedented campaign to engineer safer streets citywide. In the last four years, the agency has added some 260 miles of bicycle lanes to streets in all five boroughs to enhance safety for all users, especially pedestrians. In its landmark Pedestrian Safety Report and Action Plan, DOT found that streets with bike lanes are 40% less deadly for pedestrians. The complete Commuter Cycling Indicator can be found at nyc.gov/dot.
Made from galvanized, durable ductile iron, meter racks easily slide on to former parking meter posts that have had their heads removed following DOT's installation of new, user-friendly muni meters. By taking advantage of already-installed infrastructure, the meter racks eliminate the cost of removing old posts combined with the cost of installing an entirely new bike rack. DOT completed initial installations this year, with 175 meter racks now complete on Columbus Avenue from 68th – 85th streets and Amsterdam Avenue from 66th -86th streets in Manhattan; on Seventh Avenue from Garfield to Fifth streets in Brooklyn; on 37th Avenue from 73rd-77th streets in Queens; and on Johnson Avenue in the Bronx.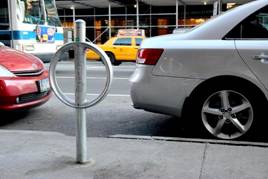 The new meter rack's design is based on the standard "Hoop" rack designed by Ian Mahaffy and Maarten De Greeve, which was selected as the winner of a DOT and Cooper-Hewitt National Design Museum-sponsored competition in 2008. The design also reflects time-tested methods pioneered by DOT to secure the racks to the poles in a way that improves durability, reduces the need for maintenance and helps to prevent theft and vandalism.
Through its CityRacks program, the DOT has installed more than 13,000 city bicycle racks citywide to date, providing parking for more than 26,000 bicycles, most of which were installed within the last four years, and with a record 2,700 racks installed in the last fiscal year. New Yorkers can also request rack installations at nyc.gov/dot.
For more information, visit the DOT Website.
—30—