FOR IMMEDIATE RELEASE
Press Release #08-051


Winners announced in CityRacks design competition
A New Sidewalk Bicycle Rack is selected for New York City and Two Designs for Bicycle Parking in Buildings Are Recognized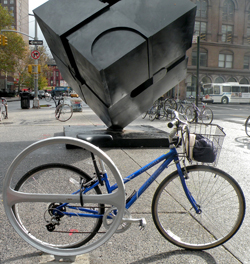 New York City Department of Transportation (DOT) Commissioner Janette Sadik-Khan, First Deputy Mayor Patricia E. Harris, Transportation Alternatives Executive Director Paul Steely White and the Smithsonian's Cooper-Hewitt National Design Museum Director Paul Warwick Thompson today announced the winners of both the outdoor and indoor CityRacks Design Competition. Both Deputy Mayor Harris and Commissioner Sadik-Khan were among the jurors who selected the winning designs.
The design of Ian Mahaffy and Maarten De Greeve, based in Copenhagen, Denmark, was selected as the first-place winner in the outdoor competition that attracted over 200 entrants from around the world. Their design was one of ten prototypes installed and tested at Astor Place since September 30th. DOT intends to use Mahaffy and De Greeve's design as the new standard bicycle rack installed on New York City's sidewalks. Over the next three years nearly 5,000 of these racks will be installed throughout the city. The jury also recognized second-place winner Harry Dobbs and Andrew Lang of London and third-place winner Ignacio Ciocchini of New York. Mahaffy and De Greeve will receive a $10,000 prize, Dobbs and Lang a $3,000 prize and Ciocchini a $2,000 prize. All prizes have been contributed by Transportation Alternatives.
"These winning designs met the CityRacks Design Competition criteria for attractive, functional and secure bike parking, both outdoor and indoor," said NYC Transportation Commissioner Janette Sadik-Khan. "The jury was convinced that the Mahaffy and De Greeve design will best meet the City's bike parking needs and generate greater interest in cycling. I thank all who participated from sponsors to jurors to the over 200 entrants."
"Throughout this administration, we have shown that great design in New York can be found not only in museums, galleries, or architectural studios - but everywhere - including street corners and outside office buildings," said First Deputy Mayor Patricia E. Harris. "The CityRacks competition produced a clever piece of street furniture that adds to our City's streetscape and promotes an environmentally responsible practice. We are going to continue to pursue innovative public projects that have become a part of the fabric that makes our City such a unique and special place to live or visit."
"Mahaffy and DeGreeve have created a bike rack that works beautifully in a variety of contexts: in historic districts and newly built environments, said Cooper-Hewitt Director Paul Warwick Thompson. "Of course the form of the rack-a wheel-is 'product semantics' in motion!"
"The winning 'Hoop' design lets bicyclists lock more parts of their bike, and has a lot more panache than the current CityRack," says Paul Steely White, Executive Director of Transportation Alternatives, one of the competition's sponsors. "With 'The Hoop' now in hand, NYC needs to make bike racks as ubiquitous as street lights."
Mahaffy and De Greeve's design reflects a modern simplicity that will greatly enhance the City's streetscape. The rack is round with a horizontal crossbar, evoking an abstracted bicycle tire. Constructed of cast-metal, the design is elegant yet sturdy enough to withstand New York cyclists' harsh treatment.
The Jury also selected two winners in the indoor competition. RSVP Studio of New York imagined a user-friendly system with ceiling mounted bungie-cords and a grooved floor. Its structural grid provides a secure yet flexible system that could be easily adapted to any building environment. Jessica Lee and Anthony Lau of London created a system of three modular pieces that could be installed in an unlimited number of combinations to conform to rooms large or small, tall or short. Both will receive a $5,000 honorarium for their work.
Detailed design proposals of all three winners can be found at the Design Competition Website: nycityracks.wordpress.com.
CityRacks Design Competition Jurors
Patricia E. Harris, First Deputy Mayor, New York City
Janette Sadik-Khan, Commissioner, New York City Department of Transportation
Sarah Coffin & Matilda McQuaid, Cooper-Hewitt National Design Museum
David Byrne, Musician, Artist, Cyclist
Duncan Jackson, Industrial Designer, BillingsJackson
Signe Nielsen, Vice President, Public Design Commission, served as an advisor to the jury
—30—